by Eldon MacDonald (edited by @ChrisRalphTHW)
Jack Dougherty
THW's NHL Draft War Room Rankings (E-Mac): #35 (April 2014)
THW's NHL Draft Rankings – The Next Ones Edition (aka Chris's List): #37 (March 2014)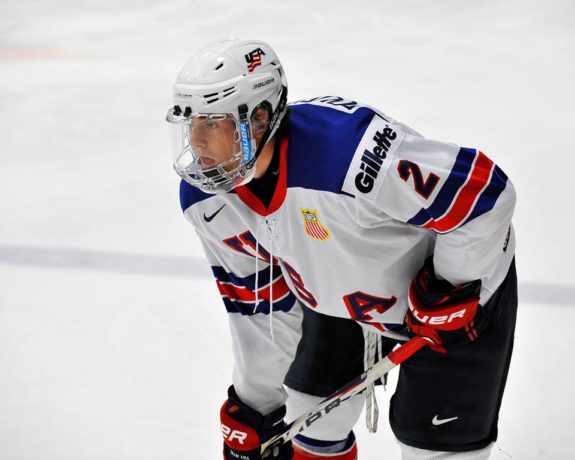 Hashtag: #MrEffective
Team: #2, USA U18 NDTP, USHL
Commit: University of Wisconsin
Position: Defense
Shoots: Right
Height: 6'0
Weight: 185 lb.
Born: Cottage Grove, MN, 25-May-96
Twitter: @jackdougherty2
Stats
Other Rankings
26 – Future Considerations, Apr-14
33 – Bob MacKenzie, Jan-14
39 – NHL Combined – Final, Apr-14
73 – Craig Button, Mar-14
Worth Retweeting
https://twitter.com/jackdougherty2/status/460542644343427072
http://t.co/dTmaEKMf2A
#30 Jack Dougherty @jackdougherty2
Mix of versatility, physical play & offensive upside on the blueline. Does it all.

— ISS Hockey (@ISShockey) March 13, 2014
Top ranked Minnesotan is Jack Dougherty. Jack is a Cottage Grove native who played high school hockey at St. Thomas and is now with @usantdp

— Minnesota Hockey (@MinnHockey) April 8, 2014
#Badgers D signee Jack Dougherty ranked No. 30 among N. American skaters in NHL Central Scouting Service final ranks for this year's draft.

— Wisconsin Hockey (@BadgerMHockey) April 8, 2014
Contains All the Prospects Profiled in This Series]
Profiles
Jack Dougherty: 2014 NHL Draft Prospect Profile – http://t.co/Wu2AuC6F2f

— All About the Jersey (@InLouWeTrust) May 10, 2014
2013 NHL Draft Profile #34: Jack Dougherty http://t.co/snGxgAZYXZ #nhldraft via @lastwordbkerr @nhlinjurynews

— LastWordOnSports Inc (@lastwordonsport) May 7, 2014
 Interview
Quotables
Quote 1: Wisconsin Badger Head Coach, former NHLer Mike Eaves, at Buckys5thQuarter.com, "Jack has a really good skill set as a defenseman. He can be your quarterback on the power play and he can lead the rush. He's a good skater who sees the ice well and has good skill. He also understands how to play without the puck, so he is a well-rounded defenseman"
Quote 2: US NDTP U18 Coach, former NHLer Danton Cole, at Flames.NHL.com, "Jack has good offensive instincts and little bit of a mean streak in him which we like and encourage. He's going to be a good hockey player."
From the War Room
Eldon MacDonald, THW:  A few words on Jack Dougherty:
Mr. Effective – Not the biggest guy in the world, not the best skater in the world, doesn't have the best skills in the world, Mr. Effective just "gets her done" through hard work and effective use of the tools he has.
Offense – Has the point shot and has an effective outlet pass, even in tough situations. Just "gets her done". Jack has shown considerable improvement in this area of his game over the past year to the point where is no longer considered just a defensive defenseman.
Defense – Add a bit of a mean streak to sound positioning, the ability to know what to do in a situation, the willingness to be a little physical and you have yourself an effective defenseman, one who "gets her done" in all situations, 5 on 5, PK, PP.
Improvements to make – As a "gets her done" class skater, improvements in this area would enhance Jack's overall effectiveness. Also, as an average-size D, a continuation in his improvements to offense from this year would add to his stock considerably.
Draft placement – Most, including myself, have Jack as an early second. However, a good U18 WJC may have moved him up to first round consideration as there not many high-end defensemen in this year's draft. NHL teams always have a place for an effective defenseman who just "gets her done."
Video
***
How high will Dougherty go? Join the conversation by commenting here, connect on Twitter with @ChrisRalphTHW and join the NHL Entry Draft Google + community for limitless draft talk.
Chris is THW's senior draft/prospect analyst and a Managing Editor. Watch for "The Next Ones" Prospect Profile series, exclusive rankings, mock drafts, as well as the annual THW NHL Entry Draft Guide. Follow @ChrisRalphYQ on Twitter as he infiltrates, dissects and analyzes all happenings of hockey prospects and the NHL entry draft. Email: cralph[at]thehockeywriters[dot]com