Since he emerged onto the major-junior scene two years ago as a 16-year-old with the WHL's Kootenay Ice, the hockey world has waited with baited breath for Sam Reinhart's draft-eligible season. The product of North Vancouver, British Columbia is the youngest of former NHLer Paul Reinhart's three sons. His two older brothers have already been through the draft process – Max was picked by Calgary 64th overall in 2010 and Griffin went to the New York Islanders 4th overall in 2012.
Now the trifecta will be complete, and arguably Sam's the best of the three. He was nearly a point-per-game player as a 16-year-old, and has steadily progressed into one of the most dynamic and productive players of his age group. We had the chance to chat with Sam Reinhart – ranked 4th among North American skaters by NHL Central Scouting at the midway mark of the season – at the CHL/NHL Top Prospects Game in Calgary.
What's the best advice you've gotten from your older brothers about the whole draft process?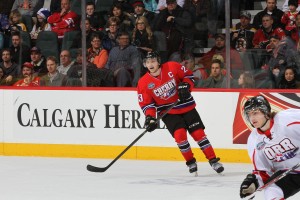 I definitely get asked that question quite a bit. [Chuckles] It's the same answer every time. It's not one thing they told me. It's just watching them and seeing how they handled things. Games like this, certain situations they go through in a really busy year. So, I'm sure there will be, down the road, things I can talk to them about and see what to expect, things like that, but most of it is watching from a distance and seeing how they handled it.
When your brother, Max, was up with Calgary earlier this year you were spotted watching practice. From what you've seen and what you've heard, what's the biggest difference or thing you'll need to work on to make the jump?
Definitely the focus is on getting better every day. Of course the ultimate goal is to play in the National Hockey League next year. It's one thing watching the pros and in a game situation, but when you get down to the thick of things and watching in practice, it's pretty neat and pretty eye-opening to see how they handle that and really compete every day.
Will you have much of a chance to take a breath or take a step back to relax and appreciate your junior hockey accomplishments until the draft?
You have to. In a busy year like this, you're always going to find time to relax. You definitely have to manage that well and really take a step away and relax, and refocus, and really re-energize for the next step ahead. Right now, I'll definitely have a day off tomorrow, get back with my team and focus for a couple games Friday and Saturday. And after that I'm sure there will be more times to refocus. It's just one step at a time in a year like this, and it's helpful to take it that way.
You're one of a small cluster of North Americans at the top of the draft rankings. Have you guys been able to talk about how crazy the year has been or discussing how to get through things?
Yeah. Obviously I've spent some time with Aaron [Ekblad] over the last month and a bit. I'm definitely pretty close with him. We're good friends. We still talk, even when we're on opposite sides of the country. We're good buddies, we joke about it a little bit, but at the end of the day we're definitely competing and you can definitely have fun with it.
Do you track how your brothers are playing during your season?
We definitely try to keep in touch. We're all fans of each other, Griffin and Max, as well. Definitely keep tabs on each other and communicate throughout the year.
Depending on the rest of the NHL season and the draft lottery, there's a chance you could get picked by Calgary and be in the same organization as your brother. Is that something you think about or will you worry about that in June?
Yeah, it'd definitely be exciting playing with him. Wherever I go, I'm just focused on having a team that's excited to have me, because I'll be excited to go there. The draft is one day in our lives, obviously an exciting one for an individual and family and friends, but the ultimate goal is getting better every day and really focusing on upping my play and getting myself ready for hopefully the National Hockey League next year.
If you get drafted higher than your brothers, will there be any beaking or trash-talking going on?
[Chuckles] No, not really. We definitely joke about it here and then, but you know, Griffin at the end of the day may joke about it here and then, too, but he wants me to go as high as possible and he'll be happy for me. Same with Max. So, definitely joke about it, but at the end of the day I know they're cheering for me, too.