by Eldon MacDonald (edited by @ChrisRalphTHW)
Andreas Englund
THW's NHL Draft War Room Rankings – Jun-14: #46
THW's NHL Draft Rankings – The Next Ones Edition (aka Chris's List): #71 (March 2014)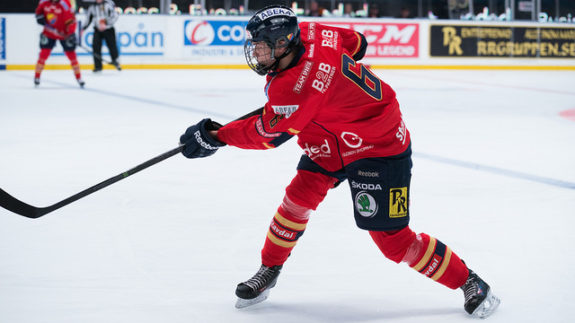 Hashtag: #TheGill-MurrayConcoction
Team: #5, Djurgården, Allsvenskan
Position: Defense
Shoots: Left
Height: 6'3
Weight: 189 lb.
Born: Sweden, 21-Jan-96
Twitter: None found
[Your quintessential free draft resource:
Stats
Other Rankings
189 – NHL Combined – Final, Apr-14
Worth Retweeting
Big underrated D Andreas Englund scored his first goal in SHL 2 tonight for Djurgarden. 6'4/190 was suprisingly left outside team 18 to RUS.

— Red Line Report (@daredlinereport) January 29, 2014
From the War Room
Eldon MacDonald, THW:  A few words on Andreas Englund:
The Gill-Murray Concoction, Andreas Englund– Who is Andreas England? Well, take a Hal (Harold) Gill; sprinkle him with the ability to skate and make a very nice first pass; then add a little bit of Douglas Murray lack of tenderness and you pretty much got it – a solid NHL size stay at home defenseman with some bite – no dangles, very little puck rushing even though he is a powerful skater, just the D.
Leadership – Andreas is a mature defender for his age (mentally and physically) and a leader by nature. He plays a North American style of game and has a very high compete level – just ask opposition forwards who try to hover around his crease. He was also the Assistant Captain for Team Sweden at the 2014 U18 WJC in Finland where he was one of the Tournament's best defensemen, leading the defensive core of the team with a +6 (one behind Jack Dougherty of Team USA and Roger Karrer of Team Switzerland who were co-leaders for the Tournament at +7).
Djurgården contract extension – His Swedish professional club, Djurgården, is very happy with Andreas' play and recently rewarded him with a two year contract extension. Last yearDjurgården played in the second tier Swedish professional league (the Allsvenskan); next year Djurgården will be playing in the top Swedish professional hockey league (the SHL).
Rankings: I am a big fan of both Hal (Harold Gill) and Douglas Murray. Both are players with severe limitations, skating, passing, shooting – just the basic fundamental core hockey skills. However, both have made long-term NHL careers by maximizing their strengths: Gill with his positioning, reach and stick management; Murray with his bone-jarring physicality. So imagine my surprise and my delight when I find a prospect who not only incorporates a lot of the strengths of two of my favourite players but at least partly addresses their weaknesses – skating and a decent first pass. So I and a few others have Andreas mid-second (me at 46) while NHL Central Scouting has him 7th round. If he turns out as I think he could, he could be something special and worthy of an even higher ranking than I have him now.
Quotable
Video
Video 1: DIFHockeySE – A day in the life of Andreas Englund – In Swedish, excellent, you don't have to speak Swedish to love this video. And gals, trust me, you will love this video.