Luke Philp THW Close-Up:
Team: #12, Kootenay Ice
Date of Birth: 11/06/1995
Nov. 6, 1995 – Happy 18th b-day to @WHLKootenayICE Luke Philp (@lukephilp), who played in his 100th career WHL game on Sunday (reg season)

— WHL Facts (@WHLFacts) November 6, 2013
Place of Birth: Canmore, AB
Ht: 5' 9.5″     Wt:  178 lbs
Shoots: Right
Position: C/W
NHL Draft Eligibility: 2014
Twitter: @lukephilp
THW Ranking (The Next Ones; Chris's List): 98
Other Rankings:
ISS: 145
NHL Central Scouting (Combined): 107
***
***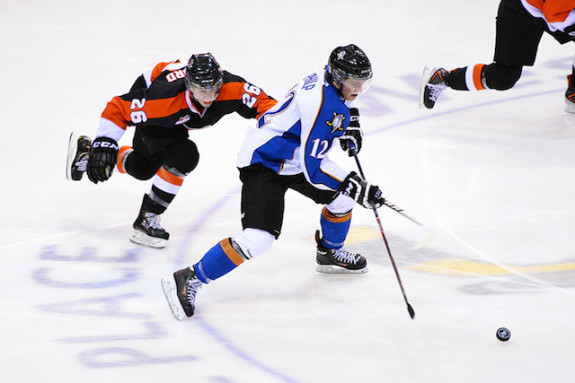 Cool Hand Luke
Why does a first time draft eligible prospect averaging over a point-per-game in one of junior hockey's toughest leagues (WHL) get overshadowed in his draft year? Size of the player is the obvious thing that comes to mind as the Canmore, AB product measures in at just under 5'10". He also shares the ice with phenom Sam Reinhart. One would think he padded his stat line riding shotgun to Reinhart. While Philp often was switched from his centre position to flank Reinhart on the wing as well as playing the point on the powerplay, Philp often centred his own line. He also excelled when Reinhart departed for Malmo, Sweden to suit up for Team Canada for the 2014 World Juniors.
While stats do not reveal the whole story of Cool Hand Luke, Philp has put up impressive stats in his draft eligible season – 77 points (31G, 36A) in 71 games and chipping in an additional 13 points in 13 playoff games. He had an exceptional January, notching 19 points in 11 games and carried that momentum through to the playoffs.
4 – WHL Top 4 Longest Active Point Streaks:
Luke Philp (10),
Curtis Lazar (9),
Tim Bozon (9),
Edgars Kulda (8)

— WHL Facts (@WHLFacts) January 26, 2014
Though undersized, Philp's hockey sense makes him extremely valuable to the Kootenay Ice and would be the primary reason he gets to the next level. He also possesses leadership ability, entrusted with the "A" on his sweater. He's a very versatile forward with the ability to play centre or wing, as well as the point on the powerplay. While not the fastest skater, he gets to where he needs to be and utilizes his vision and ability to read the play to find open space on the ice, complimenting his linemates quite nicely. His shot is a dangerous weapon. He has already shown that he can compliment highly skilled players such as the highly touted Sam Reinhart. Philp has an excellent work ethic as well and plays in all key situations in the Dub.
Scout's Honour:
"He adapts very well to the speed of high level players and manages to ride shotgun very well. His ability to score is underrated". – ISS Scout R.MacLean (from the ISS 2014 NHL Draft Guide)

"Philp is a good player who has enjoyed a lot of offensive success this season He is a skilled forward who always seems to be in a good position to affect the play. Philp is typically a pass-first type player, but shows he can really shoot the puck when he chooses to do so. Scores using a quick release. Makes smart plays with the puck and opts for the simple decision over forcing a pass through traffic. His stride has improved substantially this season as he generates solid speed in a shorter amount of time after starting out the season looking a little sluggish. Is a good puck carrier who is equally as comfortable with the puck as he is without it. Lacks the pure size and strength to steal position on the ice, but he works hard and goes to the areas he has to for chances. Is solid defensively, but nothing overly dominant or impactful. Showed he has the versatility to play both the wing and the center positions." – Future Considerations 2014 NHL Draft Guide
Where He'll End Up In June:
Philp will most likely be a mid-to-late draft pick at this year's NHL Entry Draft. NHL Central Scouting had him as a riser as he went from the 125th ranked North American skater for their midterm rankings to the 80th overall skater for their final rankings.
Statistics:
Bio/Interviews:
https://twitter.com/WHLonShawTV/status/447563832404099072
My latest profile on @WHLKootenayICE @lukephilp Kootenay's other centre to watch for at the NHL draft http://t.co/i7Kese3GoD via @HockeyNow

— Ian Esplen (@IanEsplen) February 16, 2014
Awards:
Luke was named Ice's playoff MVP for the 2012-13 season, the year before his draft eligible season.
NHL ETA:
Risk/Reward Analysis:
Risk: 2.5/5   Reward: 3.75/5
NHL Potential:
Highest: 2nd line forward or depth; Realistic: versatile two-way forward
Strengths:
Hockey Sense
Shot
Plays the point on PP
Vision
Passing
Puck skills
Faceoffs
Responsible
Versatility
Leadership
Unselfish, complimentary
Work ethic
Flaws/Aspects He Needs to Work On:
Continue to train to increase strength and add mass to frame to handle the rigors of the NHL.

Continue to work on skating and increase quickness.

Continue to develop his neutral and defensive zone acumen.
Fantasy Potential:
Offensive: 7.5/10    Defensive: 6.5/10
Video(s):
** THW's The Next Ones prospect profile template design architect: Chris Ralph