The first installment of the 2014 Tampa Bay Lightning draft preview examined a pair of potential impact prospects in Ivan Barbashev and Julius Honka. Either would make a fine a selection for the Lightning with the 19th overall selection. The first important decision on Friday evening could reveal the direction of the second.
Martin St. Louis helped give Tampa Bay one last gift. When the New York Rangers bounced the Pittsburgh Penguins from the playoffs, the conditional 2014 2nd round pick acquired from the Rangers became a 1st round pick. That pick ends up being the 28th overall selection following the Rangers trip to the Stanley Cup Finals, with an assist from the New Jersey Devils.
Friday night becomes a live television choose your own adventure tale for the Lightning. The first fork in the road comes when the Lightning are on the clock with the 19th overall selection. Should both Barbashev and Honka be on the board, the fun begins. The 28th overall selection's fate hangs in the balance.
Do the Lightning go with the all-around forward who flashes offensive brilliance in Barbashev? Assuming they do, the focus likely shifts to a defenseman at 28. In this scenario, defenders Aaron Ekblad, Haydn Fleury, Julius Honka and Travis Sanheim are gone. Now comes a decision within the decision: what type of defenseman to choose? Should the Lightning play it safe or go another dynamic game changer? The Lightning decide to swing for the fences and select…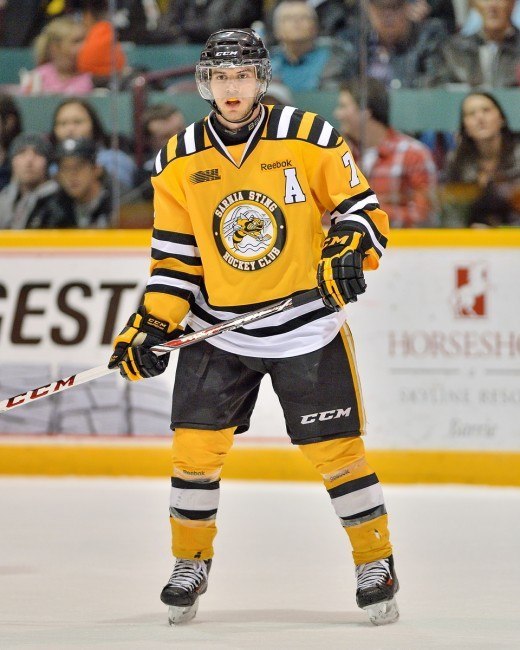 Boom or bust has been said in reference to a number of players over the years. That phrase certainly applies to Anthony DeAngelo. The hockey world has seen the peaks and valleys of his game. He is sometimes brilliant, while other times implosive. He can be ill-tempered. He can also be razor sharp and in control. There is no denying he has some maturing to do, both with his on-ice game and with his attitude and emotions. There is also no denying his incredible skill.
THW's own Shawn Reznik paints the picture well:
Up ice, he handles the puck well and sees outlets open up constantly. A great puck-mover, his quickness up the ice allows him to gain entry into the offensive zone with ease and set up offensive chances. He showed flashes of brilliance during the Top Prospects Game. He's a small defender, but an effective one who has been put on the powerplay all season with the Sarnia Sting. He doesn't have an overpowering shot by any means, but it is extremely accurate, which is reassuring.

An aspect I like about DeAngelo's game is his heart and how often he sticks up for his teammates. Even at 5'11″, DeAngelo isn't one to back down from a fight and has had enough bouts in his short career (oftentimes against bigger opponents).

His game doesn't come without concern, however. He's eager to jump up into the play and pinches too frequently. In turn, he gets caught out of position a bit too much for my liking, but then again, teams aren't really drafting him to be a shutdown defenseman. Hopefully he can tack on a few more pounds to help out his undersized body.
DeAngelo's defensive game, like many young defenders, needs work. He will have to continue to add muscle to his frame. He can struggle in battles in his own end and his positioning is far from perfect. His game, as of right now, is all about quick transitions and creating chances offensively. The tangible skills are impressive. A very fluid skater, he is capable of changing speed and direction with ease. His buttery soft hands allow for excellent puck control. He is quick and accurate with his passes and shots alike. All the tangible skills serve his best attribute, his vision, extremely well. DeAngelo is incredibly intelligent with the puck on his stick. He can play at any pace comfortably, all while hitting the open man with a pinpoint pass or finding open ice for a scoring chance. He has all the tools to be an elite trigger man on the power play.
Do the Lightning decide to take the offensively gifted blue-liner in Julius Honka? Such a decision likely takes them down the forward path at 28. In this scenario, a number of forwards would no longer be available. That doesn't take away from the excitement Lightning brass will have in selecting…
Josh Ho-Sang, C/RW (Windsor Spitfires, OHL)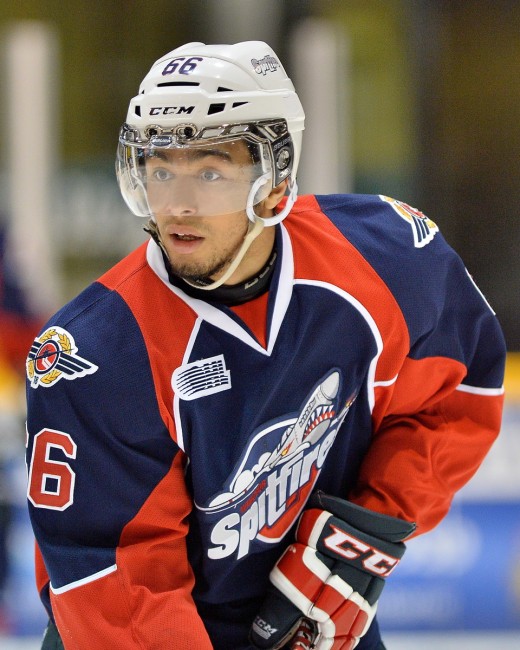 Ho-Sang still being available at 28 is a testament to how unpredictable this year's draft is. A player some believe has top 10 skill, Ho-Sang would be an ideal fit in the Lightning organization. Long have his offensive abilities been known, but he has become a solid three zone skater.
THW's own Shawn Reznik describes the appeal of Ho-Sang:
Wasn't sure how I felt about Josh Ho-Sang until I saw him play in the CHL Top Prospects game. He was being touted since last season as one of the most skilled forwards coming in to 2014 and he's been showing why all season long. His size is average, but his puck handling and vision is anything but.

Very elusive with the puck on his stick, Ho-Sang moves are quick and can take on the best defenders with ease. He thrives on going to the dirty areas of the rink and coming out with the puck to set up his teammates. Feathering passes forehand or backhand has made Ho-Sang a gifted player.

What's nice is that he can play center or wing so he's proficient at faceoffs and his defensive awareness well-rounded. Agile and quick on his skates, Ho-Sang also has a great wrist shot that he uses at his disposal. He is one of the craftiest prospects this year and will be a 1st round pick.
Ho-Sang is a player scouts and management always enjoy watching play the game. He is very talented, but gives an honest effort each time he hops over the boards. If he doesn't have the puck, he is engaged in the play and honors his defensive responsibility. His skating and stick work serve him well in his puck pursuit, which can lead to quick transitions to the offensive end. Ho-Sang is a very smooth and agile skater displaying good balance and edge work. His competitive nature allows him to win puck battles that his size wouldn't predict. With the puck on his stick, he is a menace to defenders. He shows no fear taking the puck to high traffic areas. He can make a pass anywhere in the zone on either side of his stick. He also has a lightning quick release on a heavy and accurate wrist shot. Making him even tougher to handle in the offensive third is his ability to do all these things at top speed.
Adding a pair of dynamic prospects is the goal for Friday night. Should the Tampa Bay Lightning come out of the first round round with a combination of Ivan Barbashev and Anthony DeAngelo or Julius Honka and Josh Ho-Sang, one would understand the use of a good Tiger Woods arm swing to celebrate.
Be sure to review other parts of the 2014 Tampa Bay Lightning draft preview!