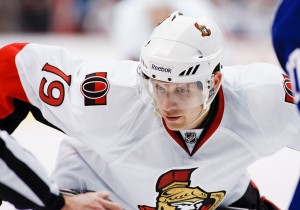 In the recent past there has been much speculation about the Arizona Coyotes trading defenseman Keith Yandle to upgrade their offense. Aside from that rumors of potential destinations for Jason Spezza of the Ottawa Senators have been swirling like wild fire over the past month.
With the Arizona Coyotes need for offensive forwards and the Ottawa Senators need for an upgrade on defense could a Keith Yandle for Jason Spezza swap be a match made in heaven?
Keith Yandle is now entering his eighth NHL season and just coming into his prime at 27 years of age. He has become a consistent 40 plus point defender that is a very good power play quarterback.
  Why would the Coyotes trade such a valuable commodity? It is as simple as trading a strength for a need. The Coyotes depth on the blue line has built up to the point where spots need to be opened for some of their prospects. The emergence of Oliver Ekman-Larsson as a top defender has made Keith Yandle expendable.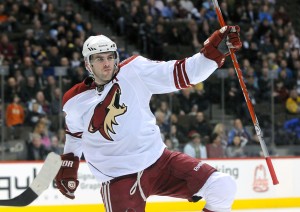 Aside from Ekman-Larsson the Coyotes also have promising all-around defenseman Brandon Gormley seemingly ready to step into the NHL level. Both Michael Stone and Connor Murphy are expected to become solid NHL defenders as well. The Arizona Coyotes could move on from Keith Yandle and not have it be a disastrous hit to their defensive core.
The truth is they are lacking front line offensive NHL players. In order to be successful in the super competitive Western Conference they must be able to score more goals.
How would Jason Spezza fit in?
Aside from what seems to be popular belief in Ottawa, at 6'3" Jason Spezza is a solid top line NHL center and those do not grow on trees. Very rarely do players of this ilk become available and when they do it is a race to acquire them amongst the many teams in need.
Spezza has become characterized by some as a lazy defensive player and a player that "you can't win with". This could not be farther from the truth.
  Jason Spezza is a career point per game player in both the regular season and the playoffs. With 36 of his 251 regular season goals being game winners and he has an additional two game winning goals in the post season. Spezza is better known as a playmaker but he has cracked the 30 goal mark four times and the 20 goal mark eight times in 11 NHL seasons.
As for his perceived lack of defensive accountability, he is a career plus 54 rating. He is also a quality faceoff man winning 53 percent or more of his draws over the past three seasons.
Spezza dropped to 23 goals and 66 points this season, however his 10.3 shooting percentage was well below his career average of 13.9 percent. So some positive regression can be expected next season.
With Spezza in the fold head coach Dave Tippett could slot him in as the first line center and then shift Mike Ribeiro and Antione Vermette down to the second and third lines respectively. While not elite, this would make for a solid group down the middle.
Would Jason Spezza come to the desert?
Under his current contract the 31 year old has one year remaining at a seven million dollar cap hit, but with an actual salary of only four million dollars. This would be an ideal fit for the Coyotes as they are not a team that currently spends to the cap in actual dollars.
Jason Spezza also has a no-trade clause that allows him to submit a list of 10 teams that he cannot be traded to. That list has been reported to include Florida, Columbus, Nashville, the Islanders, Vancouver, Calgary, Edmonton, Winnipeg, Toronto and Montreal.
It has also been indicated that part of Jason Spezza's desire to not play in Canada any longer is the intense scrutiny that comes along with it. This would make Arizona an ideal place to come and play as the scrutiny is not in the same stratosphere as a Canadian market. Don't get me wrong the Coyotes have some die-hard fans, but the media coverage is not a battalion like it is in Canada.
Who else is bidding?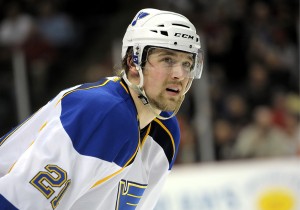 It has been reported that the Anaheim Ducks and the St. Louis Blues are the most interested clubs at this point. However their packages would include younger and less proven assets in return to the Senators. The perceived asking price is a solid young NHL player, a top prospect and a first round pick.
An offering to the Senators of Keith Yandle, the Coyotes first round pick this year, and perhaps a prospect like Laurent Dauphin thrown in would be at least a starting point for trade talks.
Final thoughts
With Keith Yandle being a top NHL defenseman under a very economical $5.75 million contract through the 2015-16 season I can see him being a fit in Ottawa. I also believe that Jason Spezza would be a great addition to the Arizona Coyotes roster. While he is on the wrong side of 30 at age 31 he should still have four to five more productive seasons on the way.
Does Jason Spezza want to come to Arizona and can the Coyotes outbid the other teams with interest in acquiring his services? Only time will tell, but this is surely something that general manager Don Maloney will be exploring to some degree this offseason.