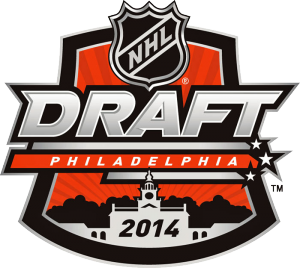 Throughout the National Hockey League season, we here at The Hockey Writers boast a writing staff featuring a mix of experienced and emerging writers from throughout all 30 NHL markets and beyond. This organization approach comes in handy when the annual NHL Draft approaches.
Presented here is our annual Writers Mock Draft. Our writing staff signed up to represent each of the involved NHL teams in the first round, and aimed to select players and defend their selections here. Some of the writers are representing the teams they cover all year – myself included – while others are merely dipping their toe into the pool.
As always with drafting, your mileage may vary.
—
1st pick: Florida Panthers (Kathy Mizera) – D Aaron Ekblad – Barrie Colts (OHL)
There is no doubt a team like the Panthers, who already has so much young talent, would be smart to use this overall first-round pick as a trade option for a veteran player. However, it would only work if they could get a player who was as valuable as this pick. In lieu of that, there is no doubt that the first overall pick would have to be Aaron Ekblad. As a two-way defenseman, he's big, strong and potentially extremely valuable on both ends of the ice. Scouts have also hinted that of all the available talent, Ekblad is probably the most ready to step right into the NHL, which is exactly what the team needs. Though the team needs a big scorer more than anything, short of finding the perfect trade, this kid will only help to strengthen their other rising stars like Huberdeau, Kulikov and Barkov, especially amid the rumors that veteran Defenseman Brian Campbell is looking to move.
2nd pick: Buffalo Sabres (Kevin Mizera) – F Sam Reinhart – Kootenay Ice (WHL)
With the second pick, the Buffalo Sabres select Sam Reinhart of the Kootenay Ice. It's Reinhart's hockey IQ that sets him apart from the other top prospects–a quality that can't be taught. Since the Sabres need help at practically every position, the "best available player" strategy advocated by GM Tim Murray is a fine one. With Ekblad off the board, that player looks to be Reinhart. He possesses all the tools to be the Sabres franchise center for many years to come.
3rd pick: Edmonton Oilers (Marcy Dimichele) – F Leon Draisaitl – Prince Albert Raiders (WHL)
The Oilers would probably like to take Aaron Ekblad, but chances are he won't be on the board at number three, so the next best choice is Leon Draisaitl. He's got the size that the Oilers need at forward, he's a strong playmaker, and he's not afraid to throw his weight around. If Edmonton has to choose between Draisaitl and a guy like Sam Bennett, they need to go with the bigger body. The last thing they need is the same kind of player that they already have in droves. The stats between the two players are similar, so going with Draisaitl makes sense. 
4th pick: Calgary Flames (Ryan Pike) – F Sam Bennett – Kingston Frontenacs (OHL)
If there's a Brian Burke player in the top end of this draft, it might be Sam Bennett. He plays with a lot of grit and energy, but also a lot of talent. He's been compared to long-time Flame Doug Gilmour, a player a lot of guys hated playing against. With a group of smaller skill forwards developing in their system, Bennett fills an awful lot of needs for the Flames.
5th pick: New York Islanders (Toli Metter) – F Michael Dal Colle – Oshawa Generals (OHL)
Michael Dal Colle certainly fits the mold of a player that Garth Snow would covet with the fifth overall pick at this year's NHL Draft. Having selected a number of defensemen over the years, Dal Colle makes perfect sense for the Islanders as a two-way forward that is no stranger to playing physical and using his size (6′ 2″) to his advantage. By nearly doubling his point totals from the 2012-2013 OHL season and having scored 20 points in 12 playoff games, Dal Colle certainly busted out offensively this season. While the Islanders might have some depth at the center position, Dal Colle's overall game was simply too good to pass up at number five overall.
6th overall: Vancouver Canucks (Darrin Hayes) – F Jake Virtanen – Calgary Hitmen (WHL)
At 6'1″, 210lbs, he was considered elite by many scouts. Jake is a power forward with good speed and good hands. He had 45 goals, 100 penalty minutes and was a plus-23. Those are impressive stats for a big player who the Canucks hope will turn in to a Milan Lucic type player on the ice.
7th overall: Carolina Hurricanes (Philip Botti) – F Brendan Perlini – Niagara Ice Dogs (OHL)
The Hurricanes need a big forward that can add size,physicality and skill a team looking to build its system. With the 7th pick the Hurricanes select Brendan Perlini, the 6'3'', 205 pound forward from the Niagara Ice Dogs of the OHL. Perlini can bring a big offensive forward with good hockey sense and has great shot. He has size, skill and speed to grow in to a productive future NHL player. Perlini possesses the puck well, and has great hockey instincts. He will have to learn to be more physical but that shouldn't be hard with his big frame.
8th overall: Toronto Maple Leafs (Andrew Forbes) – F Nikolaj Ehlers – Halifax Mooseheads (QMJHL)
The Leafs don't need a big power forward. In fact, what they need is to get faster – even if that means getting smaller. While Nikolaj Ehlers only stands at 5'11", his ability to get chances in the dirty areas around the net make him an offensive threat in any lineup. His speed and stick handling skills will give add to the Leafs second line and will put him in a spot to be a top-line winger in the years to come. Add to that his ability to get back and play in his own end, and Ehlers is a good fit for a team that's struggled in those areas the past couple of seasons.
9th overall: Winnipeg Jets (Charles Dart) – F Nick Ritchie – Peterborough Petes (OHL)
Winnipeg has just five left wingers under contract for next season (two of whom have never played an NHL game), plus RFA Carl Klingberg. A top-six left winger, Nick Ritchie led the Peterborough Petes in scoring this year with 74 points (39 G, 35 A) and PIM (136) in just 61 games. Winnipeg finished  a lowly 25th in the league this season on the powerplay and could use Ritchie's talent here; he scored 11 times and added 8 assists on the powerplay this season with Peterborough. Keeping with the Jets tendency to have big-framed players, 6'2, 226 lb Ritchie is a high-scoring, physical player with great skill and size and could form a dangerous duo alongside Mark Scheifele with the Jets.
10th overall: Anaheim Ducks (from Ottawa) (Michael Porfirio) — F Robby Fabbri – Guelph Storm (OHL)
The Anaheim roster is currently full of big bodies and should therefore have no hesitation taking the 5'10 OHL playoff MVP. The organization seems to have an eye for natural goal scorers which leads me to believe Fabbri will fit nicely with his 45 goal season despite missing 10 games. Fabbri is a dynamic player in every aspect of the game. The talented scorer is one of the fastest players in the draft and complements that with a lightning quick shot release. Mr. Backcheck, as he has been commonly referred to, will do anything to help his team succeed. Fabbri led the OHL this season in Game Winning Goals and truly represents what it is to be a clutch player. On top of that, he can play both centre and left wing, which certainly adds a nice variable to the lack of left wingers in the Ducks depth chart. Anaheim receives this pick from Ottawa, making them the only playoff team to pick within the top 10. Their roster does not need immediate help, allowing Fabbri to build strength for a couple years before bringing his explosive game to the NHL.
11th overall: Nashville Predators (Colin Fitts) – F William Nylander – Modo (SHL)
At the 2013 Draft, the Nashville Predators were stripped of the opportunity to draft an NHL-ready forward and (gladly) had to draft yet another defenseman in Seth Jones. This time around, an elite forward in William Nylander could drop all the way into Nashville's lap at 11th. Much like his father Michael, a 15 year NHL veteran, William makes up for his 5'11, 169lbs frame by having excellent hockey sense, hands and skill. One of the negatives surrounding Nylander's game, however, is his inability to use his linemates. If that changes, Nylander has the potential of becoming a star in the League. By no means is this player defensive-minded, which isn't exactly a bad thing when GM David Poile is looking for a culture change in Nashville. What better way to initiate the change than at the draft for the future? Nashville needs a top 6 forward that will be ready to play in 2-3 years to hopefully compliment the likes of Calle Jarnkrok, Filip Forsberg, Colin Wilson and Brendan Leipsic. Nylander is that guy, but will need developing.
12th overall: Arizona Coyotes (Mike Burse) – F Jakub Vrana – Linkopings (SHL)

Great shot and offensive capabilities. Is a true sniper. Less inclined defensively but that can be taught. The Coyotes need an offensive injection to their prospects and Vrana has that in spades.
13th overall: Washington Capitals (Matt Speck) – D Haydn Fleury – Red Deer Rebels (WHL)

Haydn Fleury presents everything Washington desires in the first round, a left handed defenseman with offensive upside. Fleury is the second best blue liner in the entire 2014 draft class, behind potential first overall pick Aaron Ekblad. The smooth skating defenseman has the ability to play in all situations and could make the jump to the NHL quicker than other defensemen in this draft. He has top four potential, which the Caps are in desperate need of at this very moment.
14th overall: Dallas Stars (Derek Neumeier) – F Kevin Fiala – HV71 (SHL)
With an abundance of large forwards already in the Stars organization, the team elects to go the finesse route at 14th. With silky hands, quick feet and plenty of offensive creativity, Kevin Fiala is one of the best purely skilled players in the draft, and should be an excellent future complement to a Dallas roster that already features Jamie Benn, Tyler Seguin and Valeri Nichushkin.
15th overall: Detroit Red Wings (Prashanth Iyer)  – F Kasperi Kapanen – KalPa (SM-Liiga)

The son of former NHL player Sami Kapanen, Kasperi is incredibly cerebral for being just 17 years old. He stands a small 5'10" and weighs just 165 lbs, but he is exactly the kind of player that would thrive in the Red Wings system. He will be given 3-4 years to develop and gain strength before he gets a shot with the big club. He has speed, skill, and a hockey IQ that is off the charts for a player his age. This past season, Kapanen played for KalPa in the SM-Liiga and was a part of Finland's U-20 gold medal championship team. In four years, Wings management and fans should be salivating at the possibility of having a forward corps of Gustav Nyquist, Tomas Tatar, Andreas Athanasiou, Anthony Mantha, and now Kasperi Kapanen.

16th overall: Columbus Blue Jackets (Bill Schoeninger) – F Nikita Scherbak  – Saskatoon Blades (WHL)

In the regular season, the highest scoring winger for the Blue Jackets was Cam Atkinson, with just 40 points. Needing an injection of talent on the wings for the long term, Scherbak will be a big pickup in Columbus. In his first year in North America, he was by far the highest scoring rookie in the WHL, by a margin of 19 points. He managed 28 goals and 50 assists for the Saskatoon Blades. As a player, he brings good size at 6'2″, but needs to fill out his frame as he is just 174 lbs. Scherbak is a shifty skater, has good vision and hockey IQ, and has a bit of grit to his game as well. He may take a few years to round his game out away from the puck, but if he can put it all together with his size and skill, he will be a valuable contributor for years to come. 
17th overall: Philadelphia Flyers (Shawn Reznik) – F Ivan Barbashev – Moncton Wildcats (QMJHL)

The past few drafts the Flyers have focused on defense and their young prospects (Morin, Hagg, Ghostisbehere) are starting to take shape. The Flyers would likely have chosen Haydn Fleury had he been available, but instead they go ahead an almost NHL-ready winger Ivan Barbashev out of the QMJHL. The center/winger has elite level skill, but learned to play the defensive side of the puck. Reminiscent of Sean Couturier, Barbashev might be able to step in right away and contribute – a much needed aspect Philadelphia needs for next season.
18th overall: Minnesota Wild (Dustin Nelson) – G Thatcher Demko – Boston College Eagles (NCAA)

Thatcher Demko, the #1-ranked North American goaltender in the draft, is a great match for the Wild, even though he's ranked much lower than 18th overall. If the Wild wind up with Demko it'll likely involve the Wild trading down a few spots and still grabbing Demko a little sooner than many expected him to go. Another possibility is that they trade up their second round pick to grab Demko if he remains undrafted into the 30s or 40s. Either way, the Wild are seeing the end of a long era that featured Niklas Backstrom and Josh Harding as the goaltending duo. Darcy Kuemper is likely to move up to full time NHL duty next season, leaving Johann Gustafsson as the starter at AHL Iowa with no guaranteed back-up. There's a hole to fill in the team's development program. Demko is a 6-foot-4 butterfly goaltender with a similar build to Kuemper and has drawn comparisons to Ducks' rookie netminder John Gibson. He was rock solid for Boston College last season and, like Kuemper and Gibson, could be a goalie who is ready for NHL action at a fairly young age.
19th overall: Tampa Bay Lightning (James Phieffer) – D Travis Sanheim – Calgary Hitmen (WHL)

With the progress of Victor Hedman, the Lightning have the stud on defence that every contender needs.  But with Eric Brewer and Matt Carle getting older, and the youthful depth of the team's forward corps, the blue line is the priority here. And Sanheim brings size to the table, along with a very fast development pace compared to other prospects. Considering his evolution as a junior player this year, he may have a chance to surprise at camp, but more likely will go back to Calgary for a third season, along with a chance to land a spot on Canada's World Juniors team. With Carle and Brewer still under contract, he has time to develop.
20th overall: San Jose Sharks (Kenneth Laws) – F Sonny Milano – U.S. National Development Team (USHL)

A small sized forward with brilliant play making ability, I see a lot of Joe Pavelski in him. He can be a powerful winger or center. His speed and puck skills are exactly what GM Doug Wilson has been looking for in his recent call ups (Hertl and Nieto). His numbers last season were at the same rate as Patrick "Showtime" Kane when he played with the USNTDP.
21st overall: St. Louis Blues (Jeff Ponder) – F Josh Ho-Sang – Windsor Spitfires (OHL)
The Blues already possess a mid-sized, puck-moving phenom n T.J. Oshie — why not add one more? Ho-Sang's abilities to fly up the ice with sensational moves make him the obvious choice for a team that lacks prospect depth and needs more speed up front. Ho-Sang is not NHL-ready just yet, but some seasoning with OHL Windsor will allow for his game to become more complete. If Ho-Sang can improve to the NHL level sooner rather than later, he would be a great fit up the middle with young-guns Jaden Schwartz and Vladimir Tarasenko as his flanks.
22th overall: Pittsburgh Penguins (Nick Biss) – D Julius Honka – Swift Current Broncos (WHL)

The fans in Pittsburgh might be less than pleased that their new general manager decided to draft another puck-moving defenseman, but keep in mind that the intelligent way to draft is to take the best player available. Teams should not be drafting for immediate help outside of the top-3, instead they are looking 3-4 years ahead. Luckily enough, Julius Honka fell to the 22nd spot in the THW Mock Draft. Honka is considered an undersized offensive-defenseman. At 5'11" and weighing 180 pounds, the Finnish defenseman comes with an incredibe amount of versatility while he's on the ice. It's his ability to transition and play positionally that makes him a good defender, but it's his vision that creates opportunities for his offensive linemates. Better yet, Honka's speed and vision only seemed to improve when he began playing in North America. He might not be NHL-ready next season, but he has a high probability of developing into an elite puck-moving defenseman, which should be a priority for any contender.
23th overall: Colorado Avalanche (Colin Mills) – F Jared McCann – Sault Ste. Marie Greyhounds (OHL)

Ranked as a consensus top 20 pick on most draft lists (including 12th overall on our very own THW Draft War Room), the Avalanche are thrilled to get McCann at 23. The Avs will be using this pick to re-stock the forward prospect pool which is almost non-existent with recent picks MacKinnon, Landeskog, Duchene and O'Reilly stepping right into the NHL. As a speedy, "200-foot player" McCann fits in perfectly with the team's culture and playing style. He should be able fill the vital role of a player ready step in and contribute on an ELC when the team is ready to contend, a la Saad and Toffoli. Playing sheltered minutes behind Colorado's aforementioned forwards would also work wonders for his development. In a draft as uncertain as 2014, the Avalanche go with the safe pick described as a complete player and coaches dream; his wicked release doesn't hurt either.

24th overall: Anaheim Ducks (Michael Porfirio) – D Anthony DeAngelo – Sarnia Sting (OHL)
I am privileged to represent the Anaheim Ducks for this draft because they possess two picks in the first round; perhaps giving them some room to take a chance on someone at 24. Many will say there is no greater risk than Anthony DeAngelo coming into this draft. He is just under six feet tall and has had a few issues throughout the year, leading scouts to question his mentality. At the same time, Corey Perry had some attitude problems coming out of London and the Ducks organization was able to channel that into productivity. DeAngelo's numbers this year cannot be ignored. He put up 71 points in 51 games as a defence on a very weak Sarnia Sting team. In other words, his offensive upside is through the roof. His defensive game can certainly use some rounding out, but Anaheim can afford to take on a long term project on the back end. They have a strong emerging defensive core in Fowler, Sbisa, Lindholm, Vatanen and of course Shea Theodore following closely behind. The bottom line seems to be that DeAngelo's point production is far too juicy to pass up on, and with two first round picks, the Ducks should take this chance.
25th overall: Boston Bruins (Mark Wallace Graham) – F Conner Bleackley – Red Deer Rebels (WHL)
I was temped to select a defenseman in this slot, but the Bruins already have more than enough NHL ready blue liners and Bleackley is a steal at number 25. Bleackley is a hard working forward with a great work ethic that meshes well with the Boston Bruins. With a down year by Brad Marchand and the uncertainty of Jarome Iginla, the Bruins need some more help on offense. He works very hard is great on the power play and has a penchant for knocking in rebounds. He is said to model his game off of current Boston Bruin David Krejci. Bleackley has fantastic leadership skills, becoming the captain of the Red Deer Rebels in just his second season, and his mature for his young age. He is a top ten talent, but some question marks about how many minutes he can play, but at number 25, he is well worth the risk.
26th overall: Montreal Canadiens (Chris Ralph) – F Dylan Larkin – U.S. National Development Team (USHL)

The Canadiens can't get to the draft stage fast enough to select one of the most complete players in the draft. Possibly his only weakness is that he's too unselfish. Larkin already plays a mature, pro-like game utilizing his high level hockey IQ and silky smooth skating ability. He has a tremendous compete level and when the stake gets higher, he only gets better. At this point, his defensive acumen stands out even more than his offensive ability, but his ability to read the game, patience, playmaking ability and puck skills make him an offensive threat as well. Larkin's playing style compares to Colorado Avalanche centreman Ryan O'Reilly.
 27th overall: Chicago Blackhawks (Mark Wallace Graham) – F Nick Schmaltz – Green Bay Gamblers (USHL)
 Local boy made good? Schmaltz, a product of the bantam league in Chicago, is a natural born leader that fits well into the Chicago system. Schmaltz has great vision and great speed on the ice. He recorded 63 points in only 55 games last season with the Gamblers, but he is also fantastic on defense as well. It is a bit of a gamble for the 'Hawks to select Schmaltz due to him committing to playing at the University of North Dakota, but Chicago is a deep team and can wait for results. Patience could pay off in dividends for Chicago in the future.
28th overall: Tampa Bay Lightning (from NY Rangers) (James Phieffer) – F Adrian Kempe – Modo (SHL)
Tampa Bay has some good young top six talent, led by some guy named Stamkos, along with two of the three Calder finalists for 2013-14. Bearing that in mind, and how much they relied this year on the outstanding goaltending of Ben Bishop (witness their performance after his injury), this pick is an opportunity to improve the forward corps defensively.
While there are still those players available who could really develop down the line, Adrian Kempe is the guy here for the Lightning. With size aplenty (6'2"/187 lbs), top notch hockey IQ, and the ability and willingness to put in top efforts in all three zones, this is a player who could play on the second or third line, chipping in some offense, but as importantly being a guy the coach can throw out for defensive zone face-offs, and rely on him to take care of business. This is a guy who might not have the upside of some of the players remaining, but he is also unlikely to be a miss.  Look for him to be a guy who will provide around 20 goals/40 points in a typical season, and in a good year might threaten 30/50, but who's play will make him valuable even if he scores much less than that.
29th overall: Los Angeles Kings (Sheng Peng) – D Marcus Pettersson – Skelleftea U20 (Sweden)

The Kings select this raw, toolsy defender, who excelled at the draft combine, finishing top 10 in seven categories, including 4th in wingspan.  He is a locker room leader, who skates and moves the puck well. Said to have the most upside of any European in the draft, Pettersson, at 6'4″ and just 170 lbs, is clearly a project who needs to fill out.  But LA can afford to wait.  He also owns some intriguing offensive potential, having been a center until just two years ago.
30th overall: New Jersey Devils (Chris Wassel) – F Alex Tuch – U.S. National Development Team (USHL)

There is no question that Alex Tuch is a bit of a project but he has the upside to be one pain in the neck forward to play against in about 3-5 years. Tuch is big and nasty and will only get stronger in college. He weighs nearly 220 pounds already and could potentially grow another inch or two and gain 15-20 pounds. When one has a high Hockey IQ and can skate with speed (at least for a big guy) then there is lots of room for potential. 
If Tuch falls this far, the Devils will have their power forward for the next decade and the scary part is he will only get better with a maturity and work ethic that is years beyond his age.