Sidney Crosby and LeBron James are seen as the best players in the world at their respective sports. Sure, you may hear the odd person that tries to claim Durant is better than LeBron, or that Steven Stamkos or Jonathan Toews may be the best. But to the informed fan, they know that there is only one true king in either sport.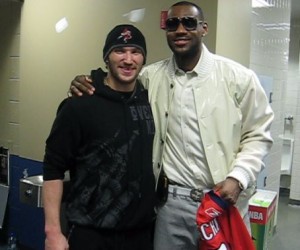 On Tuesday, it was announced that LeBron James was opting out of the final two years of his contract with the Miami Heat. James could re-sign with the Heat, maybe for less money in order to give the team more cap space to give him a better supporting cast. If he does, he can earn a max contract of $127.7 million over 5 years. If he signs elsewhere, his maximum is $94.8 million over 4 years. If James goes elsewhere, it is a lock that he will receive the max contract of $94.8 million.
While the NHL does not have the same contract structure that allows players to opt out of contracts, it would be interesting to consider what Crosby could fetch on the open market if he opted out of his contract with the Penguins or refused to sign an extension and entered free agency.
Currently, he is signed for 11 more years at a cap hit of $8.7 million, which is not even the highest cap hit in the NHL. Alexander Ovechkin and Evgeni Malkin both have higher cap hits. Theoretically, considering Crosby is the best player in the world, he would be the most likely player to receive a maximum contract. Yes, I am aware this is completely hypothetical and could not happen, unless the Penguins bought out Crosby (which won't happen).
Would Your Team Give Sidney Crosby a Max Contract?
Theoretically, this scenario would play out this offseason, before the 2014-15 season. Gary Bettman has stated that the salary cap for next season will be around $71 million. According to the recently signed CBA, the maximum allowable contract for a single player is 20% of the upper limit of the salary cap. Using a cap of $71 million, that is a cap hit of $14.2 million. Since Crosby would be signing with a new team, he could sign for a maximum of seven years. That comes out to a contract of 7 years, $99.4 million.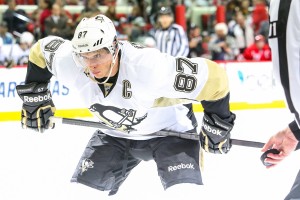 According to Capgeek, eight teams already do not have that much cap space to sign the max contract, let alone re-sign some of their own RFAs/UFAs. If a player like Crosby comes on the open market, you obviously do everything you can to clear cap space. But, compliance buyouts, regular buyouts, and salary dump trades can only go so far.
At a bare minimum, your team would have to carry 12 forwards, 6 defensemen, and 2 goalies. In reality, every team carries a few extra players. With a max contract, you would have $56.8 million to fill the other 19 spots on your roster, and they would have to be paid a maximum average of a shade under 3 million. That's not very much at all.
One way to see whether he would be worth a max contract would be how many cap dollars it cost per point he scored. With a max contract, and his 104 point performance last season, Sidney Crosby would be paid $136,538 per point. For a comparison, Malkin was paid $120,833 per point last season, Ovechkin paid $120,740, Getzlaf paid $94,827, and Giroux paid $96,220. So, Crosby would be paid more, but not by an absurd amount. His offensive dominance very well may be worth it.
The Difference Between Basketball and Hockey
When making the decision, one must realize the stylistic differences between basketball in hockey. In basketball, a few superstars can win a championship by themselves, no matter what the supporting cast looks like (see: Miami Heat). But in hockey, a few superstars does not make you a champion. You need depth at forward, a solid defensive corps, and at the very least an above average goalie. Signing Sidney Crosby to a max contract would make it markedly more difficult to fill out the rest of your roster.
Despite that, I believe you give Sidney Crosby a max contract every day of the week if he hits free agency. You are getting the best player in the world without giving up any assets, other than cap space. The salary cap is expected to go up over the next few years, making the cap hit less crippling. Finally, you could trade some of the more expensive players on your roster (who are likely some of your best) for a treasure trove of elite young players, prospects, and picks to fill the needs in the rest of your roster. One superstar does not make an NHL franchise, but getting him for free would.
Do You Give Crosby a Max Contract?
Comment below or send me a tweet as to whether you would, or wouldn't give Crosby a max contract.