The Tampa Bay Lightning may still be licking their playoff wounds, but they are doing so through cheshire smiles. The type of knowing grin that can frustrate those attempting to analyze body language. A maniacal smirk suggesting the pain will have been worth it.
Taking a gander at the Lightning playoff roster sheds some insight on this behavior. Twelve players who logged playoff minutes have not yet celebrated their 25th birthday. Included in this frozen dozen are very important names: Steven Stamkos, Victor Hedman, Tyler Johnson and Ondrej Palat.
Stamkos and Hedman had the pleasure of hearing their names called very early in their respective NHL entry drafts. In 2008, the Lightning made Stamkos the first overall selection, securing the offensive face of the franchise. The following summer they used the second overall selection to select Hedman, the defensive face of the franchise. Palat would have to wait a touch longer to hear his named called in the 2011 draft, falling all the way the 208th overall selection. His wait was not as long as Johnson's, who never got to hear his name at all. After twice being passed over in the draft process, Johnson signed an entry-level contract with the Lightning on March 7, 2011.
There are many ways to acquire players, but none more important than the draft. It is here months of scouting can pay off handsomely for a franchise. Hit on a couple picks each year, and an organization is well equipped to compete for shiny trophies. Miss on those picks, and an organization is well equipped to share a nervous night watching NHL deputy commissioner Bill Daly unwrap large logo cards draped in envelopes of despair.
With that in mind, there are several players available in this year's draft that can help dreams of glory come to life. In the first installment of the Lightning draft preview, a pair of prospects who would be nice fits in the Tampa Bay organization are put under the microscope. Should either, or both, be available for the Lightning at 19 overall, it is difficult to see Tampa passing on them.
Ivan Barbashev, C/LW (Moncton Wildcats, QMJHL)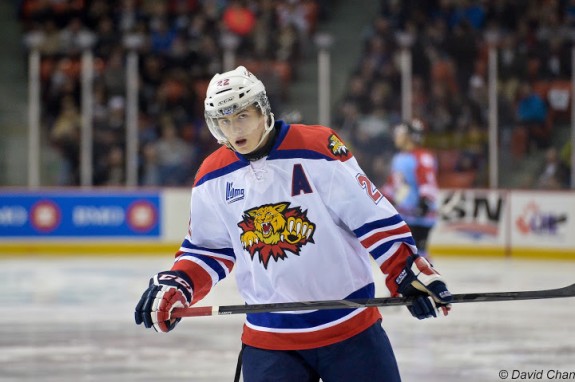 For Lightning fans, the Barbashev narrative will sound awfully familiar. This youngster is not what comes to mind when describing most Russian forward prospects. While he does possess sublime puck skill, a deadly wrist shot and quick feet, there is much more to his game than offense alone.
THW's own Shawn Reznik details more layers to Barbashev's game:
Barbashev uses his body effectively to shield the puck from defenders and can create space for himself. His positioning has improved over the season and he seems to know where to be with and without the puck. He's a battler all around the ice and will use his body and speed to lay some heavy hits when needed. But let's not forget what makes Barbashev such a prominent draft pick – his offensive skills.

With his size and strong lower body, he has explosive quickness and acceleration. A nifty stickhandler, Barbashev seems to have the puck on a string when it's on his stick. He scored 25 goals this season for Moncton with his deadly wrist shot. A creative player with very little flaws to his game, Barbashev has a lot of potential to be either a perennial scorer or a two-way forward.
Similar words were used to describe Vladislav Namestnikov leading up to the 2011 draft. The Lightning grabbed Namestnikov with the 27 overall selection, and have enjoyed his progression since. He is knocking on the NHL door, and Barbashev could very well follow suit.
Barbashev often flashes electric offensive skill while playing a 200-foot game. He has multiple layers of positivity to the way he plies his craft, something the Lightning and general manager Steve Yzerman value highly. His position versatility is also extremely valuable as he can be deployed in any situation. These qualities, when combined with a high work rate and keen understanding of the game, make for a prospect with impact potential at the NHL level. Should he be on the board when the Lightning are on the clock, he could very well become a Tampa Bay prospect.
Blue Julius wouldn't just have the perfect nickname if the Lightning call his name, he just might have a perfect NHL match. While the Lightning have shown a preference for size when drafting defensemen in recent years, the silky smooth Finn has a number of traits missing on the Tampa Bay blue line.
For starters, he is a righty. To go along with that key attribute, he has incredible feel for the offensive side of the game and is a natural with the puck on his stick. There seems to be a genuine lack of panic in his game at either end of the ice. His size will get a lot of attention leading up to the draft, but he has shown in the WHL and at the World Junior Championships it is not a hindrance to his effectiveness on the ice.
Fellow 2014 NHL draft prospect and Finland U-18 teammate Kasperi Kapanen talked to NHL.com about Honka:
"He's amazing with the puck. When he gets the puck he's so calm. He knows how to get that first good pass and score the goal too, from the point. He's dangerous with the puck and he's also a good defender. He got some size over the summer and he's a pretty good skater and sees the ice well."
As Kapanen points out, Honka has made huge strides in his defensive game. Part of that comes from his natural skating ability and high hockey IQ, but his experience against quality competition has helped as well. Kapanen also points out Honka adding size which has also come into play. While Honka will never be a feared physical presence, his added strength has aided his play on the boards and in front of his net. His skating and feel for the game allow him to get into good defensive position quickly, and he is not afraid to use his body to win pucks.
Swift Current head coach Mark Lamb also had good things to tell NHL.com about Honka:
"He's been as good as advertised. He was just so good in training camp. His skating and his puck handling and his shot, he was way ahead of everybody. … You wonder, can he take it into the regular season and do it, but the biggest thing is how he practices and what he can do in practice, that's where you really get a good look at this kid. He's got some God-given talent that a lot of kids don't have. He's very high end. What he's done offensively, the points are one thing, but he creates so many chances. He's got that amount of points, he could have had a heck of a lot more."
Honka had a great statistical season in Swift Current and played a big role in Finland winning a gold medal at the World Junior Championships. Given his skill set and accomplishments to this point, it is tantalizing to think there is still room for growth in his game. The Lightning do not have a defenseman in the system with his offensive abilities. With plenty of young guns up front, envisioning Honka running a power play in Tampa has to have Lightning leadership considering him should he be available. Granted the actual sight of Victor Hedman manning the point on the power play is plenty good, but Honka could potentially be even better in such a role.
The Tampa Bay Lightning find themselves in a very enviable position. They have a roster littered with young talent, with more pups on the way, and a chance to add even more high end talent to their stable with a pair of first round picks. Their position would become that much more enviable if they walk away with either Ivan Barbashev or Julius Honka with the 19th overall selection.