Yes–the answer is yes.
In fact, there are more than a few candidates currently on the Boston Bruins who would be nominated for such a distinction. But when the compliance buyout period expires on June 30, a mere 12 days away, it's very likely that the Bruins will do nothing, keeping their use-it-or-lose-it, get-some-cap-space-free cards.
So will they use them? They might not be able to.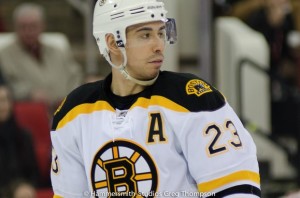 With the new CBA, teams are allowed two compliance buyouts, to be used in either June 2013 or 2014, where they are able to terminate the contract of a player without any type of cap penalty, contrasting from ordinary buyouts. The Bruins are one of 16 teams that still have both of their compliance buyouts available and with a potential cap overage of $4.75 million to loom in the balance of the 2014-15 season along with little cap space to be flexible with, General Manager Peter Chiarelli would be wise to exercise this luxury.
But I don't think he will, for reasons unknown.
Let's get this out of the way right now: Chris Kelly, Gregory Campbell, and Adam McQuaid are the three most logical candidates for a compliance buyout, barring any stunning surprises. According to CapGeek, Kelly is on the books for $3 million annually until the end of the 2015-16 NHL season, while Campbell ($1.6 million) and McQuaid ($1.56 million) have contracts that expire at the end of the 2014-15 season. Using their two buyouts, the Bruins could save anywhere from $3.1 to $4.6 million in cap space that could be used elsewhere–like another year of Jarome Iginla, from the latter example.
Injuries to both Kelly and McQuaid put a damper on these plans. While Campbell could be a potential buyout candidate, it's hard to imagine that Claude Julien's defense-first schema would move forward without both he and Kelly. Statistics tell a different story, but Chiarelli and Julien have a comfort zone built with defense-first, bottom-six guys and fortunately or not, Campbell and Kelly fit that description. Plus, with a low cap hit on an expiring contract and the fact that mainstay fourth-liner Shawn Thornton has already been told he won't be returning, is it really all that likely that Chiarelli says goodbye to Campbell? This has nothing to do with opinion, but rather management habits demonstrated by the Bruins brass. This has been a team that relies more heavily on experience and past success than analytics.
Which leads us to Adam McQuaid.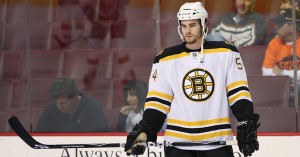 McQuaid spent a good chunk of the 2013-14 season out of the lineup with quad and ankle injuries and saw his role on the blue-line replaced first by Matt Bartkowski and later, Kevan Miller. Now with a healthy Dennis Seidenberg returning to the lineup, McQuaid seems like a safe bet to be a healthy-scratch if the Bruins in fact re-sign Bartkowski, who is a restricted free agent. With a trade value next to nothing at the moment, it'd be best for the Bruins to use their compliance buyout on McQuaid. Except, he's still injured, which makes things complicated.
After undergoing ankle surgery in early May, McQuaid's recovery time was pegged at about eight weeks which would make him, in layman's technical terms, "healthy" by July 1, at the earliest. The compliance buyout period concludes on June 30 making McQuaid safe from a buyout. Sort of.
CapGeek does go on to explain that, according to the CBA, injured players cannot be bought out unless the rare instance occurs where both the player and organization "mutually agree" to the buyout. This could actually be a possibility, but could get messy once you take a look at all of the logistics such as, "Is McQuaid worth $1.5 million to be a seventh defenseman?" or "Will McQuaid actually stay healthy?" And as far as McQuaid is concerned, is he willing to cut ties with the sole team he has spent his career with in exchange for (maybe) playing time on another team who (maybe) pays him an equal salary? The whole thing seems blurred.
With Chris Kelly, the Bruins are in the same boat. Injuries could prevent a buyout.
It's even less likely the two sides "mutually agree" to a buyout, especially when Kelly has two years remaining in his contract. Kelly missed all of the postseason due to a back injury and even postponed surgery in case he could return later in the playoffs. Since he's still technically injured, Kelly can't be bought out. However with no status updates since team break-up day in May, things could change.
While the Bruins may have both of their compliance buyouts available to them, it's unlikely they act and actually use them due to reasons outside of their control. If this is the case, the Bruins are in for even more of an interesting offseason than they could have imagined. They'll have to get creative if they want to stay under the cap and still maintain the core roster.
To clear space, the Bruins may have to make a trade, as unpopular of an opinion as that may be. The only other option is that if Iginla is re-signed, he's brought back to a similar contract as this past season's, laden with bonus incentives. Then, the Bruins are in the same boat next year with cap overages.
For reasons not even pertaining to games played on ice, the Bruins' brass should hope Kelly and McQuaid are as healthy as ever.
Follow Mike on Twitter for more Bruins updates, news, and commentary.
Mike Miccoli covers the Boston Bruins for The Hockey Writers and has been a credentialed member of the media for all Bruins' home games for the past five years. As a former player, coach and official, Miccoli has been around the game of hockey since the age of three. Along with his work on THW, Miccoli has also been published in the New England Hockey Journal, Improper Bostonian magazine and on BostInno.