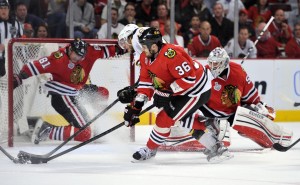 The Leafs have to live with the contract of David Clarkson. As maligned as it is, Clarkson can still provide depth off the wing and it's not impossible he could score 30 goals if he returns to form and gets some power-play time.
But you know who will never score 30 goals?
Could the Leafs really be entertaining giving over $5 million per year to a guy whose career year of 19 goals and 47 points came six years ago? If so, Dave Nonis should be fired on the spot – at least Clarkson was coming off a solid season before he was signed.
I don't know how many teams have to get stuck with bad contracts that pay supposedly defensive players who are great "character guys" in their late 20s to early 30s a ton of money and term before they realize how bad of an idea they are, virtually every single time.
There are many reasons to pass on Bolland, but not a single one to sign him.
Bolland, is 28 which isn't a problem because it's not like he's old or anything, but if your career high is 19 goals and it happened when you were 23, the odds of topping it at 28, playing from the third line, are next to zero. Offense is the most important factor in signing a player. You do not need to pay $5 million for a defensive player, because even if Bolland gives you the best third line defensive centre in the NHL (he wouldn't actually come close, but let's pretend for a minute) if you instead gave his money to a player who has a chance to score between 20-30 goals, you would be so much better off that it isn't funny.
Offense cannot be overvalued. If the Leafs could allot the money Bolland is set to make to a player who can be relatively guaranteed to score 10 more goals than Bolland and then fill Bollands third line centre role with someone who is worse defensively and not quite the "leader," they would be a better team by miles and miles. What I mean in terms of real life, is if the Leafs signed Radim Vrbata, who is a virtual lock for 20 goals, for $4 million over 2 or 3 years, and then played Holland as their third line centre, they would be 100% better off than if they signed Bolland – and Vrbata isn't even that good- there are probably tons of better options.
Spend your money on goals, not intangible, possibly imaginary, things like leadership, character, versatility and  grit, which, incidentally, are the so called reasons you would want to sign Bolland. You might also want to consider that Bolland  is also coming off a terrible injury, which makes the idea of signing him that much more dubious.
Bolland needs to be allowed to walk away. The Leafs are always talking about what a young team they have, so prove it: Let Bolland leave and fill in for him with some youth on the third line.
There is not a single reasonable argument to sign him, and the Leafs get better just by letting him go away.
The best thing the Leafs could do is take the money they are about to waste on Bolland and use it to lock up someone who actually might have a chance to live up to their contract. Someone like Nazem Kadri, a player the Leafs should sign and, besides Rielly and Kessel, the only player on the roster they should consider untouchable.
Covering the Leafs for the Hockey Writers.