by Eldon MacDonald (edited by @ChrisRalphTHW)
Ryan MacInnis
THW's NHL Draft War Room Rankings (E-Mac): #32 (April 2014)
THW's NHL Draft Rankings – The Next Ones Edition (aka Chris's List): #45 (March 2014)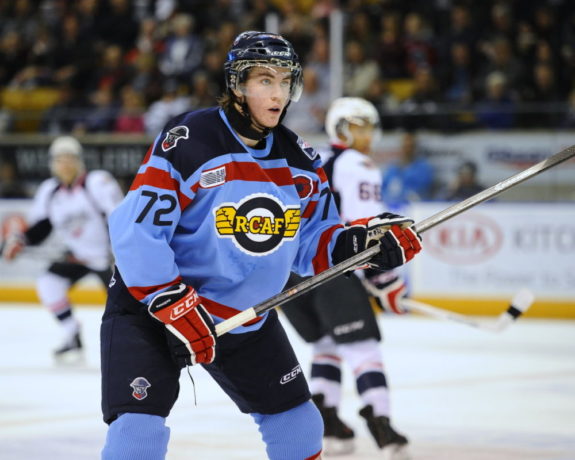 Hashtag: #TheTallOne
Nickname: Mac
Team: #27, Kitchener, OHL
Position: Centre
Shoots: Left
Height: 6'4
Weight: 185 lb.
Born: Stratford, ON, 14-Feb-96
Twitter: @Macinnis72
Stats

Other Rankings
22 – ISS, Apr-14
25 – NHL Combined – Final, Apr-14
33 – Craig Button, Jan-14
36 – Bob MacKenzie, Jan-14
Worth Retweeting
http://t.co/dTmaEKMf2A
#22 Ryan MacInnis @Macinnis72
Raw, lanky frame w/ intriguing upside for the two-way game. Strong smarts & awareness.

— ISS Hockey (@ISShockey) May 7, 2014
Ryan MacInnis @OHLRangers arrives in CGY for #BMOTP and admires @NHLFlames Stanley Cup mural featuring his Father Al pic.twitter.com/UpqiLfLbbS

— Canadian Hockey League (@CHLHockey) January 14, 2014
Son of former NHLer, Al MacInnis, Ryan MacInnis of the @OHLRangers eyes the 1st rd at #2014NHLDraft http://t.co/dNh3WVP9z9 #FantasyHockey

— DobberProspects (@DobberProspects) May 7, 2014
Ryan MacInnis (Kitchener Rangers, OHL) was asked if his shot rivals that of his Hockey Hall of Fame father: "Not even close"

— Mike Morreale (@mikemorrealeNHL) September 26, 2013
Contains All the Prospects Profiled in This Series]
Profiles
Interviews
Quotables
Quote 1: Brock Otten at OHLProspects.Blogspot.ca, "He's definitely a long term project with potential (think along the lines of Calgary's Jankowski selection). MacInnis has the size, skating ability, puck skill, and poise to be a prototypical top 6 center at the NHL level. He's getting better, but I still want to see him play with more conviction without the puck. As a center (with his size), he's going to have to learn how to control the boards and play in his own end."
Quote 2: Russ Cohen at Sportsology.info, "He skates well for a big guy. His hockey sense could be a bit better when it comes to setting up plays. He has terrific puck pursuit. His dad, Al, is a Hall of Fame defenseman. Ryan's shot is good, but not at Al's level just yet."
From the War Room
Eldon MacDonald, THW: A few words on Ryan MacInnis:
The Tall One – A 6'4 centre, every team wants one.
Genes – Son of NHL Hall of Famer, Al MacInnis.
Offense – Add great hands and passing ability to a 6'4 frame and you have a solid foundation to build upon. While his shot doesn't make the goaltenders cringe like his dear old Dad did, he does possess a very good wrist shot with a nice release.
Defense – Has the makings of a strong two-way forward with size. He is not quite there yet but you can see it in his future.
Future improvements to make – Ryan is not a physical player but is working to improve in this area. If he adds some weight and strength to his lanky 6'4,185 lb. frame, then, I think he will find much more success and confidence in the physical side of the game.
Draft placement – Rankings are many clustered from the late first to mid second. While his results for the year have not been overwhelming, teams looking for size with skill are not going to pass over this guy for long – a solid second with a good chance of a late first.
Video
Chris is THW's senior draft/prospect analyst and a Managing Editor. Watch for "The Next Ones" Prospect Profile series, exclusive rankings, mock drafts, as well as the annual THW NHL Entry Draft Guide. Follow @ChrisRalphYQ on Twitter as he infiltrates, dissects and analyzes all happenings of hockey prospects and the NHL entry draft. Email: cralph[at]thehockeywriters[dot]com