The 'Canes are without peer in the NHL in their ability to assert their will against other teams and get an elusive one goal performance from their offense. Saturday night in Tampa was no exception. They powered up against the Tampa Bay Lightning and got that goal and came away with another disappointing loss, 2-1. In sports, consistency is essential, and the Carolina Hurricanes are showing a remarkable consistency to get just one goal.
In 35 regular season games thus far, the 'Canes have scored one goal in 12 of them. Over a third of their results have seen a nice number "1" on the scoreboard. They have scored one goal in more games than the total number of games they have won. Needless to say this consistency has been the single largest factor in determining the outcome of games.
'Canes fans cynical?
Yes they are. However this fan is trying to make the best of the situation that the one-goal wonders are in as they fight with the Edmonton Oilers for last place:
@cmcdavid97 Welcome to the @NHLCanes Connor!

— David Kehrli (@DavidKehrliTN) December 28, 2014
In Raleigh, North Carolina, the "Caniacs" are restless, trying to decide if they're looking forward to the return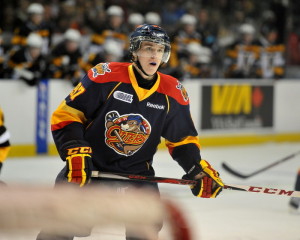 of Jordan Staal to the lineup against the Montreal Canadiens. Will his return ruin the team's chances at drafting Connor McDavid or Jack Eichel? In the article I wrote about Staal's return not guaranteeing a turnaround, one 'Canes fan commented on Facebook,
"Booo, no turnaround. We want McDavid or Eichel. No more wins this year please."
I think you will agree sentiment such as that is just a tad on the cynical side. It's been a long season already for 'Canes nation, and there is still a lot of hockey to be played. But hoping for no more wins here at the end of December is not an indication of very much hope for the team turning things around as it is currently configured. Hoping for one of the top two names at the top of the 2015 draft to land in Raleigh may be hope that is better placed:
Jack Eichel is living up to the hype. Here's everything to know about USA vs. Germany. http://t.co/sZnIeSonWh pic.twitter.com/DI5pi69lsT

— theScore (@theScore) December 28, 2014
Offensive Hope?
Is there any hope for the Carolina Hurricanes this season? The answer likely lies in part to answering the consistent frustration of only scoring one goal in a game. Against the Lightning, the 'Canes were down 2-0 deep into the third period. Andrej Sekera came through to get the all-important one goal on the board at 14:04. It was a nice goal for Sekera, his second of the season, bringing his point total to fourteen.
The offense for the 'Canes is clearly searching for answers. While team captain Eric Staal garnered an assist on the Sekera goal, it is glaringly evident that Staal is not living up to the expectations that 'Canes fans have of him, especially given his salary and position as captain. Here is a picture of what some Carolina fans are feeling about their captain as expressed on the team's Facebook page:
Until this team has a new leader and captain, this team will suck
That is a pretty blunt assessment from a fan. Eric Staal has taken a lot of heat in the past few years. He has dealt with injuries and a level of performance that has fallen short of his abilities. 'Canes fans have tried to be patient, but they are restless. I do not think that the Hurricanes need a new captain.
Staal has played through injuries and, while not necessarily a true positive for the team in terms of what he can physically do, it is a sign of leadership. He is willing to "tough it out" and play as well as he can even though not one hundred percent healthy. He just needs to find a way to score, as do his teammates. Well, at least more than one goal per game.
Mark lives in the Raleigh, NC area and covers the Carolina Hurricanes.