When you picture an enforcer, you will probably conjure up an image likely consisting of a big guy who can't skate, bloodied knuckles, missing teeth and a rearranged nose. In recent years, the stereotypical enforcer for the most part has fallen by the wayside as teams want to roll all four lines. But the code of standing up for your teammates is still alive and well and fighting is a part of the game whether people like it or not. This is where a guy like Brandon Prust comes in.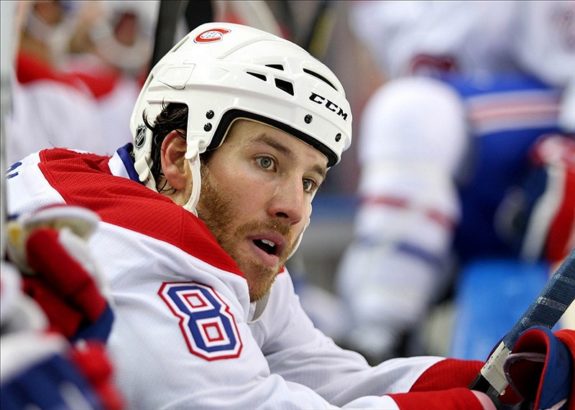 A fighter game in and game out
Prust is considered a lightweight enforcer at 6'0″ 195 LBS (according to NHL.com) but has no qualms about going toe to toe with players who are bigger and stronger than him. As a New York Ranger, Prust fought frequently as he fought 25, 18 and 20 times (according to hockeyfights.com) in his three seasons on Broadway. Since his junior hockey days as a London Knight in the OHL, Prust has made a living out of protecting his teammates. But where Prust differs from a traditional enforcer is he can play a regular shift and chip in with more than just his fists. However, Prust's physical style of play has taken its toll. Injuries have been an issue in recent years for him as he has suffered multiple injuries to his shoulders. Fighting on a regular basis isn't good on the body especially with Prust not being the biggest of players. But whether or not he is standing up for a teammate or defending himself, Prust is almost always willing to step up to the plate.
Prust had to answer the call after crashing into former teammate Henrik Lundqvist.
Versatility
In a recent game versus the Ottawa Senators, Prust hit the 100 point mark in his 403rd NHL game. He has never been a prolific scorer as his career high in points in a season is 29, but considering the role he plays, the output is about expected. As a free agent in the summer of 2012, Prust was heavily pursued by the Montreal Canadiens, who signed him to a four year $10 million deal. GM Marc Bergevin signed for Prust for his character but Michel Therrien has given him a bigger role. Primarily used on the third and fourth lines, Prust is also a regular on the penalty kill. He was first used on a line with youngsters Alex Galchenyuk and Brendan Gallagher during their rookie seasons to ensure no liberties would be taken against the youngsters. Playing in an up tempo Montreal system has given Prust more opportunities to contribute both on the score sheet and on special teams.
Despite not being the most offensively gifted of players, Prust can still chip in the odd goal.
His value as a player
Brandon Prust embodies what it means to be a modern day enforcer. He is willing to drop the gloves to spark his team or stand up for a teammate. But he also possesses enough skill to be a contributor night in and night out for the Habs. He has proven to be a leader for the team as he is very vocal on the bench and in the dressing room and has been seen helping Galchenyuk and Gallagher off the ice. He is active in the community in both Montreal and his hometown of London. With goons fading from the game, kids expecting to make the big leagues with just their fists will likely be disappointed. But seeing a guy like Prust who protects his teammates while still contributing on a regular basis can perhaps serve as an inspiration for the ones who don't possess elite talent and have to will their way to the NHL.