Norfolk Admirals defenseman Mat Clark is not the flashiest of players. The 6'3' right-handed shot is billed as a "stay at home defenseman." While Clark may not be a regular on the score sheet, he does the little things on the ice like delivering big hits and clearing the crease of threats that are pivotal to a team's success.
Clark has been a mainstay in the Ducks organization since the 2010-2011 season and has seen ice time in nine big league contests. During his most recent call-up, Clark chalked up his first assist in the NHL against the Calgary Flames on November 25th. Clark talked about his most recent call-up, "It's a testament to your play and a testament to the organization believing in you. You have to make the most of it and I just tried to do exactly what they asked of me and work hard and try to make the most of my opportunities."
According to Clark he has simplified his game during his last stint in the NHL, "I think I simplified it and found a niche and found a way they could use me effectively. I'm not going to be a guy who is going to be on the power play up there or anything like that. I found a way to simplify my game, play hard, physical, block shots, and be reliable up there."
Also during his recall Clark was reunited with Trent Yawney who coached Mat in Syracuse and in Norfolk. A familiar face that helped him fine tune his game, "I had Yawney for a few years so that was nice to be reunited with him. He knows the game extremely well and they just worked on me moving the puck. Things happen quickly up there, they were pretty happy with my skating and my physicality. They just wanted me to tidy up my puck play," noted Clark.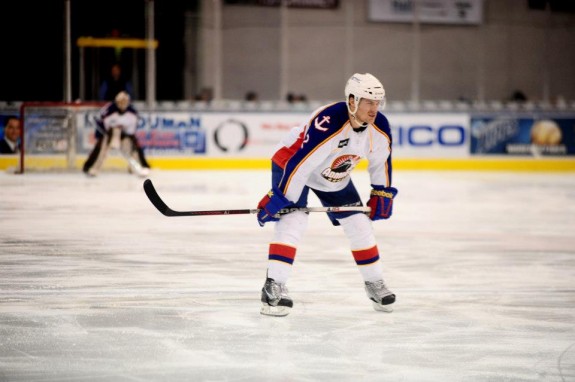 Play in the NHL is faster, Clark saw that first hand as he compared the NHL to the AHL saying, "There is a lot of great players in this league too, everything happens pretty quick up there. If you turn the puck over there's a pretty good chance it's going to end up in the back of your net." Mistakes are costly in the NHL according to Clark, "Mistakes are huge up there. If you make a mistake, they have so much skill up there it's tough to rebound from that. For me, you just have to make sure you make as few mistakes as possible."
At 24-years-old Clark is a leader in Norfolk and has a letter on his jersey to prove it. "Clarky" can put a bug in his younger teammates ear on what it takes to play in the NHL and that is the commitment to win every night as Clark said, "Just the commitment it takes to win every night. You can't really take a night off. There are a ton of great teams in the league and you have to be committed to win every night and it's never going to be an easy night, no matter who you're playing."
In closing, if Clark continues to simplify his game and continues to lead by example which he has been doing in Norfolk there is no question he'll be a part of the Ducks D-Core moving forward.
Ted grew up in Virginia. Warren has a passion for the AHL and dishes out articles about the Norfolk Admirals and the AHL. Follow him on Twitter @bauerhockeydude