Isn't it funny how things can change? Following what was another difficult campaign in the overall standings, many believed Edmonton Oilers general manager Peter Chiarelli would be forced into making a splash at the 2016 NHL Entry Draft; be it dipping into the pool of "$6 million men" currently on his roster to make a move or trading the fourth overall selection in the draft.
What will the #EdmontonOilers do at #2016NHLDraft? Read my Latest @LastWordOnSport https://t.co/SrsX24CEFi

— NL KING (@TheNLKing) June 21, 2016
While either one of those scenarios could come to fruition, the notion that the organization has almost no choice but to do something substantial over the coming days is ridiculous. If anything, the Oilers are sitting in an awfully nice spot heading into this weekend's festivities in Buffalo. Considering how this year's Draft Lottery played out, one would have thought that to be next to impossible and yet here we are.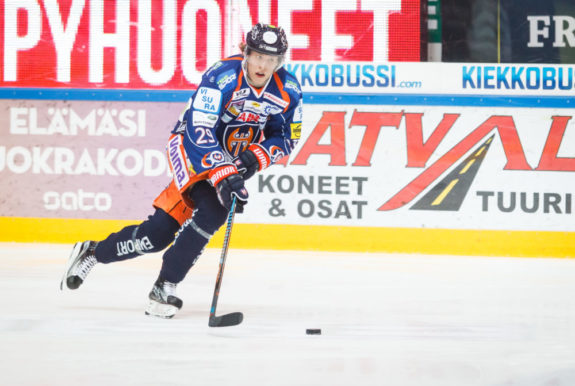 Matthews, Laine and Everybody Else
Make no mistake, the hope all along was for Edmonton to secure one of the top two spots via the lottery and add one of Auston Matthews or Patrick Laine to their stable of talented youngsters. Unfortunately for them, they used up all their good fortune in landing Connor McDavid the previous year and had to "settle" with picking at No. 4 at this summer's draft.  Not ideal but far from disastrous, and things have actually played out in a rather favourable fashion in recent weeks.
[Related Article: 2016 NHL Mock Draft – The Next Ones Final Edition]
The combination of having Matthew Tkachuk go out and play a starring role in helping lead the London Knights to the 2016 Memorial Cup coupled with the apparent hesitation of the Columbus Blue Jackets in using the third overall pick on Jesse Puljujarvi, has the Oilers sitting pretty. In a matter of a few short weeks, their spot in the draft has become even more attractive and could lead to the organization coming home from Buffalo with a better haul than they may have originally hoped.
Tkachuk Has Opened Eyes Across the NHL
Tkachuk has all the attributes that general managers across the league covet and it is no secret that the guy who is currently running the Oilers likely sits atop of that list.
 A multi-dimensional energy winger that plays a pro-style, adaptive game. Well-versed as a guy who can consistently put up points, but also as an agitator who plays with a little bit of bite and nastiness. Skates with excellent balance and speed, outclassing many in his age range. No lack of offensive instincts and knows how to score in many different ways. Confidence in his abilities and playing to the extent of his capabilities strengthens his work ethic and creativity. All-in-all, a unique and effective forward who defines his own limits and seeks to exceed them, along with all on-ice expectations. (Curtis Joe, EP 2016) –  Courtesy EliteProspects.com
Not surprisingly, his recent run at the Memorial Cup turned more than a few heads and probably helped move him up the depth chart in some team's draft order. While he has always been high on Edmonton's wish-list, my guess is if the Oilers keep their pick and he is still on the board at No. 4, Tkachuk is the name we will hear called by Chiarelli when he steps to the podium to make the selection. However, there is no guarantee that happens.
[Related Article: Vatanen Signing a Blessing in Disguise]
If the Blue Jackets keep their pick and decide to pass on Puljujarvi at No. 3, you can bet Chiarelli will be sprinting up to the stage. With that said, chances are Columbus moves down if they are not sold on the kid and whichever team makes that deal, will be doing so in order to grab the talented winger. While the chances of the highly-touted Finn falling to Edmonton may seem unlikely, a few weeks back there was absolutely zero chance of it occurring, so take it for what it's worth.
Dubois and Sergachev Are Real Options
Where things could get interesting is if teams come calling for No. 4 in hopes of landing the son of former NHL sniper Keith Tkachuk. The return would have to be pretty special in order for Edmonton to consider moving the pick outright, a legit No. 1 defenceman entering the prime years of his career would fit the bill, but that is not going happen.  Having said that, if the add-on was substantial enough, there is no reason why the Oilers wouldn't seriously consider sliding down a handful of slots and still get a guy they want.
[Related Article: Mikhail Sergachev – Prospect Profile]
The obvious targets would appear to be Cape Breton Screaming Eagles forward Pierre-Luc Dubois and Windsor Spitfires blueliner Mikhail Sergachev. One can easily make the argument that Dubois is every bit if not a better prospect than Tkachuck and Sergachev has the necessary tools to develop into the best defenceman in the draft. Not too shabby of a prize and to be fair, this could already be the route the Oilers have been planning on going down all along.
Oilers should draft Pierre-Luc Dubois and stalk pile centres.

— NateInVegas (@NateInVegas) June 21, 2016
At the end of the day, the Edmonton Oilers will head into the 2016 NHL Entry Draft with a plethora of options at their disposal and it will be up to Peter Chiarelli to ensure he makes the necessary moves to improve his club both for today and most certainly for tomorrow. Regardless of what direction he goes in, there will be those who question his decision but all that ultimately matters is if it all works out in the end.
Rob Soria is the Author of Connor McDavid: Hockey's Next Great One. He has chronicled the Orange and Blue since creating his Oil Drop blog in 2011 and has also had his writings featured over at HometownHockey.ca and Vavel USA, where he has covered the NHL, MLB and ATP Tour. Rob was born, raised and still resides in Edmonton, Alberta and can be reached via twitter @Oil_Drop.