The Edmonton Oilers have not played an NHL game for two and a half months but from the standpoint of their fan base, this week could not come soon enough.
Despite what was yet another disappointing season for Oilers Nation, the thought of what lies ahead continues to keep fans on the edge of their collective seats when it comes to seeing what this franchise does at the Entry Draft and via trade and/or free agency.
Improving the backend is high on that wish list, and in the minds of many, Anaheim Ducks defenceman Sami Vatanen appeared to be a viable target.
Vatanen's deal is four years, $19.5 million. $5M in 2016-17, 2017-18, 2018-19. $4.5M in 2019-20.

— Eric Stephens (@icemancometh) June 18, 2016
That all changed over the weekend, as Ducks GM Bob Murray inked the talented blueliner to a four-year/ $19.5 million extension through the 2019-20 season.
While an organization signing one of their better young players to a long-term deal should come as no real surprise, most seemed to believe Anaheim would use the 25-year-old as a trade chip in hopes of addressing areas of need on their roster. Considering the plethora of talent the organization currently has on defence, that train of thought seemed to make perfect sense.
Unlikely Vatanen Was Atop Chiarelli's List
While there is likely little doubt Oilers' general manager Peter Chiarelli had the gifted Finnish rearguard flagged as a potential off-season target, my guess is he was not at the top of his list. Surprised? Well…you really shouldn't be.
If you sit back and think about it for a minute, paying a premium price for a player like Vatanen may not have been the greatest of fits for Edmonton in the here and now. No question he would address their need for a presence at the point on the power play and help transition the puck up ice to the forwards, but force-feeding him top pairing minutes would have frankly been a disaster waiting to happen.
[Related Article: Oilers Would be Wise to Hold Onto Benoit Pouliot]
Let's be honest here, we have all seen this song and dance in this neck of the woods on an almost annual basis for the better part of a decade. The most recent example coming last season in the form of Andrej Sekera.
For my money, the Slovak rearguard was by far and away the Oilers best blueliner in 2015-16, and yet many felt he did not live up to expectation in season one of his six-year/$33 million free agent pact. Anyone who was expecting the 30-year-old to come to Edmonton and carry this blue line was not only kidding themselves but also unaware of what said player is capable of.
The big question, with Chiarelli's "We must get bigger/tougher/harder to play against" mantra, does a Barrie or Vatanen even fit with that?

— Copper & Blue (@CopperandBlue) June 3, 2016
In a perfect world, Sekera is a No. 3, but capable of taking on the role of a No. 2 with the right partner and situation. That scenario does not currently exist with the Oilers, and Vatanen would have been in a similar spot with far less of a track record.
For much of this past season, he logged third pairing minutes at even strength with the Ducks and was adequate in his own end of the rink. That does not translate into being capable of taking on a bigger role with one of the worst teams in the league. Again, a recipe for disaster.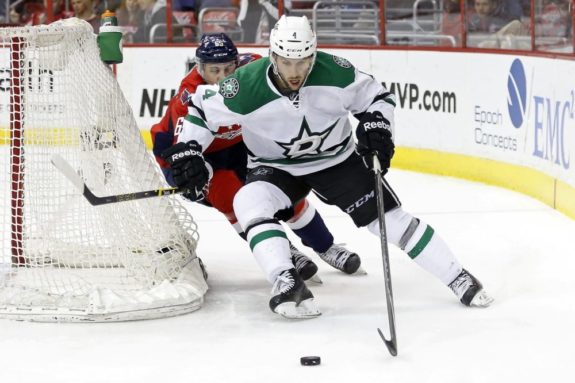 Demers Will Receive Sekera Treatment
Add to that the fact Chiarelli appears ready to bring in as many players as possible that have a physical element to their game and Vatanen just doesn't seem to make sense. At some point, this organization is going to have to give up something of quality in order to upgrade the defence, but I was never sold on the notion of this deal being made.
Could something have been worked out? Possibly, but the supposed pieces in play never seemed to make sense from a Ducks' standpoint and Edmonton has to get what they deem to be full value in a deal for a core piece.
[Related Article: Vatanen, Eberle, and the Edmonton Oilers]
Much like last summer, when this organization decided to go "all-out" in its pursuit of Sekera, the Oilers are probably planning on going down a similar path with pending unrestricted free agent Jason Demers come July 1st.
You can bet Peter Chiarelli is hoping he will go two-for-two when it comes to landing a big fish via the UFA market, but he will need to do more in order to get this group over that hump and headed back in the right direction. The challenge then becomes to ensure he can acquire a player who is capable of filling the role of power play quarterback.