With two years left on his contract and a salary cap hit of $3.3M, should Islanders' left wing Josh Bailey be moved and if so, would there be any takers?
At this point, it appears the Islanders are stuck with Bailey until the end of his contract.
Drafted in 2008 with the ninth pick in the first round, one of 13 Islanders picks that year, Bailey has scored 93 goals in 557 NHL games. Of the players drafted that year, only four, Steven Stamkos, Erik Karlsson, Derek Stepan and Adam Henrique, have scored more goals. However, unlike those players, who have become mainstays for their organizations, he's never scored 20 goals in a season, he's never had 100 hits, he's never won more faceoffs than he's lost and he's never had a sexy shooting percentage. He's also never had a plus/minus that indicated he was the type of player you'd want to have on the ice in a game-changing situation.
At 26, Bailey's overall value is tough to assess. While he's versatile — he can play the wing in addition to center and can kill penalties and play on the power play — he doesn't do any of those things at a rate that makes him exceptional. He's also never "clicked" with anyone on a line. With the Isles since he was 18, many believe Bailey was rushed to the NHL and at times over the years, it's appeared he's been over his head.
In spite of all of that, Bailey has been a consistent 30-point type guy that can fill in a variety of places in the lineup. At times, especially in the playoffs the past two seasons, he has shown promise. He's a good skater that, when hungry, can be dominant. He's not a small guy either, but he's not physical enough to give himself the room he needs to be creative on a consistent basis. Much like Oleg Kvasha, another former Islander that fans expected more from, Bailey has proven to be his best when he's following the puck and imposing his will.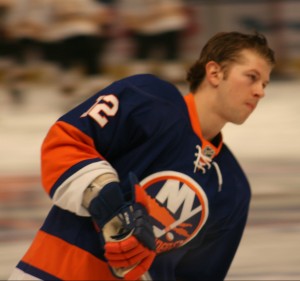 Like Mikhail Grabovski and Nikolay Kulemin, two other players many believe are overpaid on the Isles, Bailey's play isn't necessarily bad, it's just not worth what the Islanders are spending on him. Signed a few years ago when the Islanders were struggling to get to the cap floor, Bailey was one of these home-grown guys with potential that got a nice contract to show the fans the Isles had a mission to build from within.
"Josh has become an important member of the young core of the players we have in our dressing room," Islanders general manager Garth Snow said on the Team's official site when the signing was made public. "We're excited to come to terms with him on a deal that will ensure he is a member of this team as we solidify ourselves as consistent playoff contenders."
But unlike the plethora of awesome developing talent the Isles have had over the years, Matt Martin, Kyle Okposo, Frans Nielsen, John Tavares, Casey Cizikas and Travis Hamonic, Bailey has yet to live up to his potential.
You can't even make the case that Bailey is a guy that would benefit from playing elite talent the likes of Jamie Benn, Sydney Crosby or Patrick Kane, because Bailey has played with Tavares on several occasions over the years and has never been a "finisher."
With the additions of Shane Prince and Alan Quine to the roster during the playoff push, as well as the potential losses of Kyle Okposo, Fran Nielsen and Matt Martin and free-agent additions this offseason, the Islanders will have several choices to make. Bailey's future and role with the team is definitely one of them.
Over the past ten years as a working journalist, Patrick Hickey Jr. has covered the New York Islanders, New York Rangers and New Jersey Devils, as well as the Brooklyn Aces of the former EPHL, contributing pieces and/or holding Editorial positions at NBC, New York Sports Day, NY Sportscene Magazine and the New York Times. During that time, he has interviewed NHL stars the likes of Brendan Shanahan, Bernie Nicholls, Bob Probert, Martin Brodeur and Zach Parise. He is also the first winner of the New York Islanders Blog of the Year Award, for his work on TheDriveForFive.com in 2008.