In the minds of many a hockey expert, the Edmonton Oilers took a pretty big risk in signing Benoit Pouliot to a five-year/$20 million deal in the summer of 2014. After playing for five different teams over a five-year stretch, it took many by surprise that an organization would be willing to cough up that sort of dough and term for a guy who had never quite lived up to the expectations that came with being the fourth overall pick in the 2005 NHL Entry Draft. With that said, it is awfully difficult to not be tempted by the total package the 29-year old brings to the table.
STORY: LW Benoit #Pouliot signs 5-year deal with #Oilers, who also sign ex-Devils D-man Mark #Fayne http://t.co/rBabtKdUgT #hockeynight #nhl

— Hockey Night in Canada (@hockeynight) July 1, 2014
While his time in the Alberta capital has been plagued by injury and uneven play, Pouliot has never posted better offensive totals at this level.  On a roster that has lacked both bigger bodied types who can hold their own while playing alongside the inexperienced high-end skill on this team, and a veteran presence that can contribute on a nightly basis, he is a breath of fresh air. Someone this organization can ill-afford to move out-of-town via a trade this summer. Surprised? Well, if you have been watching, it should come as absolutely no surprise.
Pouliot Has Produced in Orange and Blue
While he has only dressed for 113 of the Oilers 164 games over the past couple seasons, Pouliot has scored 33 times and chipped in 37 assists for good measure.  That works out to .62 PPG and over an 82 game schedule we would be talking about a 51-point campaign. Not an earth-shattering total by any means but certainly reasonable enough production for a guy earning $4 million per season…especially on a team that has been as bad as this one has since his arrival.
[Related Article: Oilers Make Right Call In Signing Kassian]   
Despite his aforementioned uneven performance, the former Minnesota Wild draftee has shown the ability to be a regular contributor when placed on a line with either Connor McDavid or Ryan Nugent-Hopkins, and that cannot be ignored. With that being the case, one would think Peter Chiarelli would have to be acquiring one heck of a player to even consider making such a move leading up to this summer's draft or free agent period. That may seem like a bit of stretch for some, but this organization's recent history tells a different story.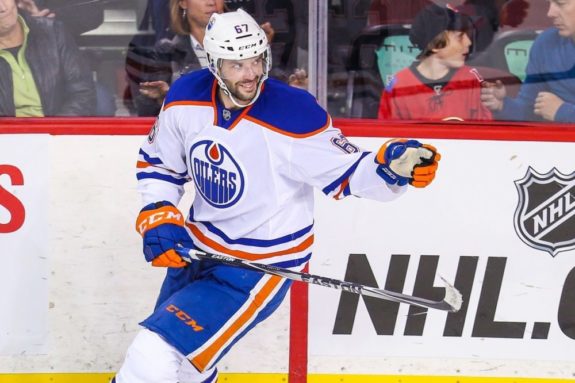 Pouliot Is the Type of Player Oilers Need
Outside of Patrick Maroon, who Chiarelli acquired at last season's Trade Deadline from an Anaheim Ducks side that was looking to free up cap space, this organization has been searching for "real" NHL players who could mesh with the young talent on this team for what truly feels like an eternity. If his 16-game audition is any kind of indication of what Edmonton can expect from the big American winger in 2016-17, would a Maroon-Pouliot duo not be a perfect complement for Todd McLellan to have at his disposal moving forward?
[Related Article: World Cup Snub Could Be What Taylor Hall, Oilers Need]
While the argument that neither one is a legit top-line player is valid, both are solid short-term solutions for a team that is still trying to discover who and what they are. Contrary to what some may think, this lineup badly needs to add size to its forward ranks in order to compete on a nightly basis in this league. It is not up for debate…it is a fact. However, that size has to be capable of taking a regular shift and not become a hindrance to whatever collection of Leon Draisaitl, Jordan Eberle, Taylor Hall, McDavid and Nugent-Hopkins are still here come next October.
https://twitter.com/JonathanWillis/status/734096194536869888
Unfortunately, the head coach never got the opportunity to use both players in his lineup at the same time, as Pouliot was injured two games prior to Maroon's debut on March 3rd against the Philadelphia Flyers. While both play on the left-side, my guess is one can play on their off-wing should McLellan see them as fits inside the top six.  On a well-balanced team, we would be talking about these guys as depth players that could be bumped up the pecking order should the need arise. The Edmonton Oilers are trying to get to that level and moving Benoit Pouliot will not help them get there any quicker. In fact, it quite possibly could have the opposite effect.
Rob Soria is the Author of Connor McDavid: Hockey's Next Great One. He has chronicled the Orange and Blue since creating his Oil Drop blog in 2011 and has also had his writings featured over at HometownHockey.ca and Vavel USA, where he has covered the NHL, MLB and ATP Tour. Rob was born, raised and still resides in Edmonton, Alberta and can be reached via twitter @Oil_Drop.