There are different ways to tackle an off-season to-do list in the NHL. When it comes to addressing a roster's most glaring needs, general managers usually have no choice but to wait until the summer months to make major changes. However, that is not necessarily the case when it comes to filling secondary roles in a lineup and the Edmonton Oilers took their first step in that direction by re-signing Zack Kassian to a one-year deal late last week.
https://twitter.com/NicholsOnHockey/status/733700873633693696
[Related Article: Oilers Hand Zack Kassian A Lifeline]
While the former first-round pick of the Buffalo Sabres has fallen well short of expectation during the first five years of his pro career, it is no secret he fits the bill for the sort of player general manager Peter Chiarelli is looking to add to this roster. Despite showing nothing more than the occasional flash of offence during his 36-game audition in 2012-16, Kassian's body type, style of play and willingness to stand-up for both himself and teammates clearly left a mark on his new GM.
Kassian May Be Out Of Chances
In a perfect world, the Oilers hope the 25-year old will seize the opportunity and become a regular contributor in Todd McLellan's lineup during 2016-17. If things go according to plan this summer, Chiarelli will be upgrading both his blueline and forward ranks prior to the start of training camp. Should that occur, Kassian will have no choice but to bring his "A-game" to the table on a nightly basis or he will find himself in the press box more often than not. In my mind, that extra bit of pressure could be just what the doctor ordered and give the player that little nudge to help him over that final hurdle.
"For them to give me another opportunity to show that I've changed my life around… I'm beyond happy." @zkassian9 on signing #Oilers contract

— Edmonton Oilers (@EdmontonOilers) May 19, 2016
If we are to take him at his word, one would think Kassian will certainly give everything he has to make this thing work. By the sounds of it, the guy has been nothing but a model citizen during his time in Edmonton and kudos to him for getting his life back on track. With that said, we are talking about a player who had a grand total of three assists over the final 20 games of 2015-16. In his defence, he wasn't exactly playing with "quality" linemates during much of that stretch but he was afforded that opportunity at various points during the year and the results were not there.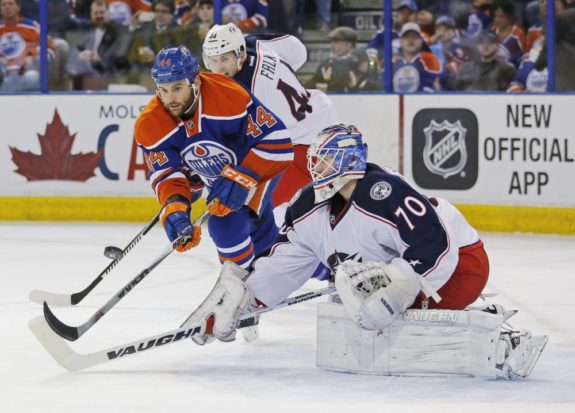 Low-Risk Move for Both Kassian and the Oilers
Though considering what Kassian had been dealing with over the previous 12 to 18 months, those results were frankly rather predictable. The combination of his off-ice issues coupled with his lack of playing time and uneven performance on the ice, expecting anything other than lacklustre results was nothing more than wishful thinking. To their credit, neither Chiarelli nor McLellan appeared to be part of that group but there is no question both saw things they liked in the 13th overall selection of the 2009 NHL Entry Draft.
[Related Article: Zack Kassian and the Edmonton Oilers]
There is no question that his overall skill-set and previous success with Daniel and Henrik Sedin during his time with the Vancouver Canucks suggested the potential for something good to come from his inclusion…jut not in the immediate future. Let's not forget, Chiarelli acquired him in a deal with the Montreal Canadiens for netminder Ben Scrivens, who was struggling to find his game in the AHL with the Bakersfield Condors. It was a low-risk move that had "win-win" written all over it and by signing Kassian to a one-year extension, it was certainly a trade worth making.
https://twitter.com/NicholsOnHockey/status/733700912007483393
At the end of the day, shelling out $1.5 million for a guy with five years of NHL experience under his belt and a tool-kit this organization is looking to add more of made this a no-brainer of a move. Zack Kassian checks off all those the books and could also move up the depth chart on a short-term basis, should the situation call for it. If used in a bottom six role and with linemates that actually have an offensive dimension to their game, there is absolutely no reason why the Oilers No. 44 should not put together a bounce back season of sorts and in the process salvage what looked to be career headed to the point of no return.
Rob Soria is the Author of Connor McDavid: Hockey's Next Great One. He has chronicled the Orange and Blue since creating his Oil Drop blog in 2011 and has also had his writings featured over at HometownHockey.ca and Vavel USA, where he has covered the NHL, MLB and ATP Tour. Rob was born, raised and still resides in Edmonton, Alberta and can be reached via twitter @Oil_Drop.