'The Nuck Stops Here' is a Vancouver Canucks news and analysis column running every Sunday throughout the season.
NEWS
Canucks sign Yan-Pavel Laplante
The following is a press release from the organization:
Vancouver, B.C. – Vancouver Canucks General Manager Jim Benning announced today that the club has signed forward Yan-Pavel Laplante to a three-year entry-level contract.
Laplante, 21, appeared in 63 regular season games for the Gatineau Olympiques of the QMJHL this season, where he established career-highs in goals (34), assists (31), points (65), shots (233), and plus-minus (+17). The 6'0", 183-pound forward also tallied eight points (3-5-8) in 10 playoff games. In 251 QMJHL regular season games over five seasons, Laplante has registered 183 points (90-93-183) and 237 penalty minutes.
On the international stage, Laplante helped Team Canada capture gold at the 2013 Ivan Hlinka Memorial and at the 2013 U18 World Junior Championship.
A native of Ste. Martine, Quebec, Laplante was originally selected by the Coyotes in the third round, 62nd overall, at the 2013 NHL Entry Draft.
#Canucks sign 21-year-old forward Yan-Pavel Laplante to entry-level contract.

RELEASE → https://t.co/A0p8lgpknb pic.twitter.com/ON5ZJbSHv3

— Vancouver #Canucks (@Canucks) May 16, 2016
ANALYSIS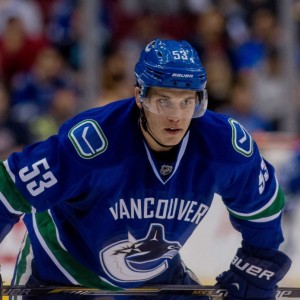 Who will improve in 2016-17 for the Canucks?
If you ask Canucks fans what they think will come of next year's team, you're likely to hear answers such as "well, they won't be great, but they'll be better" or "you know, maybe they can be NOT a disaster next season". While it's very possible that they don't get worse in 2016-17, it also begs the question, who exactly will improve heading into next year? If you look up and down the roster, it doesn't appear as if there's a plethora of possibilities for offensive improvement. Surely Sven Baertschi and Bo Horvat will add on to their 28 and 40 points scored this past year, but after those two, and perhaps Ben Hutton, it's hard to say.
The Sedins will, in all likelihood, regress, and Jannik Hansen will be hard pressed to match his career-high 22 goals. It appears as though the extra offence will have to come from a now-healthy Brandon Sutter and maybe from SHL MVP Anton Rodin, but if those two disappoint, it may be hard for this club to see any sort of major improvement in 16-17. Will they be a bottom-three club once again? It's hard to say they definitely will be, but on the other side of the spectrum, it's hard to see where much of the improvement will come from next season.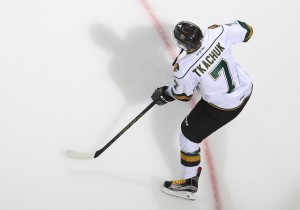 Who should Vancouver select at 5th overall?
Despite the disappointment of falling out of the top-three of the NHL draft, and thus missing out on the chance to select one of Auston Matthews, Patrik Laine or Jesse Puljujarvi, at 5th overall, the Canucks still have a chance to select a high-impact player. While they won't make the immediate impact that a Matthews or a Laine would, they'll still be able to select a good player, and one that will join their core down the road.
The most likely option for the Canucks, and their best one too, would be centreman Pierre-Luc Dubois. Dubois has already been dubbed by GM Jim Benning a potential Henrik Sedin replacement, and considering their depth on the wings, would be an easy selection at #5.
The other skater generating a lot of justified buzz is winger Matthew Tkachuk. While Vancouver does already boast Jake Virtanen and Brock Boeser, along with Sven Baertschi and Anton Rodin on the wings, Tkachuk is more of a game-breaker than any of those four, and could still be an effective NHLer.
If they want to opt for a defenceman, the best option would be Olli Juolevi, a Finnish defenceman who, despite hints from Benning of not going the D route due to no particular standouts, would not be a bad pick in this spot. No matter who they pick, it will be interesting to speculate about who they go with, and at the draft, analyze their eventual selection.
AROUND THE BLOG-O-SPHERE
Fun links about the Vancouver Canucks from all around the internet
The case for the Canucks to sign Troy Brouwer [The Province]
Three Canucks who could lead the offense next season [The Hockey Writers]
Ben Hutton and Chris Tanev have advanced to the World Championships gold medal game after beating the U.S. by a score of 4-3 [IIHF]
The Canucks may have some challenges looking for goals this off-season [National Post]
The Vancouver Canucks' inception of the "Boston Model" [The Canuck Way]
What went wrong for the Canucks this past season [Yahoo! Sports]
Markus is a Vancouver Canucks columnist out of Victoria, BC. Markus is also a Staff Writer for Last Word on Hockey, an Editor and Staff Writer for country music website The Shotgun Seat, and founder of This Is Country Music.