Only a couple of hours until the 2016 Draft gets under way and you don't have the insights of a scout and are not yet fully prepared for the draft? Then it is high time you get prepared in the best way. There has been a lot of chatter on the top three picks, but let's dig deeper. I've come up with a couple of things you need to know going into the draft weekend and have created my very own draft guide. Enjoy!
Who Is the Best D-man?
Probably one of the hardest decisions has to make the team which chooses the first defenceman. The top defenders of this draft class are all pretty close and most mock drafts and pre-draft rankings have ranked them differently. The top three defencemen in this draft are believed to be Mikhail Sergachev, Olli Juolevi and Jakob Chychrun. Chychrun was projected a top three pick at the beginning of the season but has meanwhile dropped, even out of the top 10 according to some scouting services. Sergachev's and Juolevi's value, on the other hand had been rising. Sergachev was awarded the OHL's best defenceman while Juolevi won the U20 World Junior Championship gold medal.
Those six D — Juolevi, Sergachev, Bean, Chychrun, McAvoy and Fabbro — in TSN top 16, really interested to see order they go.

— Bob McKenzie (@TSNBobMcKenzie) June 21, 2016
However, all three defenders have the ability to lead a team's blueline corp and showed it in the course of the season. Juolevi displayed at the WJC that he is a strong puck carrier and has an incredible ability to drive the play forward and shows great overall awareness. He might be the best of the three in terms of driving the play and carrying the puck up ice. Chychrun, on the other hand is maybe not as good as Juolevi in carrying the puck up ice but he is one step ahead of both European defenders physically and in terms of maturity. I also believe that he is the player with the most advanced leadership skills of the three. Chychrun's biggest question mark might be his inconsistency. Still, I would describe Chychrun as the "safest" option while Sergachev and Juolevi might have the bigger upside. Chychrun has a cannon of a shot and has all the makings of a top-pairing defender.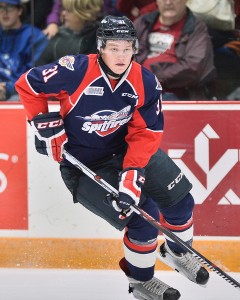 Windsor's Sergachev has put up incredible goal scoring numbers this season in the OHL and was awarded the league's defender with the most scored goals. He might be a hybrid of Chychrun and Juolevi somehow. Sergachev is a good puck mover who can play physically solid, but can also drive the play. I don't think that he has the same offensive upside like Juolevi and is not as physical as Chychrun, but can definitely combine both playing styles and is a solid all-around player. He has adapted well to the North American game and played a solid U18 World Championship where he had to orchestrate an underaged Russian defence.
The Rest of the D-men Gang
Next to the top three defenders, there are some more highly-interesting blueliners available. Most mentioned and believed to be the highest in the draft are Dante Fabbro, Jake Bean and Charlie McAvoy. All of them are projected first rounders and will most likely be selected somewhere between the picks number 10-25. I know scouts that are very high on them and some have them even as top 10 prospects. All of them have a chance to become great players at some point in their career, but those believed top three defenders are definitely the ones with the highest upside and should still be drafted before the rest in most opinions. However, those guys could be nice options for teams missing out on the top defenders.
Tight Group of Forwards Around The Top 10
Auston Matthews, Patrik Laine and Jesse Puljujarvi are the clear top three prospects in the draft and are playing in an own league, followed by Matthew Tkachuk and Pierre-Luc Dubois, who I believe are the next group. They'll probably both be picked ahead of any other forward. Then, there is a group of forwards who are really close together and is very hard to project. This group contains Michael McLeod, Clayton Keller, Tyson Jost, Logan Brown and Alexander Nylander who are all believed to be picked in the range from 6-12.
From a pure skills perspective, Nylander and Keller should be top five picks. They both have the highest pure skill and poise with the puck among this group. Both are rather smallish and not the most physical players, though. Especially Keller, who is listed only at 5-8, gives scouts some reason for concern. I am pretty high on both players and therefore would not shy away from selecting them early – They are both top ten prospects in my opinion.
9th pick is most interesting to me… #Habs most likely take a C, would bank on Jost/Keller… Moving up for more size is also likely

— Brayden Sullivan (@SullyDraftGeek) June 22, 2016
Jost, McLeod and Brown are all physically stronger and mostly larger than Nylander and Keller. From that group, I would say Penticton's Jost is the player with the most offensive upside and who is a potential top ten pick next to Nylander and Keller. I see McLeod and Brown slightly behind. McLeod might not have the offensive upside of the others. Brown, on the other hand is a towering playmaker. He is listed at incredible 6-6 and that could be the biggest concern about him. I am not aware of many skilled top-six forwards in the NHL with that size. At the same time though, I know of scouts that are really high on him and have him in the top 10 without any doubt.
It is an extremely tight race between this group of forwards and it is not possible to project their rankings accurately. Personally, I would have Jost, Nylander and Keller ahead of the other two, but each individual of those prospects can be a top ten forward.
Sleepers
Each draft has its sleepers. Guys who are flying under the radar and get picked too late compared to their upside. With lower picks, each organization hopes to draft those sleepers who turn out to be great steals years later. Let's take a look at some potential sleepers who could be picked up at lower rounds but who I still think they could become decent players.
Joseph Woll (G, USA U18)
Tall, athletic puck-stopper who had a strong season with the NTDP. He is ranked behind top goaltenders such as Tylor Parsons and Carter Hart but could be a nice pick up for an organization which does not want to spend their top pick for a goaltender. He has NHL-starter potential and strangely most mock drafts have missed out on him.
Trent Frederic (C, USA U18)
A hard-nosed and reliable two-way player who shows great work ethic. Delivered a lot of points in the shadow of the NTDP's top line. Has second or third line potential and does not look like a risky selection to me. The question is if he is still available with a mid to late round pick.
Wade Allison (LW, Tri-City)
Maybe the most well-known sleeper in the draft, which kind of takes the sleeper status off him. I know scouts who are extremely high on him and have him getting picked in the first round. A hard-working power forward who plays hard in both zones and possesses offensive upside.
Vladislav Sukhachev (G, Russia U18)
Russian-factor at its best. This guy amazed me at the Ivan Hlinka Memorial Cup, but because of the Russians not participating at the U18 and maybe due to lack of viewings, Sukhachev does not get much love. I might burn myself here, but I would say he is a potential NHL-starter and could become a huge steal with one of the last picks.
Rem Pitlick (C, Muskegon)
USHL's player of the year has top-line offensive upside and could be a nice steal. Is a quick skating forward and possesses smooth hands to make dangerous plays in the offensive zone.
Graham McPhee (LW, USA U18)
A player who combines determination, work ethic and skill and has NHL-potential as a bottom-six player. Is a smooth skater and understands the game well. He seems to me like a "safe" option and could excel in a lower line role at the next level.
Tim Wahlgren (C, Modo U20)
Not much chatter on one of the top scorers of the Swedish junior league. A matured two-way center who possesses smooth hands and shows great playmaking abilities. Don't make the mistake and sleep on him in one of the later rounds.
Joona Koppanen (LW, Ilves U20)
Koppanen plays a very solid bottom-six role and excels the best when playing in his own zone. He is a hard worker and does a lot of little things that help a team win. No flashy offensive skills, but a guy that you definitely want on your team on the third or fourth line.