The Dallas Stars had a very successful 2015-16 regular season. Despite the disappointment of their second round playoff exit, the Stars have plenty to be excited about heading into next season.
Unlike the past three offseasons, Stars general manager Jim Nill does not have to make any major moves. With the acquisitions of Tyler Seguin, Jason Spezza, Patrick Sharp and Johnny Oduya over the last few summers, Nill has built the Stars into a legitimate contender. Even though they are in a good position heading into the upcoming season, there are still some items of business to take care of. Here are a few keys for a successful summer for the men in green.
Contract Extension for Jamie Benn
Perhaps the biggest key to this summer for the Stars is hammering out a contract extension for captain Jamie Benn. Benn has one year remaining on his contract. Reports have stated that Benn wants to remain in Dallas long term. Signing him to an extension before the season starts will help reduce the distractions that can come with contract uncertainties and how they are covered in the media.
Benn has been everything for the Stars. His ability to play the skilled or heavy game make him one of the toughest matchups in the NHL. His leadership skills are also of great importance. He leads with his effort and play on the ice. Letting him get anywhere near free agency would be a disaster for Dallas.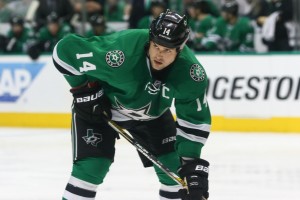 Many teams will be watching to see what Benn gets from the Stars, as his deal could set the market for future player deals like John Tavares. The Stars are in good shape to give Benn a fair deal, but will be careful to not tie their hands down the road.
Free-Agency Decisions
The Stars have several decisions to make on players this summer. With contributors like Vern Fiddler and Patrick Eaves on their forward group and Jason Demers, Jordie Benn and Kris Russell on the blue line at the end of contracts, Dallas will be cutting ties with some solid players.
Keeping both Fiddler and Eaves could block the path for some of their young players and prospects, but the decision between the two is difficult. Fiddler is a good two-way player who kills penalties and chips in with some secondary scoring. Eaves is a net crasher, who screens goalies and is willing to sacrifice his body for the good of the team. They each bring something to the lineup that a team needs.
Brett Ritchie could be the younger alternative to Eaves. Dallas recently signed Ritchie to a one-year contract. Fiddler may already have a replacement ready as Radek Faksa played a very good two-way game for the Stars. With him, Cody Eakin, Spezza and Seguin, the Stars are solid down the middle.
How management sorts this out will be determined by how ready they feel some of their other young prospects are. They could decide to bring both Eaves and Fiddler back on short-term deals as they are both affordable players.
While the forwards may be retained at an affordable cost, it is much different for Demers and Russell. Both defensemen should command a pretty solid contract on the open market. This offseason has already seen the Stars trade the negotiating rights of Alex Goligoski to Arizona.
The situation on the blue line is more fluid than the forward group. The Stars are looking at replacing three defensemen in their rotation if they pass on both Demers and Russell. This again will be determined by how management feels regarding their prospects. With Julius Honka, Esa Lindell and Mattias Backman all highly regarded players, they have options on the farm to work with. With Patrick Nemeth and Jamie Oleksiak having already been in the rotation at some point, there is an abundance of choices.
Patience with Val Nichushkin
Nichushkin garnered rave reviews when he made the Stars as an 18-year old. He lost his second season to injury before working his way back into the lineup this past season. While the overall numbers were not staggering, his improved play as the season and playoffs came to a close should make the Stars feel good about him moving forward.
There was a lot of rumors regarding Nichushkin being part of a trade-deadline deal to improve the roster for the playoffs. The Stars were smart not to send him away and would be wise to resist the temptation to move him this summer. The Russian has a unique blend of size and skill. His kind of talent is difficult to acquire and the Stars were fortunate he fell in their lap with the 10th pick of the 2013 draft.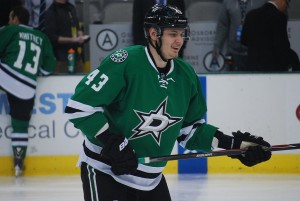 Giving up on the now 21-year old could be for the Stars what trading Seguin is for Boston. Elite talents need to be given time to reach their potential. Nichushkin lost a year to injury and last season was playing catch up. Expect him to start making good on his potential this coming season.
Keep one eye on expansion
When making their decisions this summer, the Stars cannot ignore the ramifications of the upcoming expansion draft. What players they will be able to protect should be a consideration when they make their roster decisions. They have some excellent young talent, and will need to figure out how to maximize their protection of that talent.
While they should not ignore it, they also cannot let it be the driving force behind their decisions. Balance is going to be key for all NHL GMs in their decision-making process. Nill will have some tough decisions to make; the expansion draft just adds another factor to consider.