The 2016 NHL Draft is here and the Nashville Predators face questions like any other team. Who should General manager David Poile take in the first round? Will Eric Nystrom be traded to for another pick?
Nashville sits at 17, and there is some good talent out there. The top three of Auston Matthews, Patrick Laine and Jesse Puljujärvi are getting all the buzz, but there are plenty of hidden gems found throughout the draft.
Poile has gotten steals in the draft before by drafting players like Pekka Rinne, Martin Erat, Mattias Ekholm and others in later rounds. It's a testament to how the front office finds talent in all rounds of the draft.
This weekend will bring about as many questions as it will answer. However, here's a guide of what Predators fans can look for in the 2016 NHL Draft.
First Impression
The 17th spot brings a lot of speculation on who the Predators will select. Nashville could beef up its defense after it only took Alexandre Carrier as the team's only defenseman in last year's draft. Prospects like Logan Stanley, Dante Fabbro and Jakob Chychrun have shown up in various mock drafts.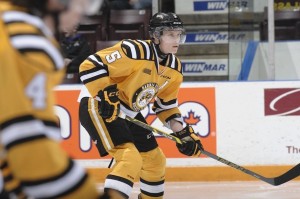 RELATED: On Second Thought: Last Minute Mock Draft
Forwards like Nick Kunin, Julien Gauthier and Riley Tufte could be available and would bolster a young bottom six. However, the team will live by its philosophy of taking the best available player on the board, which is a mantra that has served Poile well.
The College Question
The team washed its hands of the Jimmy Vesey mess after it traded his negotiating rights to the Buffalo Sabres for a third-round choice. The long courtship of the 2016 Hobey Baker Award winner yielded nothing after the Harvard forward decided to test the free agent market.
RELATED: 3 Ways Jimmy Vesey Changes Nashville's Plans
Vesey and other collegiate players are within their rights to check out free agency, but that will have a ripple effect on what the Predators and other teams will do in the future in regards to selecting NCAA players. Some will hesitate on taking a college player because he could decide not to sign after the three-year waiting period.
Let's Not Make a Deal
The Predators will likely only be picking players, and not be in the trade market. The only deal Nashville might make is finding a place for Nystrom. The 33-year-old winger got squeezed out of the lineup and will make $2.5 million next season. The team is trying to clear cap space for the Filip Forsberg and Ryan Johansen extensions.
http://gty.im/500351522
Poile said that Nystrom is a buyout candidate, but he'd love to find a new home for him. A trade would allow Nashville to get something in return for him.
Could there be other trades? Probably not, but anything is possible during draft weekend.
Preparing for a Black Knight?
The league has approved Las Vegas an expansion franchise for the 2017-18 season, and Nashville is going to have to make some tough decisions. The Predators are bound by rules where they can only protect seven forwards, three defensemen and one goalie or eight skaters and a goalie.
Nashville's front office will have to make some tough choices and could see a good player get selected by the new team. This draft will allow teams to stockpile players before Vegas has its pick of the expansion draft litter.
Final Thoughts on the Preds at the 2016 NHL Draft
Nashville does have a solid top-six and could make a few moves in the free agent market. The Predators will most likely take the best player, and it won't be taking a goalie until the later rounds. Taking a netminder would add to an already crowded crease.
In any case, sit back and enjoy the draft because the future is now.