The Nashville Predators have finally made a clean break from Jimmy Vesey as they dealt the negotiating rights to the 2016 Hobey Baker Award winner to the Buffalo Sabres for a third-round pick in this year's draft. The trade ended the saga on if the Havard forward would play in the Music City.
He didn't sign despite the team putting so much time and effort into signing him. General manager David Poile was genuinely disappointed not to get a skater that's been "pro ready" for the last couple of years, according to him.
Poile admitted that his trade deadline plans hinged upon word that Vesey reportedly was going to sign with the team. Vesey spurning the Predators also will have a ripple effect on Poile's draft, offseason and plans beyond.
Draft Direction
If the North Reading, Mass. Native had signed with Nashville, there would haven been
little doubt that the front office would go defense in the first round. The team might still do that, but there might be some doubt if a good forward comes available when the team selects at pick number 17.
RELATED: Preds Poll: Who Should Nashville Take in the First Round?
Vesey probably would have cracked the Predators' lineup and been on either the second or third line, and that would have allowed Poile to shore up the prospect pool on defense. Now there is a degree of uncertainty of which direction they'll go.
Not Going Back to School?
There's always an unknown factor when a team selects a college hockey player. Said player has three years to decide whether he wants to sign his entry-level deal or go into free agency. Vesey is the most current example of this, but have been other recent examples of this like Kevin Hayes going to the New York Rangers after the Chicago Blackhawks took and Mike Reilly spurning the Columbus Blue Jackets for the Minnesota Wild.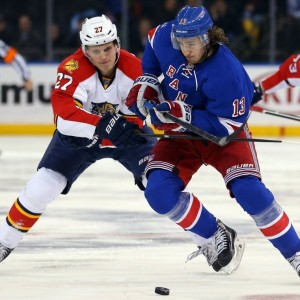 This "College Hockey Question" is similar to what front offices deal with when drafting Russian players. (aka The Russian Factor.) Our own Larry Fisher had the Predators take Tyler Benson of the WHL Vancouver Giants in his mock draft. Another person he threw out as a possibility was Wisconsin's Nick Kunin, but Fisher thinks Poile could be gun-shy on picking another college player because of the Vesey ordeal.
RELATED: 5th Annual Mock Draft, 2016, Round 1
Offseason Plans
Vesey not signing with Nashville also forces the team to look at some other forwards to shore up its depth. The bottom-six forwards did well, but they are still inexperienced. A cheap, older forward could be on Poile's offseason to-do list, but that player will cost more than if they managed to get Vesey to sign his entry-level deal.
Entry-level contracts are usually cheaper than signing a veteran scorer. Poile has been known to sign players coming off of bad seasons to sign at a reduced rate. Sometimes the deals work (Mike Ribeiro) and sometimes they don't (Cody Hodgson).
http://gty.im/517670960
Vesey's signing would have given Poile a chance to lay low this offseason and take care of the Filip Forsberg and Ryan Johansen deals without having to make other moves.
The Verdict on Jimmy Vesey
It's unfortunate that the two sides couldn't come to a deal. Vesey seems like a good player that will have a good shot at making an NHL roster. He could have infused some offense into a Nashville attack that sometimes gets bogged down.
However, he and other college players are well within their rights to test the waters if they don't wish to sign with the team that originally drafted them. There are also should be some sort of protection for a team that wishes to select a collegiate player.
Nashville (and other teams) might hesitate on drafting someone from NCAA hockey.