For an elite player who was expected to command top dollar in the upcoming free-agent market, the decision to switch teams for Alex Goligoski was made quickly.
Certainly, the judgment to sign a five-year contract with the Arizona Coyotes Wednesday was not made in haste, but constructed with reason and purpose. On July 1, there is no question Goligoski represents one of the biggest names on the NHL free-agent market. His experience to mentor younger players and penchant to join a team with growth potential easily make Goligoski, who will be 31 on July 30, attractive to any team. In this case, "any team" was the Arizona Coyotes. ESPN.com reported the deal is worth $5.475 million per season.
On Monday, with the temperature soaring to near 120 degrees F in the Phoenix area, Goligoski and his wife flew into the Valley of the Sun, met by coach Dave Tippett at Sky Harbor airport and whisked directly to Gila River Arena. Though this building will house the Coyotes for only the upcoming season, and a future playing site is to be determined, the venue made no different. Goligoski said he was attracted by more than just a building.
"This was all about finding a good fit," he said Wednesday in a conference call with reporters. "After meeting with coach Tippett, other people in the organization and talking at dinner (Monday) night, this just felt good to me. Really, it was an easy decision, and I'm thrilled and excited."
Goligoski joins a corps of rising defensemen, whose impact at the Coyotes' blue line is still to be felt. There is no question the defense starts with Oliver Ekman-Larsson and the abilities of Connor Murphy and Michael Stone could be argued as evenly matched. After picking up Kevin Connauton on waivers from Columbus in mid-season, Tippett's core on the blue line has promise.
After failing to make the Stanley Cup playoffs, Tippett indicated the Coyotes' essential need is to keep the puck out of the Arizona net. Better play at the blue line and a concerted effort on moving the puck crisply out of their own end, were offseason priorities. Now with Goligoski in the fold, and the kind of player who can raise the level of play from teammates around him, the task ahead is to add Goligoski's experience and leadership into results.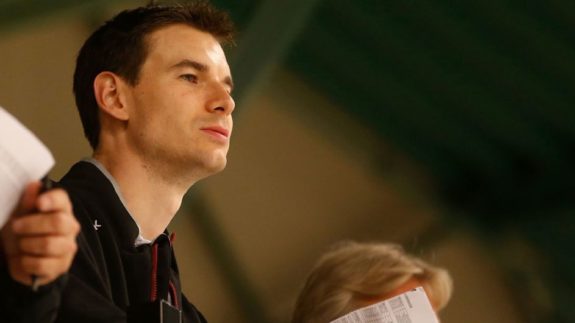 "Alex gets teams to the next level," said John Chayka, the Coyotes general manager. "What makes him valuable is his ability to get the first pass to teammates and he transitions well. He can play the right side or the left side, play on the power play or kill penalties He brings great versatility."
Coyotes Like Leadership and Experience Skills
Originally a second round pick of the Penguins right out of Grand Rapids High School in Michigan in the 2004 draft, he eventually helped Pittsburgh win the 2009 Stanley Cup. Right after his name was etched on the Cup, Goligoski signed a three-year, $6.5 million deal with Pittsburgh. Less than two years later, he was traded to Dallas for left wing James Neal and defenseman Matt Niskanen. With that five-year window now closed, Goligoski hangs out his shingle in the desert.
"Obviously, Ekman-Larsson is a factor on the ice at any time," he said. "I like Stone's game, and Murphy is a good, young player. There is a great deal to like about this team."
If the Coyotes show potential at the blue line, Goligoski said he is also excited to join a team in transition. With the speed and acumen of Max Domi, Anthony Duclair, and those with skills to take roster spots from veterans, the addition of Goligoski is not a bad first step to change fortunes. As well, the Coyotes draft seventh overall on Friday night, and could be in a position to add another impact player.