With rumours surrounding the potential trading of Montreal Canadiens defenceman P.K. Subban taking the hockey world by storm over the last 24 hours, it should surprise no one that the Edmonton Oilers were linked as the team most interested in acquiring the flamboyant rearguard. While it has certainly added a rather interesting dimension leading into tonight's 2016 NHL Entry Draft, the focus should remain on what direction Peter Chiarelli and company decide to go in with the fourth overall pick.
Pretty clear Tkachuk and Dubois are seperating as a tier just behind big 3. Oilers will need really good package to trade down IMO…

— Bob Stauffer (@Bob_Stauffer) June 2, 2016
[Related Article: Oilers in Favourable Position Heading Into Draft]
If the organization decides to keep their first-round pick, it sounds as though Edmonton is leaning towards drafting London Knights winger Matthew Tkachuk. Considering their general manager has a soft spot for guys who play a rugged brand of hockey, it is the selection that would appear to make the most sense. With that said, one can't help but wonder if they might be overlooking the kid who could end up being the better all-around player in Pierre-Luc Dubois.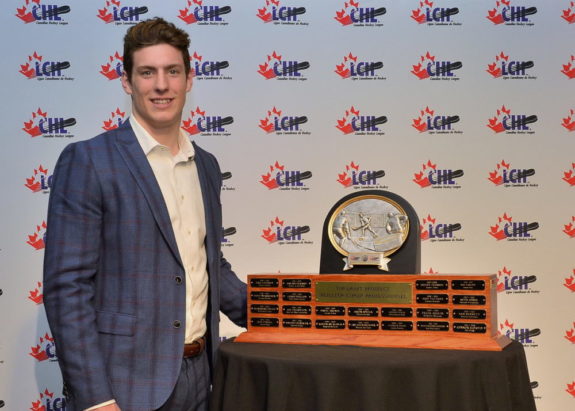 Dubois Is the Real Deal
The Cape Breton Screaming Eagles forward is every bit as good a prospect as Tkachuk and arguably brings a skill-set to the table that better suits the Oilers needs.  With 99 points in 62 games Dubois has proven to be more than capable of scoring but what sets him apart from other prospects, is his ability to produce offence as well as play a shutdown role when the need calls for it. Playing all three forward positions certainly doesn't hurt and TSN's Craig Button is obviously a believer:
Pierre-Luc Dubois of the QMJHL's Cape Breton Screaming Eagles is a player who has pushed himself into the conversation with Laine and Puljujarvi, jumping from tenth spot on the January list to fourth here. He has elite skill, with power and intelligence. Dubois has the ability to play a multi-faceted game balancing all of the essential elements, and is equally adept finishing a play or setting one up. There is so much in his game that reminds me of Dallas Stars captain Jamie Benn, including the versatility to play centre. All of these elements put him in the discussion with the Finnish players.
Contrary to popular belief, Edmonton is not an overly fast team and could certainly benefit from adding another quality skater up front. While both of these guys fit that bill, Dubois does have a slight edge. At 6'2", 205-pounds, the Montreal native is actually bigger in stature than Tkachuk, 6'1", 195-pounds, and while he might not play with the same sort of tenacity, the kid is no shrinking violet and has no issue whatsoever throwing his weight around.
Like Father, Like Son
As far as Tkachuk goes, there isn't much not to like. He played an instrumental role in helping lead the Knights to the 2016 Memorial Cup and he has NHL power forward written all over him. Just like his father, two-time 50-goal scorer Keith Tkachuk, the big American winger is a handful to deal with and plays with a nasty edge. In his first year in the OHL, he posted a 30-goal/107-point campaign and followed it up with a 20-goal/ 40-point run through 18 playoff appearances. Can you say dominant?
[Related Article: Edmonton Oilers 2016 NHL Draft Guide]
Even more impressive was the fact he played much of the post-season on one leg and was still a force throughout. The Oilers have been searching for a player with Tkachuk's skill-set for what feels like an eternity and the thought of having him create extra room on the ice for Connor McDavid is an intriguing one.  The chances of him not turning into an impact player at the NHL level appear to be almost non-existent but the same holds true for Dubois.
BTW, on Tkachuk and Dubois. Scouts say Tkachuk is a tremendous "half-court" circles down player. Dubois a better skater and 200 foot game.

— Bob McKenzie (@TSNBobMcKenzie) June 21, 2016
It is no secret the Edmonton Oilers will be moving one, if not two, of their so-called core pieces over the next couple of years and adding a player with Pierre-Luc Dubois' versatility would give the organization more flexibility when it comes to future roster construction. However, should Peter Chiarelli decide that Matthew Tkachuk is the player he wants…everything else becomes a moot point. It could very well turn out to be a no-lose situation but there are no guarantees and who knows, maybe they decide to go in a different direction and address the backend by grabbing defenceman Mikhail Sergachev.