We have reached the penultimate article in our season review of the San Jose Sharks. For any of the prior articles, just click on the hyperlink:
GM and Owner
It was a moment. The San Jose Sharks players were out on the ice, having just captured the Western Conference Championship. The fans roared approval. As the media swirled around the Sharks bench and Sharks staffers poured onto the ice, Sharks owner Hasso Plattner stood by himself, next to the glass which separates the benches. Dressed in black and easily identified by his shock of white hair, Plattner paused a moment to soak it all in. Then he clenched his fists and raised his arms in triumph.
Summing up the Sharks turnaround season in this picture of owner Hasso Plattner pic.twitter.com/8yXXe0rnVF

— ZEKE and MO (@ZEKEandMO) June 23, 2016
For Plattner and general manager Doug Wilson, this was the long-awaited, long overdue season San Jose needed. No, it did not end with a championship, but it was filled with joyous firsts, including the first Western Conference Championship and first trip to the Stanley Cup Final. It came on the heels of perhaps the most tumultuous season in Sharks history.
The Moves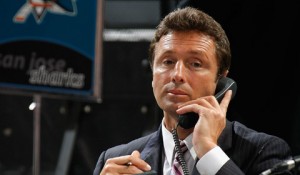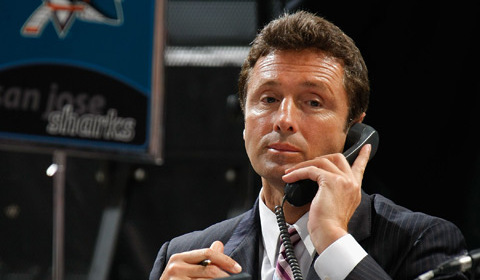 I've said my piece on general manager Doug Wilson in another article, so I won't repeat it all here. The title pretty much gives it away: The Complete Vindication of Doug Wilson.
Wilson made many moves beginning in the 2015 offseason and they all worked. Some were great, the rest were merely good. I'll leave out the names of those who left, suffice to say none made a major difference for their new teams this season (unless one counts John Scott, who managed to make a difference for his team in the All-Star Game). Here is the list of the notables Wilson brought to San Jose over the past year:
2015 Offseason
Hire Peter DeBoer as head coach
Sign free agent forward Joel Ward
Sign free agent defenseman Paul Martin
Sign free agent forward Joonas Donskoi
Trade for goalie Martin Jones
2015-16 In-Season
Sign free agent forward Dainius Zubrus
Trade for defenseman Roman Polak
Trade for forward Nick Spaling
Trade for goalie James Reimer
The Plummet
In April 2014, San Jose was a franchise reeling from a reverse sweep at the hands of their arch-rival, the Los Angeles Kings. From April 2014 through the end of the 2014-15 season in April 2015, one had to wonder what had come over Sharks management. Plattner along with Wilson had managed to take a competitive and functional franchise and rip it apart at the seams, for no obvious reason other than something had to change. There was enormous criticism, many called for Wilson's firing, fans even chanted for it. I was not among those calling for his dismissal, but I understood the energy.
http://gty.im/535377462
In truth, Doug Wilson has been a good general manager for almost the entirety of his 13 year run. He has drafted pretty well and has done a good job managing contracts. He has traded away a bunch of players, but for the most part, he's gotten excellent value in return. Brent Burns and Joe Thornton included. He's mostly stayed away from acquiring veterans in free agency. If there was a knock on Wilson, it was his trade deadline moves. These were meant to help the Sharks become more competitive in the postseason, they never had the desired impact. At the trade deadline in February 2015, Wilson reversed his usually course and offloaded players at the trade deadline instead of acquiring them. For the first time in ages, the team threw in the towel, two months before the playoffs even began.
The turmoil from April 2014 to April 2015 came in all sorts of ways. The team had no captain and a very nasty public spat broke out between the team's all-time best player and Wilson. The team stopped winning. The fans stopped showing up in droves. Sellouts stopped. Season ticket holders bailed. Yeah, it was bad.
The Turning Point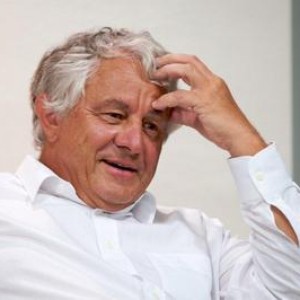 It appears Sharks owner Hasso Plattner was very uncomfortable with what transpired. I have no doubt Wilson and Plattner agreed 2014-15 did not need to be pretty, but I doubt the owner was prepared for that much ugly. I'm certain Plattner told Wilson a season like 2014-15 can not happen again, things needed to turn around in a hurry. If there was a turning point, it was Plattner deciding the team needed to be as competitive as possible.
Fortunately, the Sharks had a good starting point, a lot of talented players. Then came Wilson's moves, which made San Jose better at across the board; at forward, on defense and in-goal. One can certainly say Wilson hit home runs with Paul Martin, who helped turn around one of hockey's greatest talents, with goalie Martin Jones, with forward Joonas Donskoi and with coach DeBoer.
Two of the players, Dainius Zubrus and Nick Spaling, had a history with DeBoer. Most think the coach had influence with the GM when acquiring these players. This suggests a good quality relationship between the GM and coach.
Also of note, Hasso Plattner became more visible. Not by much, but just seeing him give an on-camera interview after the playoffs was something new. He even offered some insight into the working relationship with Wilson, "Doug asked me for the right to go for it and he went and found reinforcements." Wilson asked for the owner's support to make the trade deadline moves, and he got it.
Lucky Or And Good
Wilson's critics will tell you he got lucky. There were alleged deals in the works to move Patrick Marleau and Joe Thornton, but neither player was traded. There were detailed rumors about San Jose acquiring Kevin Bieksa from Vancouver (he would ultimately go to Anaheim). If that trade happens, Paul Martin does not come to San Jose and well, the team would not have been as good.
I'll tell you that luck plays a role in everything. Wilson was definitely good and perhaps lucky as well. Sometimes, it takes both.
At the conclusion of the Western Conference Final, it was bedlam inside the Shark Tank. Plattner was raising his arms in triumph and fans were chanting 'we want the Cup'. Meanwhile, in the suite above section 219, Doug Wilson was celebrating with members of the Sharks organization. There were hugs and yes, even a few tears. For the owner and the GM, it was quite a season.