We are on to our fifth section of the San Jose Sharks season review. Unlike the other sections, this is less of a review and more of a 'where are we now' evaluation. It is based on the current roster and salary cap.
The Roster and the Cap
I'll begin with a few nuts and bolts. According the fine folks over at capfriendly.com, San Jose has 15 NHL players under contract out of the 23 who will eventually comprise the salary cap. These 15 players total $60 million of cap space. The NHL just set the 2016-17 salary cap at $73 million. San Jose has plenty of cap space to add eight more players. The challenge will be to add a 'move the needle' player.
The Sharks roster was good enough to get the team to a Stanley Cup Final. The Sharks can retain almost every player should they so choose. They won't choose this path. There will be a few players going and some new additions. But it bears mentioning, next season's roster is expected to look like the group which just finished the lengthy playoff run. Expect to see all the top six forwards, perhaps all the top nine forwards returning, along with the top five defensemen and the starting goalie. Sharks general manager Doug Wilson said he is pleased with the team's foundation.
Unrestricted Free Agents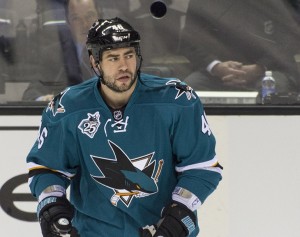 The unrestricted free agents (UFA) are third pair defenseman Roman Polak, benched defenseman Matt Tennyson, fourth line forwards Nick Spaling and Dainius Zubrus, and backup goalie James Reimer.
These are replaceable players. I'd be fine if Zubrus wants to stick around for another season — he'll be paid near the veteran minimum. My sense is he won't return. Reimer will be looking for a starting job elsewhere, and he should get one. I can see a scenario for Reimer staying in San Jose, though it is unlikely. The Sharks have their starting goalie in Martin Jones, they'll need an adequate backup and they will not break the bank to get him.
The Sharks can do better for a sixth defenseman than Roman Polak, let alone at the price he will fetch. Dylan DeMelo looks to take Polak's spot, many think he should have taken it in the playoffs this season. Nick Spaling is replaceable as well, though I have a hunch he'll be back. I've never understood the team's loathing for Matt Tennyson. He was plus-5 in games he didn't have to partner with the not-NHL ready Mirco Mueller. Tennyson and Brenden Dillon worked well together. But the folks who matter don't care for Tennyson and so he'll be gone.
Restricted Free Agents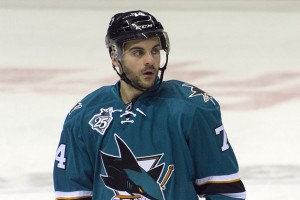 San Jose has a few restricted free agents (RFA). Matt Nieto is a player on the bubble. I think coach Peter DeBoer likes him, which will be enough to retain him. If he stays, he won't garner a big paycheck.
Defenseman Dylan DeMelo is also restricted free agent and not likely to get a big payday either. Wilson praised DeMelo's work recently, making it clear he'll be back. San Jose might be smart to give DeMelo a bit more money and lock him up for three years instead of one or two.
He looks to be a good fit in the sixth defenseman role and at his age, a longer deal has more upside for San Jose. If some of the defensemen in the development pipeline work out, DeMelo is a tradeable asset. If they can't beat DeMelo out, you're glad he's under contract. He does fit the smaller, more mobile defenseman mold, a trend I think will have some staying power. If the Sharks sign him, he will likely be exposed to the expansion draft. If he continues to develop nicely, he may wind up selected in the expansion draft and playing in Las Vegas.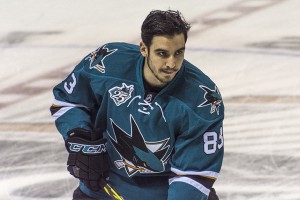 The one major RFA is Tomas Hertl. He won't break the bank, but he will get a hefty raise. The Sharks can try to lock him up for a couple of seasons in the $3 million and change range (a few seasons back, they signed RFA Logan Couture to a two-year, $2.9 million per year deal). The longer the term, the longer Hertl is kept from the free agent market and the more San Jose can expect to pay on an annual basis. Hertl is the only Sharks player who can expect a substantial pay raise for next season.
Roughly speaking, I'd expect Spaling to get around $2 million, Nieto and DeMelo to get $1 million with Tomas Hertl pushing $4 million. I'll add in a backup goalie for about $ 1 million. With 20 spots taken and just three spots remaining (two forwards and one defenseman), we're up to $69 million, with $4 million in remaining cap space.
Moving Out?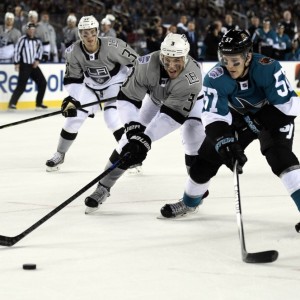 Who departs among the non-free agents? Two players are at the top of the list. One is Tommy Wingels. He seemed to dig his way deeper and deeper into coach Peter DeBoer's doghouse. Without question, Wingels has disappointed.
He looked to be a player on his way to 40+ point seasons, having crossed 35 points twice not long ago. This season, he finished under 20 points. Still, his physical play, positive attitude and ability to draw penalties brings value.
To move him, San Jose may be asked to retain some salary (his current cap is modest, just under $2.5 million with just one season remaining). I think Wingels could earn his keep with a different team.
The lone 'move the needle' player for cap space is Patrick Marleau. This has been covered before, so I'll skip many of the details. Suffice to say Marleau has been in a major decline and his cap hit (almost $6.7 million) far exceeds his productivity — a 'no-no' in a salary cap league. Marleau, however, controls his fate with a 'no movement clause' in his contract. If he is to be moved, the time for it to happen is soon, preferably prior to the start of free agency on July 1.
The reason to move Marleau is not his play, but his cap hit. Cap space is most valuable during free agency and during times where major players can be moved via trades. The window is, for the most part, the next few weeks.
If San Jose can not open up a bunch of cap space during the time when the cap space is most valuable, there is less reason to trade him. Marleau has just one season left on his current deal. I doubt a buyout garnered serious consideration. Given the challenges, there is considerable risk of selling very low. I think this is a contract San Jose winds up living with while making major changes to Marleau's on-ice role next season.
Moving In?
Should Wingels and Marleau get moved along with their entire cap and things play out as described earlier, San Jose will have five spots to fill, one defenseman and four forwards. They will have $13 million in cap space. This is not a likely scenario.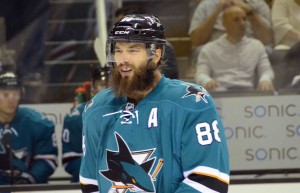 If Marleau gets moved along with Wingels, the Sharks can pursue a big name free agent such as Kyle Okposo or Andrew Ladd. How much cap space the team actually has would be determined by how much cap space they have to retain in trades. It could be $4 million, which still leaves $9 million for four spots. Enough to add at least one top six forward, assuming the Sharks are willing to go low-budget at the other spots. Low budget may not mean low talent.
The Sharks have some intriguing prospects who may be ready for the NHL. In both of the last two seasons, Doug Wilson has found an effective rookie from a Scandinavian team. Both players (Joonas Donskoi and Melker Karlsson) were 24 during their rookie year, and had the sort of mental and physical maturity most rookies do not. They were easy on the budget, not on the competition.
The Sharks need to be a tad cautious in their approach this offseason. They'll need to re-sign both Joe Thornton and Brent Burns before next offseason. Thornton may not get a raise at his age, but Burns could break the bank, if that is what he wants to do. We'll likely know soon, getting an extension for Burns is on the Sharks 'to do' list this summer. If Marleau is not traded, his cap hit comes off the books after next season, which opens up a good amount of space. The following season, contracts for both Marc-Edouard Vlasic and Martin Jones come to an end. Both will be looking at huge raises.
Expect The Expected
My guess is Wilson will attempt to duplicate the approach he used this season. He'll make sure he has cap space available to him as the trade deadline approaches. If the team looks poised for a deep run, he will fill the most critical needs by parting with draft picks and/or players who are on their way out.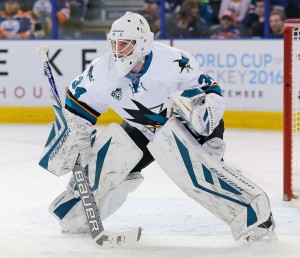 The one spot I suspect Wilson may be comfortable paying a premium is backup goaltender. I doubt Wilson wants to see Martin Jones carry the same sort of regular season load again next year. If this year's free agent market does not work out for Reimer, I think Wilson is happy to keep him on a one year deal. This allows Reimer to pursue free agency when the market might be better for him.
Should Reimer move on, by far the more likely scenario, the Sharks may look to their top AHL goalie, 27-year-old Aaron Dell. Dell is a UFA, so he would need to be re-signed.
As alluded to earlier, this season plays against the backdrop of the expected NHL expansion to Las Vegas in 2017.  If the expansion happens in 2017, there will be an expansion draft a year from now.
Teams are expected to be able to protect seven forwards, three defensemen and a goalie. According to initial reports, players with no movement clauses will need to be protected. Updated reports modified this in an important way. Teams will not be required to protect players with no movement clauses if their contracts are set to expire at the end of that business year (the league's business year ends June 30).
Patrick Marleau and Joe Thornton have no movement clauses and contracts which end on June 30, 2017. The updated report (should it prove correct) makes retaining Marleau more palatable, as the Sharks will not be required to protect him in a June 2017 expansion draft.
As of now, the forwards I'd expect San Jose to retain in an expansion draft are Joe Pavelski, Thornton, Hertl, Couture, Donskoi, Chris Tierney and Karlsson. On defense, I expect it will be Burns, Marc-Edouard Vlasic and Justin Braun, though Brenden Dillon might be considered. I think Dillon or Braun, whoever is not protected, is the most likely Shark to be selected in an expansion draft. If DeMelo has a particularly strong season, he might be the player who departs. It appears the NHL will only allow one player per team to be selected.
The Sharks have a lot of stability on their roster and seem to want to leverage it. Expect limited turnover. Expect a few players in the minors to get a shot at a NHL job this season, Cap space appears to be an asset San Jose can use this upcoming season. Whether they have a little or a lot depends on the players who get moved.
ZEKE is a native of the DC area where he witnessed the birth of the Capitals franchise. After graduating from Cornell University, which had seen hockey glory before he arrived, he moved west to San Jose. There he witnessed the birth of the Sharks franchise. His wait to witness a Championship from any of these teams finally ended in 2018.