The 7-7 San Jose Sharks have been searching for depth scoring all season long. They have tried a number of combinations among the bottom-six forwards but little has seemed to work. 2014 1st round pick Nikolay Goldobin started the season with the AHL Barracuda but has since been recalled to the NHL and sent back down multiple times already this season. Winger Matt Nieto has recently been bumped from the third line to the fourth line and Barclay Goodrow has been bumped from the Sharks' fourth line to the Barracuda's top-six. When healthy the Sharks forwards are rather deep but injuries to Logan Couture and Melker Karlsson as well as Raffi Torres' latest suspension have hindered head coach Peter DeBoer's options for depth scoring.
That said, one could make the case that DeBoer has been demoting the wrong people. Goodrow has been efficient as a fourth line player. He hasn't scored but been strong on the penalty kill, reliable defensively and has made a few plays offensively (three assists and an even rating in 12 games). That is a very respectable stat line for a fourth line left wing, comparatively speaking Mike Brown has just one point in 13 games and Bryan Lerg, Michael Haley and Ben Smith have combined for zero points in 13 games. Goodrow has actually been the Sharks' best fourth line player but he was demoted to the AHL? That is rather perplexing.
Furthermore, a common third line combination used this season has been Nieto with Chris Tierney and Tommy Wingels. The latter two continue to see third line minutes while Nieto has been demoted to fourth line play of late. This is another curious move when you consider Nieto has actually been playing better hockey than Tierney and Wingels. Nieto entered Tuesday night's Islanders game plus-1 while Tierney and Wingels were a minus-3 and minus-4 respectively. Points wise Nieto has five, Wingels has five and Tierney has four but two of those are empty net goals.
Tierney and Wingels Need Demotions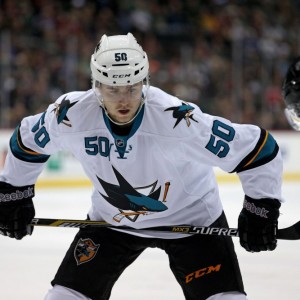 It is rather obvious to yours truly that Tierney and Wingels are the two biggest problems on the Sharks' third line but DeBoer continues to run them out on the third line. It pains me to say it because as many of you know, I love the way these guys play when on top of their game. Last season the Nieto, Tierney, Wingels line thrived down the stretch. Tierney in particular had 14 points in 18 games and was looking like a smaller Joe Thornton with some brilliant passes. Unfortunately that success hasn't carried over to this season. As Fear the Fin noted recently, Tierney's possession numbers are comparable to tough guy Mike Brown who is consistently among the worst forwards in hockey in terms of puck possession. Tierney, not Goodrow or Goldobin, is the guy that clearly looks like he could use some time with the Barracuda. Let him get his confidence back like he did last season when he went down to the AHL and was a point-per-game player.
Wingels on the other hand is a fan favorite veteran who should be bumped from the third line to the fourth line. Since establishing himself as a quality top-9 player the last couple seasons (15 and 16 goals the last two seasons), Wingels has never been so bad as to fall all the way to the fourth line. This year though he has just one goal and isn't generating many chances either. Since he is a physical, hard-nose player that plays well at both ends, he is an ideal fourth line winger stylistically.
Line Combinations Worth Giving a Try
With Karlsson having gotten back healthy and Goldobin showing he can provide some offense, the Sharks can go with a bit of a more drastic look with their line combinations. Patrick Marleau and Joel Ward have looked great together on the second line but Tomas Hertl hasn't been great centering them. Ergo, I would alter three of the Sharks' current lines and give something like the following a try:
Joonas Donskoi—Joe Thornton—Joe Pavelski
Nikolay Goldobin—Patrick Marleau—Joel Ward
Matt Nieto—Tomas Hertl—Melker Karlsson
Barclay Goodrow—Michael Haley—Tommy Wingels
These third and fourth lines would finally be a significant change. The little alterations DeBoer has made so far haven't worked. However, a brand new third line with two terrific forecheckers in Nieto and Karlsson flanking a big body center like Hertl has potential to be really good. Furthermore, this fourth line would be extremely physical and Wingels would bring the unit a much needed scoring touch as in recent weeks the fourth line has been basically useless with guys like Brown, and Lerg playing with Haley.