Sharks defenseman Matt Tennyson was considered a bubble player entering the season. His roster spot was anything but certain. The top two pairs were set. The third pair would consist of rugged left-hander Brenden Dillon and whoever won the job as his partner. Tennyson had one considerable advantage, he was the only right-hander in the Sharks organization competing for the spot with NHL experience. The spot preferred a right-hander.
The Sharks had three players competing for that spot. In addition to Tennyson, there were (right-handed) Dylan DeMelo (who had yet to play an NHL game) and (left-handed) Mirco Mueller. Many thought Mueller, a first round draft pick that general manager Doug Wilson traded up to get, had been promoted prematurely to the NHL at age 19 last season. A consensus seemed to develop around Mueller: he would be best off developing his game in the AHL, playing major minutes there, instead of playing occasionally in the NHL as a seventh defenseman. Because of the seasoning Mueller needs and the fact the Sharks already had three left-handed defensemen locked into the line-up, Mueller's move to the AHL was a relatively predictable call. That left DeMelo and Tennyson on the roster out of camp, with Tennyson getting the starting job.
Management Skepticism
Thus far, management has shown itself to be skeptical of Tennyson's game, consistent with the awkward treatment he received from last season. This skepticism has shown up in a few ways. The most obvious is ice time, where Tennyson continually gets substantially fewer minutes than his defensive partner, Brenden Dillon. The Sharks rarely use Tennyson on the penalty kill and prefer to start Tennyson in the offensive zone, where his (alleged) defensive liabilities are less of an issue.
http://gty.im/493140746
The conservative management of Tennyson is only somewhat supported by statistics. His Corsi for (CF%) is 45.9%, not great. It is fifth among the team's six every day defensemen, only slightly better than Paul Martin. Tennyson, unlike Martin, starts more often in the offensive zone. Tennyson's primary partner, Brenden Dillon is also below 50% CF%.
Goals (unlike Corsi) are what decide games. Goals paint a different and more favorable picture of Tennyson. With Tennyson on the ice, the Sharks have scored seven goals at even strength this season while only allowing five. Tennyson does provide offense, his shot from the point is probably second only to Brent Burns among Sharks defensemen.
Tennyson has yet to go to the penalty box, while the Sharks other defensemen have taken a total 24 (non-concurrent) minors and been flagged for one penalty shot. At the current penalty kill rate, that is the equivalent of six 'goals against' or 12% of the goals the Sharks have given up this season. Tennyson hasn't left the team at a disadvantage. He is second on the team in GF60 at 2.58  ('goals for' per 60 minutes of 5-on-5 ice time) behind only Paul Martin. He is third best in GA60 at 1.84 ('goals against' per 60 minutes of 5-on-5 ice time) behind the Sharks top pair of Marc-Edouard Vlasic and Justin Braun. Last season, he led the team's defensemen in GA60 at a stingy 1.40. In just over 600 minutes of NHL ice time at 5-on-5, spread out over 47 NHL games, Tennyson has been on the ice for 22 goals for the Sharks, 17 for the opponents. Essentially, a positive differential of half a goal per 60 minutes of ice time.
I've described Tennyson as a player who 'plays hungry' and it does get him in trouble at times. He has seven more giveaways than takeaways (same number as Dillon, Burns has 13 more giveaways than takeaways). His skill level is modest. Still, a third pair defenseman who is plus-2 is nothing to sneeze at. His primary partner, Brenden Dillon, was a disaster last season. When away from Tennyson, he has been a problem again this season.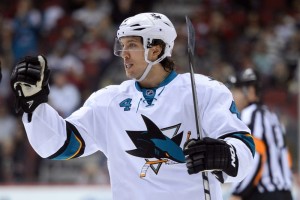 Dillon is a minus-2 in the five games when primarily paired with others (paired with Mueller twice and Burns three times). All told, Dillon has played 78 games for the Sharks over the last two seasons since coming over in a trade. In the 13 games he has played partnered this season with Tennyson, he is plus-5. In the other 65 games he has played for the Sharks, Dillon is a minus-13. It is only a slight exaggeration to say the Matt Tennyson fixed Brenden Dillon. Dillon, in turn, appears to help Tennyson. Tennyson, in the games away from Dillon (paired with DeMelo and Mueller) is a minus-1. Tennyson is a plus-3 with Dillon as his primary partner so far this year.
Money Matters
The Sharks top five defensemen combine for a cap hit of roughly $22 million, the lowest is Dillon's $3.27 million. Tennyson, as the sixth defenseman, makes less than 1/5 of what Dillon makes, with a cap hit of just $625,000. Of the normal 23 roster players, Tennyson has the lowest cap hit. Over a dozen minor league players in the Sharks organization have deals that, should the player make the NHL team, would have a cap hit that exceeds Tennyson's.
Every team needs low-end value players. These are players with very small cap hits, who are not major liabilities on the ice, but in fact capable of holding their own. Players who help make others better. Matt Tennyson has lived up to all of it. I'd like to see Sharks coach Peter DeBoer use Tennyson more, his ice time averages 12 minutes per game. Taking that up into 15-16 minute range and scaling Dillon back to a similar range would seem reasonable. The four players on the top two pairings should be in the 22-23 minutes per night range. It is time to shelter Tennyson a bit less and reward him with more ice time. He's proven effective handling what he has been given. In specific situations and critical games, scaling back his ice time to lean on the top two pairings is fine. But it does not have to be every night.
Puzzling Management Behavior Continues
Alas, the Sharks management attitude towards Tennyson continues to show signs of disapproval, a trend that may have worsened for Tennyson in recent days.
Tennyson has played in 16 of 18 Sharks games this year. The two he missed were the most recent games; he was a supposedly healthy scratch against Buffalo and Boston, games two and three of a six game eastern road trip. It is always possible that he isn't totally healthy. More likely, though, is that Tennyson is on the verge of a demotion. It appears likely that Mueller is being given his chance to take the spot opposite Dillon. Certainly Mueller is viewed more favorably for the long-term by the team's brass. A GM doesn't trade up in the first round, as Wilson did on draft day to acquire Mueller, without putting some extra skin in the game for that player's success. Wilson started talking up Mueller even before last season. On the flip side, Wilson has little skin in the game with the undrafted Tennyson. Last year and perhaps again this year, Tennyson is getting the red-headed stepchild treatment while Mueller comes off as the golden child.
Tennyson's 7:14 of ice time in the road trip's opening game against Detroit was a season low, not what one might expect on the front end of a back-to-back. It pushed both Marc-Edouard Vlasic and Brent Burns into large minutes. In a span of just over 24 hours, Burns would play 55 minutes and Vlasic 52. Still, the Sharks won both games, stopping a 3-8 skid while winning in Buffalo for the first time in a decade. Ironically, in his shortest outing of the season, Tennyson made a key play and earned his second point of the season with a very good outlet pass to Joe Thornton that created a break which turned into the Sharks first goal a few seconds later — a game the Sharks won by one goal win.
The use of Tennyson last season coupled with his use this season gives reason to question if the puzzling management behavior is happening again. If the Sharks are not comfortable committing to Tennyson, he might be on the trade market, not the first time a thought like this has come up. It might be best for him to exit a team that doesn't believe in him. The carry-over of this sort of management behavior from one season to the next also fits another pattern. The Sharks continue to be managed almost as if a new coach hadn't been hired, suggesting that the GM has a heavy hand in the choices being made.
Tennyson has made Brenden Dillon better. He has done well in the goal-related stats such as GA60, GF60 and plus-minus (goals being what determines the outcome of games). And he has stayed out of the penalty box, something most of the other Sharks defensemen have struggled with so far this year. He has played well above his 'bottom of the barrel' cap hit.
Expecting greatness from a third pair defenseman is a generally a path to nowhere. Outside of a few teams (Nashville comes to mind as an exception), the talent on the blue line is usually pretty thin on the bottom pair. If you can get a third pairing that holds it's own, you've done well. In that regard, Matt Tennyson has passed my test. The people running the Sharks, however, may have arrived at a different conclusion.
ZEKE is a native of the DC area where he witnessed the birth of the Capitals franchise. After graduating from Cornell University, which had seen hockey glory before he arrived, he moved west to San Jose. There he witnessed the birth of the Sharks franchise. His wait to witness a Championship from any of these teams finally ended in 2018.