In the second and final part, we finish addressing the items that were listed in the 'ten items to watch for' early on in the Sharks season, here and here, We expected to learn a lot about the team in the first month of the season. Part 1 can be found here, where we covered the unexpected issues around key injuries along with specific questions raised about the defense, the use of the AHL franchise now located in San Jose and the team's forward depth.
Confidence of Coaches and Fans
I thought confidence would be measurable early on, in part by how much trust DeBoer would place on his lower lines. But injuries created lower lines with players that were more liability than asset, meaning ice time was tilted heavily towards to the top players. Both Patrick Marleau and Joe Pavelski average over 19 minutes per game, which is on the high side for both. The Pavelski goal in this link against the Preds shows him taking shots from three different defenders. It is important to manage his ice time. His minutes are tougher than most. Joel Ward and Joe Thornton are averaging a bit over 17 minutes of ice time per game, an ideal number. Still, ice time hasn't been as tilted as it has been in recent seasons. This matters as three key forwards and one key defenseman are 34 or over. What have we learned here? Not much so far, as injuries have complicated the ability to analyze this.
Home ice advantage was another area I felt we could get a bead on early in the year. The Shark Tank was a tough place for visitors over the years. San Jose had come to own a dominant home record by combining good hockey with an intense crowd of confident fans. After years of sellouts almost every night, that changed last season. Attendance was down, though most games were announced as near sellouts. Early speculation was that attendance might decline further this season. This has proven to be the case. The Sharks second home game against arch-rival Los Angeles fell about 800 seats short of a sellout on a Thursday night. The lower turnout might have been influenced by the San Francisco 49ers playing a Thursday night football game at nearby Levi's Stadium. With the Kings leading most of the way, it turned out to be a pretty quiet crowd as well. Two nights later, for a Saturday night game against Carolina, the announced crowd fell 1,700 seats short of capacity, the lowest turnout in nearly ten years. A few nights later against Nashville, even fewer people showed up, with the announced crowd 2,300 short of capacity. What have we learned? So far, home ice has not helped much. The team is 2-2-0, with the wins coming over struggling teams. If the Shark Tank is to become a strong home ice advantage, the Sharks will need to find ways to fill the venue. As of now, it's not close to happening and the trend line is headed the wrong way.
Upgrades and Overhauls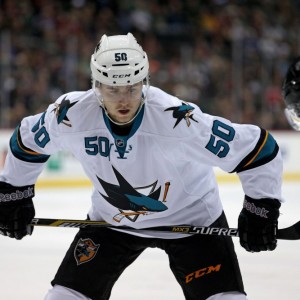 If one unit on the team needed a major overhaul, it was the penalty kill. I expected to see improvements early on. The results have been mixed, and again, injuries takes center stage. In games where Martin has been healthy, the PK has been pretty good. In the games he missed, not so much. Logan Couture, a very good defensive player, is certainly missed as well. What have we learned here? Simple, the PK can be good if the team's best penalty killers are healthy. That is progress compared to last season, when the PK struggled most of the season.
Last season, Sharks general manager Doug Wilson talked about taking a step back to enable the team to take a step forward. In practice, that meant younger players getting ice time to develop their games. I identified five players to look at in October. Chris Tierney and Barclay Goodrow started the season on the Sharks' fourth line together and it worked. Tomas Hertl started the season as the third line center with Matt Nieto as one of his wingers. Hertl flourished and Nieto, who I indicated was at a career crossroads in the offseason, did reasonably well, even earning some time on the top line. I'm not sure Nieto is off the bubble for a fully healthy team, but he's clearly a major part of the team until then. The fifth player identified, Melker Karlsson, is still recovering from an injury, He is getting ice time with the Barracuda, meaning his NHL return should come soon. What have we learned? The youth movement from last season is paying dividends. All four players that have played are at least one step better (in some cases, several steps better) than they were a year ago.
The Guys in Suits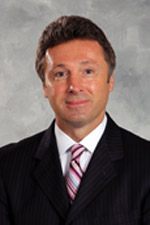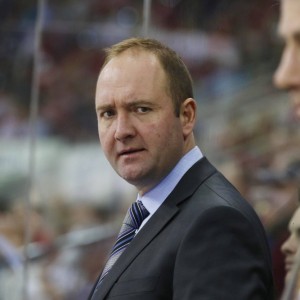 Lastly, I looked to see if new coach Peter DeBoer was going to change directions from Todd McLellan. To some degree, it would confirm how much power the coach has compared to the general manager. It turns out, the new coach does a lot of things the same as the old coach. Top line: Joe Pavelski + Joe Thornton + younger guy (Karlsson last year, Joonas Donskoi, Nikolay Goldobin and Nieto so far this year). Second line: Patrick Marleau + Logan Couture + third guy (last year, Tommy Wingels and Nieto, this year, Joel Ward).
Things have been juggled a good bit with the injury to Couture, yet it seems that DeBoer is coaching much the way Todd McLellan would coach this team. The likelihood that things would continue in a similar direction took root in the offseason with DeBoer's clear statement about Brent Burns on defense, a carry-over from last year's controversial decision. Thus far, Burns remains an enigma and the decision remains controversial. Burns led the Sharks to a win in Colorado a day after being the main culprit in a loss to the Stars. Burns is the only regular Sharks d-man to have a minus rating. Still, this is not about Burns' play; it is about the decision process playing out essentially the same way it did last season under a different coach.
Certainly DeBoer is a different voice and places a somewhat different emphasis on what matters. For example, in the early games, pressure in the offensive zone coupled with a speedy forecheck was quite effective. DeBoer also cited a need to drive 5-on-5 play as opposed to relying too much on the power play. To me, it sounded more like a PR statement than reality — McLellan had emphasized 5-on-5 play as well. All told, there are very limited changes from the McLellan playbook. What have we learned? DeBoer is a different voice with a slightly different message, but only modestly different in substance. This is Doug Wilson's team.