For what was touted as one of the team's biggest strengths at the start of the season, the Winnipeg Jets defense corps has sure had an up-and-down October.
It may seem like a knee-jerk reaction to chastise the Jets defense only one day after their first bad loss of the season but the blue line has been alternately a source of pride and an area of concern all season long. On paper, it looks like it should be the most secure position on the ice for the Jets, and certain experts certainly thought so before the season started. No doubt some still do, and it certainly has the potential to be, but at some point the team needs to address certain bad habits and certain problems that have crept in to their stable of blue-liners.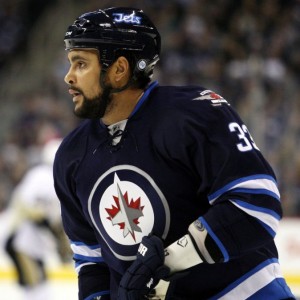 The Good
The Jets defense on the right hand side was predicted to be among the NHL's strongest before the year started, and on paper it's hard to argue. Dustin Byfuglien, when he's at his best, looks like a Norris Trophy candidate. His open ice hits are jarring and momentum shifting, his shot is still the Jets most lethal power play weapon, and how many men anywhere near his size have the speed and hands he has?
The above play, from start to a gorgeous finish, is all Buff, from the takeaway, to the movement up the ice, to the presence of mind to stay onside while pulling off the move, and the cleverness to recognize the small opening he was given. Many players possess some of those attributes, but few possess them all, and very rarely do they come together as beautifully as they did for Byfuglien on this play. The Jets defense is better for his presence on most nights.
Ben Chiarot, Byfuglien's old partner who has shuffled around a bit, is rapidly emerging as the Jets best defender on the left side. He has the size to play the physical game, moves the puck well, and seems to compliment whoever he's paired with on any given night. While his decision making needs to be more consistent, one expects that to come with age, as Chiarot is still only 24 years old. That said, he hasn't been without his hiccups this season.
https://twitter.com/GarretHohl/status/660888446865571840
Tyler Myers, meanwhile, has been up and down, but overall looks promising. I don't think anyone reasonably expected him to maintain the 50-point-pace he was on last season following the trade, and his skating ability is breathtaking. For a man of his immense height, he skates better than anyone else on perhaps the entire team, and he can be a one man breakout. While his numbers haven't been stellar, he has been a useful asset with his ability to skate the puck out of trouble.
On the Other Hand…
Things haven't been perfect by any means for the Jets on the back end, and some aspects of them have been downright disappointing. November 1st's collapse against Montreal was just a microcosm of what has been a problem for much of the year. It's no coincidence the Jets two most frustrating losses, to Montreal and to the Islanders, came in games in which the opposition exploited their pinches to absurd levels.
Both the Islanders and Canadiens games exposed the Jets defense in ways that made fans worry about the future, and the number of odd man rushes the Jets gave up in both games was simply unacceptable. The Jets defense made obvious, readable pinches in both games leading to those chances, and it's disturbing to think that other teams could easily exploit this obvious weakness the same way.
#NHLJets get caught on another odd-man rush, Tomas Fleischmann elects to shoot and beats Hutchinson. 3-0 #Habs 35 seconds into 2nd P

— Ken Wiebe (@WiebesWorld) November 2, 2015
Jacob Trouba has flashed excellent potential in his time in Winnipeg, from his big open ice hits to his smooth skating and heavy shot. Potential, however, doesn't win hockey games, and Trouba must smarten up if he's to be a top defender someday. The young blue-liner has a world of potential (there's that word again) but for a reputedly nasty body-first defenseman he gets caught looking at the puck way too often, as he did on the opening goal against Minnesota on October 25.
Now, to be fair, a quick examination of that replay reveals Trouba was not the only culpable party on that play. If, however, Trouba, who was  billed as a physical defender  and responsible in his own end in his draft year, takes the body on this play, the goal likely never happens. This is perhaps the most egregious example of Trouba puck watching, but sadly it is far from the only one. Trouba hasn't taken the steps forward Jets fans have hoped.
As much as I like Tyler Myers, and as much as his skating ability deserves praise, his play in his own zone has at times left a lot to be desired. He's also (and the Jets knew this when they traded for him) remarkably lacking in the physicality department for a man who's 6'8. Dustin Byfuglien, meanwhile, has shown flashes of brilliance, but also of exceptionally poor judgement. He needs to realize the Jets defense and indeed the entire team are at their best when he is out of the penalty box, and out of the crosshairs of the NHL's Department of Player Safety.
9am hearing Tuesday for Dustin Byfuglien for hit on Gallagher.

— Darren Dreger (@DarrenDreger) November 2, 2015
As for Toby Enstrom… my mother once told me if you can't say anything nice you shouldn't say anything at all, so I'll lead with this: sometimes, Enstrom shows his veteran side and makes a clever play that allows the Jets to exit the zone easily. At other times (most times), to be blunt, Enstrom is an unmitigated disaster. He gets outmuscled all over the ice, times his pinches poorly, is seemingly incapable of making a tape-to-tape pass, and, due in no small part to his overly long hockey stick, is unable to quickly get a shot away. On the rare occasions when he does shoot, his shots are often easily blocked.
I know Enstrom has his supporters. His underlying numbers and advanced stats are generally considered to be among the Jets strongest, and he is often credited with bringing out the best in Byfuglien, allowing the big man to feel more comfortable playing his game by giving him a safety net. In spite of that, Enstrom is a turnover machine who cannot effectively contain opposing players and is not the same man who could once be counted on for 40 or more points. In short, he is an offensive defenseman who produces no offence.
Baby Steps
All in all, the Jets defense has been far from perfect, but looking at the big picture, a few things stand out. One, their record, despite playing in the cutthroat Central Division, is strong, and their defense has been a part of that. Two, the defense is by far stronger than it was when the Jets returned. Every year seems to bring new improvement in this area, and that, if nothing else, is a good sign. The Jets defense may not be the world beaters we thought they were, but they're getting a little closer every day. Future signs are promising, but in the present they need some consistency.
A long time hockey fan and player from Winnipeg, Manitoba. Play-by-play man with the SJHL's Estevan Bruins. Graduate of Red River College's Creative Communications program with a major in journalism. Former PxP man for the University of Manitoba Bisons. Lover of all things Jets and Avs related and always looking for a good hockey debate.