In any job, the best situation between employee and employer is one that is mutually beneficial.
Below are 5 players that could all help the Sharks. However, each of these players might find it beneficial to play elsewhere next year. Four of the 5 are under contract for next year. One is a restricted free agent and the restrictions give the team most of the options. In essence, none of these players are free to leave on their own. Four players are with the Sharks, the other spent time with the big club, but finished the year in the minors.
So who would be better off leaving teal pastures behind? Here are the 5:
Patrick Marleau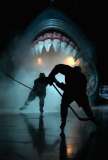 He has a no-movement clause in his contract and is living a great life here. He is also being misused. He has played huge minutes, no NHL forward is older and played more this year. The overall ice time limits his explosiveness, critical to his game. I do not buy into Drew Remenda's comment about Marleau 'pouting' last season. Still, Marleau managed just 1 goal in the first period for the entire year, suggesting he didn't come flying through the Shark head with much passion. Goal scoring is the core strength of his game. He has minimal chemistry with his talented linemate, Logan Couture. Marleau needs a good set-up player to get the most out if his game. He can find a system that agrees with him better: better management of his playing time, better chemistry with linemates and better use of his skills. Marleau has been a fixture in San Jose, holding numerous team records. Moving Marleau would likely require the Sharks to retain some salary. Still, it might be best for both the player and the team.
Brent Burns
No surprise the Sharks most gifted athlete shows up here. He's really good at being a power winger and really not good at being a defenseman when he needs to defend. The arguments have been repeated over and over. The reality is that he belongs at the position that makes the best use of his considerable talent. That is on the wing at even strength and on the blue line for the power play. Bizarrely, Sharks management does not agree. Burns should play for a team that wants to see him succeed, not one where the front office needs to save face at Burns' expense.
Joe Thornton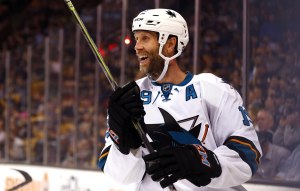 The Sharks best player is getting to the point he needs to figure out if he wants a Stanley Cup or not. Whatever happens in San Jose, a serious Cup run is unlikely during his current contract. This season, he was worth every penny of his deal, second priciest on the team. Perhaps a top line center role wouldn't be a good fit over the next year or two, as the physical demands take a toll on the soon to be 36-year-old. But the skill set is still strong and whatever issues the Sharks have, he is the least of them. There are 30 teams in the NHL, and you can probably find 20+ that would want Thornton. With a 'no-movement clause', Thornton controls his options. He chooses 'if' he wants to go and 'where' he would wind up. For the Sharks, keeping Thornton is their best choice. But it might not be Thornton's best choice.
Matt Tennyson
Look up the guy who led the San Jose Sharks in 'goals against per 60 minutes of ice time in 5 on 5 play' (GA/60) and it'll be none other than 25-year-old defenseman Matt Tennyson. The Sharks organization has been less than kind to him. Tennyson had a very brief but respectable debut 2 seasons back, appearing in just 4 games, managing a +2 rating. The following season, he didn't play in a single NHL game, as the Sharks rolled through the season using just 7 defensemen, despite an older blueline with some significant injuries. Last year was a clear vote of 'no confidence' in Tennyson. He was pretty much an afterthought this year and started the season in Worcester in the AHL. His break came when the Sharks traded right-handed defenseman Jason Demers for left-handed defenseman Brenden Dillon, leaving the Sharks with a shortage of d-men playing on the right side. The right-handed Tennyson stepped in and became a surprisingly reliable player. But roster moves seemed to conspire against him, leaving Tennyson again in Worcester. When an injury hit Matt Irwin during the playoff stretch drive, it wasn't Tennyson getting the call, but Taylor Fedun. Doug Wilson spoke in the offseason, indicating that there were lots of job openings and if a player performed, he could seize a job, regardless of pedigree or history. Tennyson did perform. He finished 6th among Sharks defensemen with 8 points, despite playing just 27 games. His +/- was 'even', tied for 4th among the team's d-men. He was 1st in GA/60. But that didn't seize a job. No doubt a right-handed defenseman whose solid play resulted in a stingy 1.4 GA/60 can find a better situation than the Sharks have offered him.
Brenden Dillon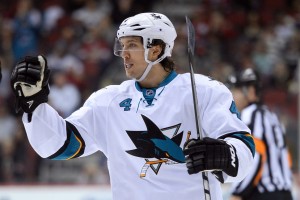 The 24-year-old Dillon is the youngest player on this list. He is a restricted free agent, meaning the Sharks can retain him if they want to retain him. Dillon will have a small say if he wants to move on. It might be for the best for him to make that request, which would likely result in a sign and trade. Dillon was not good in San Jose this past year. He is big, strong and physical. But he doesn't bring much to the offense, gets beat often on defense and spends more than his fair share of time in the penalty box. More than anything, he did not seem to develop a natural partner. The Sharks are sitting with a number of left-handed shots at the moment in addition to Dillon. They include Mirco Mueller, Marc-Edouard Vlasic and soon to be unrestricted free agents Scott Hannan and Matt Irwin. Irwin played substantially better than Dillon to finish the year and one would expect his next contract to be similar to Dillon's. Irwin had 10 more points, and was +3 compared to Dillon's -11. Vlasic is perhaps the most important player on the team. Mueller is the prized youngster. As soon as Mueller is ready, he'll be an everyday starter. The team seems to want to make that happen as soon as possible. When that happens, Dillon's role could get squeezed. All in all, Dillon may have a brighter future if he heads elsewhere.
ZEKE is a native of the DC area where he witnessed the birth of the Capitals franchise. After graduating from Cornell University, which had seen hockey glory before he arrived, he moved west to San Jose. There he witnessed the birth of the Sharks franchise. His wait to witness a Championship from any of these teams finally ended in 2018.