Its Been Bad …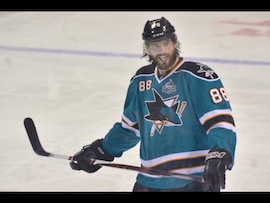 The pitfall of the move of Brent Burns to defense continues to see ever increasing-scrutiny as the Sharks struggles continue. Saturday's nightmare against Vancouver, a 3-2 loss where Burns played prominent roles in all 3 Vancouver goals, was simply added evidence.  It is what the eyeballs of Shark followers have been seeing all season. It shows up in the numbers as well. There are numerous statistical measures that describe the problem, but sometimes a single stat can summarize it. In this case, the much-maligned +/- statistic does the job. Burns has fallen off by -30 from last year, give or take a few, depending on what day you look at it. But it is hardly the only problematic stat. Penalties are way up, hits (per 60 minutes) are way down. But it is really the 'goals against' number that stands out, the minus part of the +/- stat.
Here is the real question that needs answering: Why is Brent Burns still on defense? Shark fans do deserve an honest answer to that question. The question doesn't find fault with the decision to make the move after last season, it asks why that decision hasn't been undone, given all the evidence that it was a poor choice.  The answer isn't at all obvious.
Sharks GM Doug Wilson was an outstanding defenseman in the NHL with well over 1,000 games played. Jim Johnson, Sharks assistant coach was an defenseman who played over 800 NHL games. Larry Robinson, also on the Sharks coaching staff, was, well Larry Robinson, among the greatest defensemen in the game's history. There is more than just extensive and extraordinary playing experience among these 3, they have also combined for many decades of experience in coaching and front office positions in the years since each retired.
But Is the Issue Really Brent Burns?
The Sharks staff has no shortage of people in key management roles that understand the defenseman's role. It is pretty close to impossible to think they are all good with what they've seen from Burns this season. Yet, the Sharks staff seems to have a 'deer in the headlights' mentality when it comes to the big guy. They must see it, yet they appear powerless to do anything about it. This calls into question who, or what, or how, things are being run over on West Santa Clara Street.
What appears to have been a poor, but ultimately correctable decision, has morphed into something considerably worse — a level of management dysfunction that has undermined the team's chances to succeed.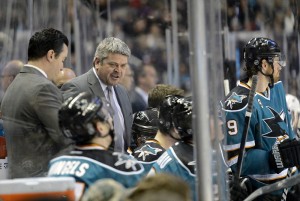 Head Coach Todd McLellan may well be coaching for his job in San Jose. His calculations are perhaps the most interesting of all. Does he ride what may well have been a decision forced on him to the end, only to risk being the fall guy? Does he make a move, albeit with the chance that it is too little, too late, in order to attempt to salvage the season? Does he spend some time considering the positives and negatives of making such a move against how his next employer might view that move?
Right now, McLellan would be wise to consider his career more than his current job. A career adviser would likely tell him to stop listening to those who are telling him 'no' and move Burns to the wing where he was a major success just a year ago. This move will tell the hockey world two things about McLellan. First, he isn't afraid to rectify a mistake. Perhaps just as importantly, it tells both his present and potential future employers that he is his own man, not afraid to upset the powers that be in order to make his team better. If I'm looking for a head coach, I want those traits. I would not be looking for a coach who will stay the course on a ship that is going down. Which is exactly what is going on over at the Shark Tank.
ZEKE is a native of the DC area where he witnessed the birth of the Capitals franchise. After graduating from Cornell University, which had seen hockey glory before he arrived, he moved west to San Jose. There he witnessed the birth of the Sharks franchise. His wait to witness a Championship from any of these teams finally ended in 2018.