Broken Record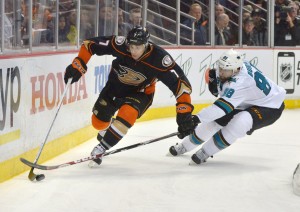 Yes, yes, call me a broken record, tell me to stop beating the dead horse. Got any other clichés? The biggest personnel change the San Jose Sharks made this offseason was switching Brent Burns back to defense. Yes, correlation doesn't always mean causation. However, this is a Sharks team that made the playoffs comfortably a year ago and instead this year they look poised to miss the playoffs. The Burns position change has certainly been a part of the problem as both San Jose's goals for and goals against are worse this season. Saturday's 3-2 loss to the Canucks is a perfect example of the problem of having Burns as a defenseman. The Sharks played a pretty terrific game, pouring over 40 shots on net and building a 2-0 lead but Burns' wild ways were devastating. The 6'5" 230 pound hockey player contributed in the wrong fashion on all three Vancouver goals.
On the first Canucks goal Patrick Marleau and Burns combined to turn the puck over and then Burns got too focused on the puck allowing Radim Vrbata to find open space to get one by Antti Niemi. On the second goal Burns misplayed a bouncing puck at the offensive blue-line, tried to keep it in but didn't and got beat the other way. And finally to cap off the night Burns was guilty of a sloppy high sticking penalty when he went to deliver a hit. One of the first things hockey players are taught at young age when making a hit is to keep your stick down. Vancouver would subsequently go on the much more dangerous four-on-three power-play as the high stick was committed with the teams skating four-on-four. Shortly after the face-off Vrbata would score the go-ahead power-play goal that would stand up as the game-winner.
This isn't an indictment on Burns, he is a highly skilled player. However he looks exactly like what you would expect a natural forward to look like when playing defense. Too often he is out of position and mesmerized by the puck. Turnovers are far too frequent in the defensive zone and bad penalties are a common occurrence. While he does have a solid Corsi-for percentage as a defenseman, all off his advanced numbers are superior as a forward and any turnovers or mistakes in coverage at the forward position are much easier to stomach.
Now prior to the Canucks loss, the Sharks had won back-to-back games for the first time in over a month. In those two games Burns was playing third pair minutes alongside Matt Irwin. They were two of the best games the Sharks had played in weeks. And don't think for a second Burns seeing a decrease in ice time at even strength wasn't helping the Sharks cause. However, third pair defensemen aren't paid nearly $6 million dollars per season.
Brent Burns Beast Mode Power Forward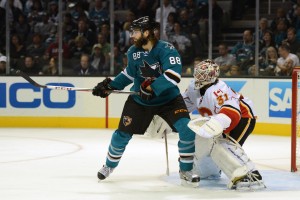 The last three games have proven the Sharks are better without Burns on the ice as a defenseman at even strength. Marc-Edouard Vlasic and Justin Braun are the top defensemen on this team, Brenden Dillon and Mirco Mueller also have top-4 potential. The latter two were the second pair in the last three games with Burns on the third pair. GM Doug Wilson's supposed "franchise defenseman" apparently comparable to the likes of "Drew Doughty and P.K. Subban" has been utilized on the third pair. The vast majority of third pair defenseman make less than $2 million dollars because it is not hard to find defensemen capable of playing those minutes.
What is hard to find though is a dominant even strength, first line caliber power-forward. Two seasons ago the Sharks discovered that Burns can be exactly thus. There aren't really any other forwards in the league that feature Burns' size, speed, and scoring ability as a winger. Burns at even strength as a forward is one of the best players in the NHL. He is a player well worthy of a contract upwards of six million. As a defenseman at five aside, Burns is nothing but average. And average defensemen play on third pairs. Heck, two playoffs ago when Burns was first moved up to forward and the Sharks had a terrific 2013 playoff run, their primary third pair was Brad Stuart and Scott Hannan. Playing a dominant top line right winger as a third pair defenseman is without question, a giant waste.
Andrew has been credentialed to cover the Sharks since 2010 and the 49ers since 2012. He graduated with his BA in Broadcast Electronic Communication Arts in 2013 from San Francisco State University.