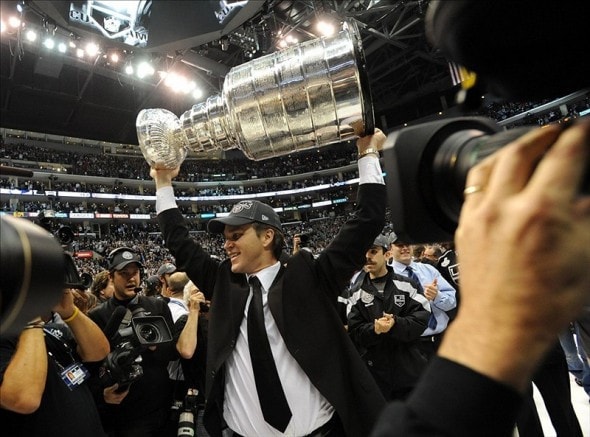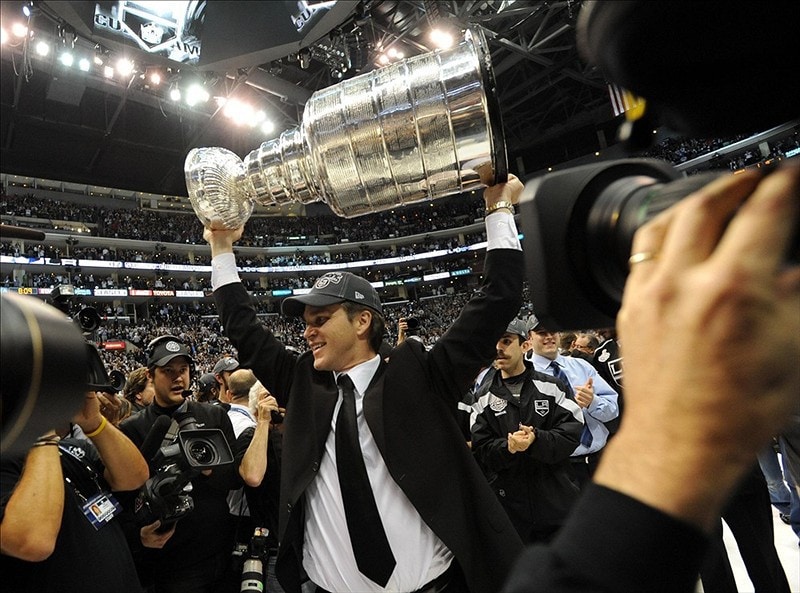 Luc Robitaille was a lowly
9th round selection in the 1984 NHL draft
, right behind no-names Mike Roth and John Del Col. His skating was, to be charitable, mediocre, and he made a living batting 'garbage' goals into the net. 668 of them to be exact.
Saturday night, the undersized, Hall of Fame-enshrined Robitaille will be immortalized with a bronze statue in the star plaza at Staples Center, joining Wayne Gretzky as the only hockey player likenesses to be depicted.
"I was 13 years old in 1979 and I had a picture of Wayne Gretzky in my room," said Robitaille (Orange County Register). "And I watched him every time I could see him (on TV). Now there's statues of Gretzky and me." He smiled at the irony. "It's kind of weird."
Luc Robitaille was the highest-scoring left winger in NHL history
Move over, Dave Andreychuk. Despite playing in 208 fewer games, Robitaille finished his career with 28 more regular season goals than the second place Andreychuk, and leads the pack with 1,394 total points. The nearest active left winger in goals is Alex Ovechkin, and Patrick Marleau is closest among current players in points with 979. With both players well behind Robitaille's totals, 'Lucky' Luc's records look safe, at least for now.
"I was just a kid playing a game," said Robitaille about his career. "I loved it. I gave everything I had, every day. Everything that has happened to me since, I just feel blessed."
Robitalle's career, which included 58 goals and 127 points during the playoffs and a Stanley Cup with the Detroit Red Wings in 2002, earned him hockey's most distinguished honor in 2009: an induction into the Hockey Hall of Fame.
If you have a few minutes, check out his induction speech. It gives you a real sense of how genuine the man really is.
Luc Robitaille was a fan favorite
A humble, unassuming player throughout his career, Robitaille was also one of the most popular Kings players. Leave it to social media to demonstrate just how beloved he still is, and how happy fans are to see him receive the recognition he deserves:
https://twitter.com/mikeyrush/status/573975852762824705
Huge congrats to your man! He's a class act, a hall of famer, and a hero to many. Well done Lucky! @StaciaRR @LAKings #Robitaille #statue

— -=Caleb Rapoport=- 🇺🇸 (@CalebRapoport) March 7, 2015
Pretty cool leaving work last night @lakings @JimFox19 @BaileyLAKings @theroyalhalf @DarylEvans15 #LucRobitaille pic.twitter.com/wrXyVAEKO3

— Jim Barrero (@jimbarrero) March 7, 2015
https://twitter.com/DieterRuehle/status/574290753666449408
The unveiling will be Saturday night
The statue ceremony will begin at 6PM, one hour before the scheduled game with Pittsburgh. Reportedly, Robitaille hasn't seen the statue, but the pose was approved by his wife Stacia.
It's a big game for both teams, as the Penguins are within four points of the lead in the Metropolitan and the Kings are just two points from the second wild card slot. With so much at stake, both teams will be primed and ready to go.
But first, there's the statue unveiling. In addition to his now-legendary hockey prowess and management skills as president of business operations for the Kings, Robitaille has a touch of clairvoyance. "When I came here I said, 'One day I'm going to have a statue," he laughed.
Indeed he will. Way to go, Lucky Luc.
Walter McLaughlin is a Los Angeles Kings correspondent for The Hockey Writers. He is an avid sports fan, having followed the Kings since living in L.A. in the mid-1970's, as well as suffering through Seattle sports teams' general futility. He has a Bachelor's degree in Finance and has worked in community banking for over 25 years, specializing in SBA loans. He is married and has two daughters.