There is not a more exciting prospect for the Nashville Predators than Jimmy Vesey. It was announced on Friday, four days after clinching the ECAC scoring title, that the Harvard junior was named the Ivy League Player of the Year. Harvard is one of six Ivy League schools that make up the ECAC.
Vesey has 44 points (22 goals, 22 assists) in 29 games, ranking the North Reading, Massachusetts native first in goals per game, third in points per game and sixth in scoring in all of college hockey. The left-winger has been at the same level as elite 2015 draft prospect Jack Eichel this year.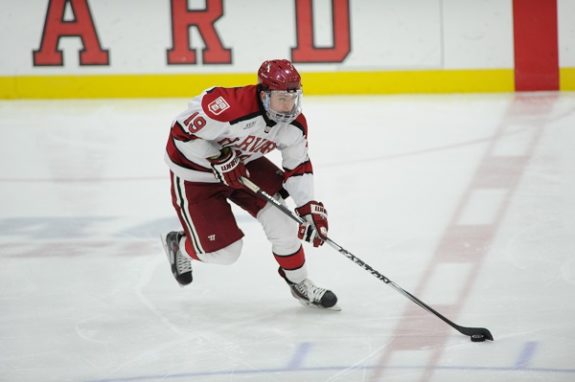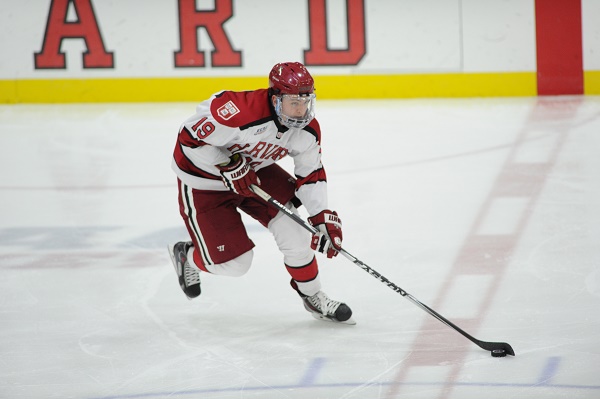 Predators assistant general manager Paul Fenton told the Nashville Post in February:
"Jimmy has been arguably the best player in college hockey next to Eichel. The two of them are being talked about in the same breath.

"… Jimmy has worked on his skating and his conditioning. He looks like a pro now. He's got a natural instinct for scoring – seven, eight scoring chances a game [and] a determination. I see him as being able to help us sooner than later, if he so deems it – but I'd never tell a kid to leave Harvard."
It is hard to believe the Predators expected Vesey to pan out like this when they drafted him in the third round, 66th overall in 2012. His freshman and sophomore seasons at Harvard saw a combined scoring production of 40 points (24 g, 16 a) in 58 games.
Possibly, the one hint of Vesey's future development was being part of Team USA that won the 2013 IIHF Under-20 World Junior Championship, tallying a goal and 4 assist in 7 games.
Now, Vesey has an NHL-ready figure of 6-foot-1, 195 lbs. Though it is likely he will stay for a fourth year at Harvard, as anyone person should, the Predators' organization is eager for him to turn pro and develop with their AHL affiliate in Milwaukee.
Vesey's future with the Predators is bright.
Subscribe to our Predators stories to get email updates every time a new story is published.
Colin Fitts is a Nashville Predators staff writer for The Hockey Writers. You can follow him on Twitter, @FittsTHW.
Colin Fitts is a Nashville Predators staff writer and is a credentialed media member of the Chicago Wolves. From Nashville, Tennessee, Colin majors in journalism and public relations at Columbia College Chicago. Follow him on Twitter, @FittsTHW. Email: 22fitts [at] gmail [dot] com.