Timo Meier THW Close-Up:
Date of birth: 10/8/1996
Place of birth: St. Gallen, Switzerland
Ht: 6'1″     Wt: 209 lbs
Shoots: Left
Position: RW/C
NHL Draft Eligibility: 2015
Twitter: @MeierTimo
THW The Next Ones Rankings (February): 13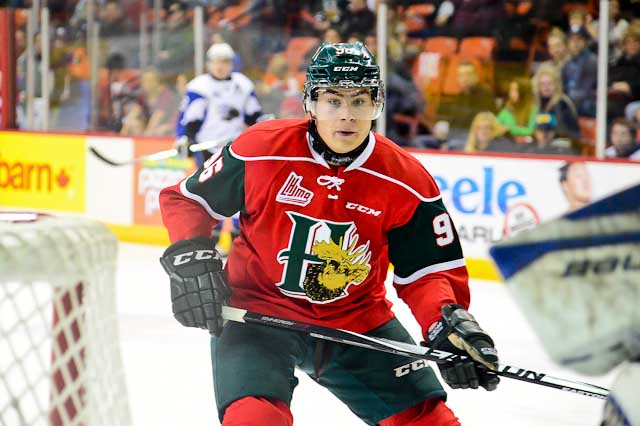 Other Rankings:
THW War Room Rankings (January): 13
HockeyProspect.com (February): 15
Last Word On Sports (February): 21
Craig Button: 11
CS Final Rankings for North American skaters (January): 12
***
The Halifax Mooseheads of the QMJHL have been supplying the NHL with talented forwards. 2015 is no exception. Learning from the likes of Nathan MacKinnon, Jonathan Drouin, and Nikolaj Ehlers, Timo Meier is the next offensively gifted forward to come out of 'The Herd'.
A Swiss-born right winger, Meier has had a seamless transition to the North American style and has thrived on the scoresheet as a result. Although he's only 6'1, Timo is built like a truck and has tremendous balance. His short, quick strides catch defenders flat-footed. He creates space and chances acceleration into the offensive zone, while outworking his opponents in the corners.
Having tallied 40+ goals already, Meier is lethal around the net. Always looking for a chance to shoot the puck, Meier will often bulldoze his way into the crease or use his deadly wrist/snap shot put the puck in the back of the net. He isn't a one-dimensional player either. In my viewings of him, Meier shows a desire to backcheck/forecheck. Given his speed, it isn't difficult for him to do as he gets back into the play relatively quickly.
There are a few snipers in the draft this year. Timo Meier is certainly one of the best that's available. It will be interesting to see if any team in need of goal scoring takes a stab at Meier earlier than projected.
Where Will He End Up In June:
Many people have him going in the mid 1st round (13-20), but I can see him sneaking into the top 10 if a team is interested in a pure sniper.
Scout's Honor:
"Wide bodied six foot Swiss winger whose improved feet and more robust play in the Q has him in the scout's sights. Good battle zone player who needs further work on his acceleration and starts. Very skilled but still on the low end of the learning/development curve in terms of thinking the North American game and instinctively reacting. A work in progress who was a member of his homeland's team roster for the World Junior Under-20 at Christmas 2014."
"A winger with a great wrist and slapshot who loves to use it. His quick release makes it hard for goaltenders to track the shot. Uses all of his shot arsenal. Good first steps and speed but could be more agile. Has a good offensive mind and is always looking to put himself in a good shooting spot. Good play away from the puck in the offensive zone, though not in his own zone. Tends to make blind passes and turns the puck over too many times. Improved his physical play and is willing to use his body but still needs to use his size better in corner battles and while protecting the puck. Rather shoots than passes. Shows hockey sense and is making himself always available for a pass. His point production exploded this season and he elevated his game to a new level but this should be enjoyed with caution as he is on the teams most dominant offensive line together with 9th overall pick Nikolaj Ehlers."
Dennis Schellenberg – Scouting-Factory
"In recent year's Halifax is just churning out high end forward prospects, and Timo Meier is the latest.  Meier has had a tremendous start to the season with the Mooseheads putting up 32 goals and 71 points in 47games so far.  An improved skating stride and more speed have really helped him this season, and he's racking up points and rocketing up draft charts as a result.  He's not a speedster, but while he was once a bit of a poor skater, he's now slightly above average in this regard.  Meier has great hockey sense and gets to the open areas of the ice, where he can be set up to finish chances with an excellent shot and release.  He is also a very physical player, establishing his position in the slot and winning board battles to create offence.  He has excellent balance and can control the puck down low on the cycle.  He is a strong two-way player who also kills penalties for the Mooseheads."
Ben Kerr – Last Word On Sports
Statistics:
Bio/Interview(s)/Links:
Interview with the Chronicle Herald
Interview with Neate Sager of Yahoo Sports
International Tournaments:
Timo Meier has played for Team Switzerland in international play on nine occasions. He's won a bronze medal and was named a Top 3 player on his team for the U20 WJC this past January.
ETA:
2 years
Risk/Reward Analysis:
Risk: 1/5   Reward: 4.5/5
NHL Potential:
Top-six right winger with 35+ goal potential and a strong two-way game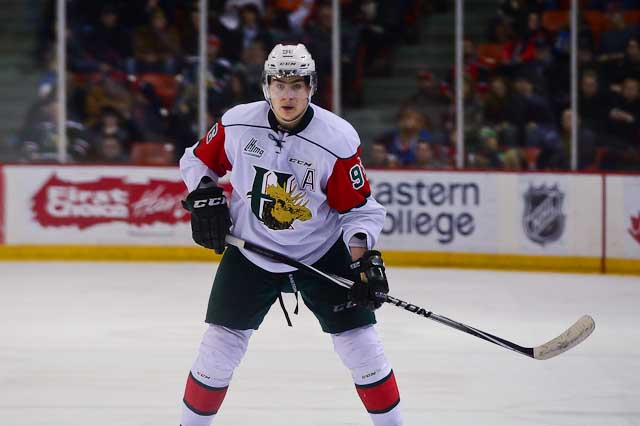 Strengths:
Speed
Acceleration
Wristshot
Can be used on the PK
Snapshot
Driving the net
Backcheck
Forecheck
Balance
Winning battles along the boards
Protecting the puck
Positioning
Flaws/Aspects He Needs To Work On:
More fluid skating
Fantasy Hockey Potential:
Offensive: 9/10    Defensive: 6/10
NHL Player Comparison:
– NHL comparison: Joe Pavelski
Video(s):
***
THW's The Next Ones prospect profile template design architect: Chris Ralph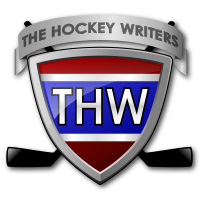 The archives of THW contain over 40,000 posts on all things hockey. We aim to share with you some of the gems we've published over the years.