by Eldon MacDonald (edited by @ChrisRalphTHW)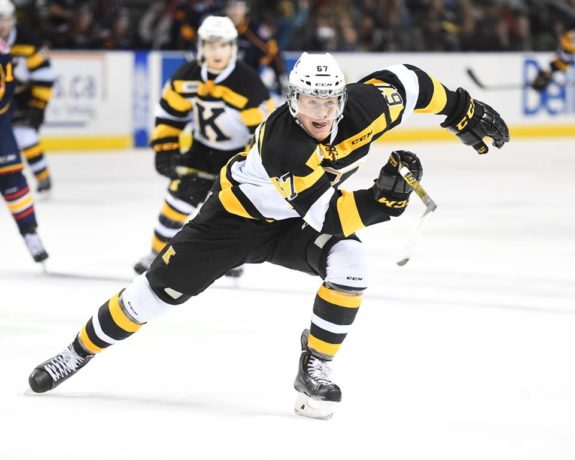 Rationale Behind the Combined Rankings
As you are aware, NHL Central Scouting produces a segregated set of rankings. That is, they are separated based on North American skaters and goalies as well as European skaters and goalies – four lists in total, linked below:
The four lists makes the job easier for Central Scouting but they are limited in terms of where a respective prospect ranks across the lists. Therefore, each year I combine the four lists into one to obtain a better understanding of where Central Scouting is ranking the players overall. The four rankings were combined in THW's NHL Draft War Room from NHL Central Scouting by employing the following methods:
Round One: The average ranking of a prospect from the December or January rankings of some of the major scouting services was calculated for prospects from the European or Goalie rankings and inserted where the average suggested.
Rounds Two and Up: For the remaining rounds, 6 European skaters and 3-4 goalies were placed per round based on the results of the 2014 draft.
In reviewing where the prospects fell overall, some surprises emerged – the top ten surprises were highlighted here.
NHL Central Scouting's Mid-term Rankings Combined
The Tabs:
The rankings from NHL Central Scouting are presented in the following formats in the accompanying spreadsheet.
Tab 1 – Sorted by NHL Central Scouting Combined Mid-Term Rankings
Tab 2 – Sorted by my Jan-15 rankings (E-Mac's NHL Draft War Room rankings)
Tab 3 – Sorted by League
Tab 4 – Sorted by Nationality
Most prospects are also linked to their elite prospects profile as well.
Also see: The Top 10 Surprises from the 2015 NHL Central Scouting's Midterm Rankings
Chris is THW's senior draft/prospect analyst and a Managing Editor. Watch for "The Next Ones" Prospect Profile series, exclusive rankings, mock drafts, as well as the annual THW NHL Entry Draft Guide. Follow @ChrisRalphYQ on Twitter as he infiltrates, dissects and analyzes all happenings of hockey prospects and the NHL entry draft. Email: cralph[at]thehockeywriters[dot]com