The end result may not have stuck to script, but at the end of Sunday's NHL All-Star Game, the city of Columbus stood tall. The "visiting" Team Toews may have skated off with a 17-12 victory, but for captain Nick Foligno and his All-Star squad, it was all about displaying their skills and having fun. And with 29 combined goals, that's exactly what they did.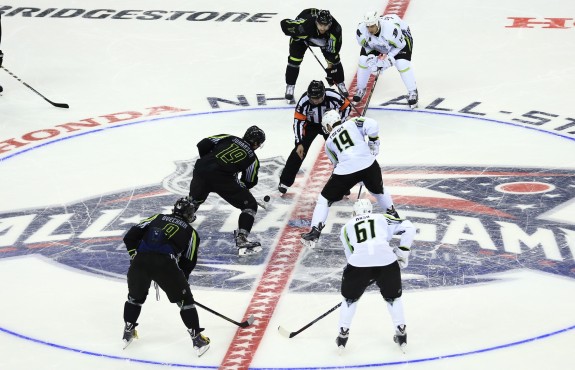 Team Toews Overcomes
After the 2013 lockout-shortened season cancelled Columbus' first All-Star Game, Sunday evening's game was well worth the wait for the city of Columbus.
"It was great to see this city, they've been waiting a couple years to have this game, but they did it right," said Lightning captain Steven Stamkos as he stood in front of his locker.
The heavy scoring night broke records for not only both All-Star teams, but for several individuals who took part in this season's game. And since records were made to be broken, what better setting than the home of the Blue Jackets?
Goalie's Paradise
The score for Sunday's All-Star Game may have been more indicative of a football game, but the high scoring affair set an all-time record for the most goals scored in a single All-Star game.
Team Toews and Team Foligno combined for 29 goals, shattering the previous record of 26 goals set in the 2001 NHL All-Star Game in Denver. The two sides collectively threw 92 shots on goal, making an All-Star goalie's life miserable.
After allowing three goals within the first five minutes of the second period, Pittsburgh goalie Marc-Andre Fleury drew jeers from the Columbus crowd, who mockingly cheered their "hometown" All-Star goalie after each of his nine saves throughout the second period.
After three goals on three shots, crowd mockingly cheers for an easy save by Fleury.

— Aaron Portzline (@Aportzline) January 25, 2015
"He actually came to me on the first TV timeout, so I don't know what that meant, " said Florida Panthers goalie Roberto Luongo, who started the game for Team Toews. "He was looking for some comfort words or something from me. He wasn't on my team, so I wasn't going in for him. What are you going to do? It's an All-Star Game."
Fleury allowed seven goals on 16 shots, setting an NHL All-Star record for most goals allowed in a single period. But as Luongo recalled, the All-Star format is a different beast.
"It's a different mindset, you know, as a goalie," said Luongo aftertward. "As a goalie, myself, I just want to play deep, knowing that guys have the tendencies to pass more than shoot, so it wasn't challenging too much. I wanted to make sure to play a little deeper so I could get in those backdoor plays."
St. Louis Blues goalie Brian Elliott would go onto allow six goals on 15 shots in the third period, coming one shy of tying Fleury's record setting mark.
Luongo, along with Corey Crawford and Jaroslav Halak allowed four goals each, with Crawford earning the victory. Of the six All-Star netminders, it was the Blackhawks backstop that was tested the most, seeing 18 shots, while stopping 14 of them.
No wonder a goalie hasn't taken the MVP award since Mike Richter won it in 1994.
City of Columbus Now In Elite Company  
Eight different skaters from both sides contributed to Sunday night's grand total of 29 combined goals by notching multiple goals. The contest also included seven players with four or more points.
The game's pair of hat tricks belonged to New York Islanders center John Tavares, and Philadelphia Flyers right winger Jakub Voracek – both of Team Toews.
With a hat trick already recorded in the first two periods, Tavares added his fourth goal of the night in the third period, tying him for the most goals scored by one player in a single All-Star Game.
"You go out in this game and you just try to enjoy it, put on a little bit of a show for the fans and create some opportunities," said Tavares.
Tavares' name now joins that of Wayne Gretzky, Mario Lemieux, Vincent Damphousse, Mike Gartner, and Dany Heatley in the All-Star goal scoring department.
For Jake Voracek, however, it was an all-around offensive display. The NHL's leading point scorer scored three times on four shots, adding a trio of assists to his night. Voracek's six points ties him with Lemieux, who produced the same point total in the 1990 All-Star Game.
"I've been on top for 45 games – 50 games." said Voracek. "Obviously, those guys battle a little bit different than here. I just got to focus on my game, game-by-game."
Through 48 games, Voracek has taken a game-by-game approach, racking up a league-leading 56 points and 39 assists. The Czech star credits comfort and maturity to his offensive explosion through the All-Star break.
Voracek finished his 1st ASG with 6 points (3G, 3A), Giroux had 1G, 2A. Now back to real hockey.

— Bill Meltzer (@billmeltzer) January 26, 2015
"I'm more experienced, comfortable with the puck. I'm making better decisions on the ice in tough situations… I feel quicker."
With the Team Toews win, Voracek now owns bragging rights over his teammate, and Team Foligno member, Claude Giroux. The Flyers captain didn't go home empty-handed, however, collecting three points on a goal and two assists.
MVP Honors
Despite coming out on the losing side of Sunday's NHL All-Star Game, Columbus' Ryan Johansen was still recognized for his pair of goals and assists, winning the game's Most Valuable Player award.
Fans in attendance voted on Twitter to determine the Blue Jackets forward the game's MVP, giving the 22-year-old a clean weekend sweep (Johansen's appeal in the Skills Competition won him the same award the night before).
"This weekend's definitely a confidence booster," said Johansen, while sitting alongside teammate Nick Foligno in a post-game press conference. "I'm very happy to be a part of the All-Star game and stuff… we're all players in this league and that's what's so special."
Hometown hero Ryan Johansen wins the #NHLAllStar MVP! pic.twitter.com/XqFyEcpFPu

— Sportsnet (@Sportsnet) January 26, 2015
Although the fourth-year veteran contributed four points for Team Foligno, it's not very often a player is named MVP in any major sport in a losing cause. But given the award's format, as well as the hometown setting, Johansen walked away from Sunday's All-Star Game with no complaints from fellow players.
"Listen, Joey deservedly," said Voracek after being asked his thoughts on who was most deserving of the game's MVP award.
Nobody had to say anything, though. The game was for the fans, and in a lot of ways, for the players that wear the host city's colors. Along with Voracek's six points, Team Toews touted two other skaters with five points of their own in Patrice Bergeron and Jonathan Toews himself.
What?! Ryan Johansen wins the MVP award!

— Mark Scheig (@markscheig) January 26, 2015
Everyone knew the MVP would go to either Johansen or Nick Foligno.
Given the fact that Johansen was Team Foligno's top point scorer, the award landed where everyone expected.
Other Takeaways
Break it Up!
In a game that featured phantom defense and zero hits on record, an unlikely scrum ensued in Sunday's All-Star Game.
All-Star Game fake scrum!!!!!

— Greg Wyshynski (@wyshynski) January 25, 2015
The main culprit, of course, was Alex Ovechkin. Team Foligno's jokester got the fake scrum going, with Johansen and Voracek playing along. Perhaps there were no penalties called due to the fact everyone was laughing, including goalie Corey Crawford
Rick Nash Received
Since arriving this weekend for the All-Star festivities, Rick Nash has often been reminded of what the fans in Columbus think of him.
The Nationwide Arena crowd continued their extravagant booing of their former captain when his name was called in the pre-game introduction, and the volume didn't lessen after Nash potted a pair of goals for Team Toews.
#TeamToews assistant captain Rick Nash tallied 2 goals to tie Teemu Selanne for 4th on the all-time list with nine career #NHLAllStar goals.

— NHL Public Relations (@PR_NHL) January 26, 2015
"It's hockey, ya know?" said Nash's linemate on Sunday, Jake Voracek. "Stuff like that happens. I'm sure he's not the first guy to get booed."
Scoreless All-Stars
Sunday's fireworks display of scoring resulted in points being handed out as if they were paper plates. That is, of course, unless you're Phil Kessel, Anze Kopitar, or Zemgus Girgensons. The three All-Stars were not only members of the losing side in Columbus, they were the only three to be held without a single point.
They took away Phil Kessel's lone assist, so he went pointless tonight. Hasn't this guy been through enough?

— Аrpon Basu (@ArponBasu) January 26, 2015
Playing a man short, however, Team Toews boasted the most lavish scoring – as the score would indicate. In fact, of Toews' 17 skaters, only three of them (Mark Giordano, Shea Weber, and Brent Seabrook) were held to just a single point.
Intermission Entertainment
The first and second intermission entertainment featured popular artists Fall Out Boy and Locksley. And while everyone in the hockey world is familiar with "Mups," those native to Ohio enjoyed Locksley's rendition of the Columbus Blue Jackets' goal song, "The Whip."
Ovechkin Finally Gets His Car
Remember when Alex Ovechkin was one draft selection shy of driving off with a new Honda Accord? Well it turns out happy endings do happen in life.
"The idea was if he doesn't win the MVP award, let's see if there is something else we can do," said Honda's advertising manager Nick Lee. "Once we learned there was a charitable component to it, we thought, 'How great is that?' At Honda we do a lot of charitable efforts ourselves, tie it in with youth hockey, and Alex has got a nice couple of charities he works with, so we thought that could be a nice angle and a great story for everybody.
"That's the capper for us. It's not just for him, it's also for his charity and the kids, ultimately."
https://twitter.com/alex_prewitt/status/559551317043986433
Ovechkin, of course, is donating the new whip to 10-year-old Ann Schaub, who has Down Syndrome. Ovechkin friended the little girl after spending time with her back before the start of the season.
I guess the city of Columbus weren't the only winners on Sunday night after all.
Andy is a contributor for The Hockey Writers, covering the Philadelphia Flyers. He holds a Bachelor's Degree in Communications from Walsh University. He enjoys spending time with his family, golfing, and reading. He is married with a daughter. You can follow Andy on Twitter @ADudones.