The 2015 NHL All-Star weekend in Columbus will not be deterred. Despite the recent injuries to a slew of stars, Friday's Media Day showcased a platter of hockey's best. And when it comes to Sunday's showdown on the ice, the players, including All-Star captain Jonathan Toews, look to mix business with pleasure.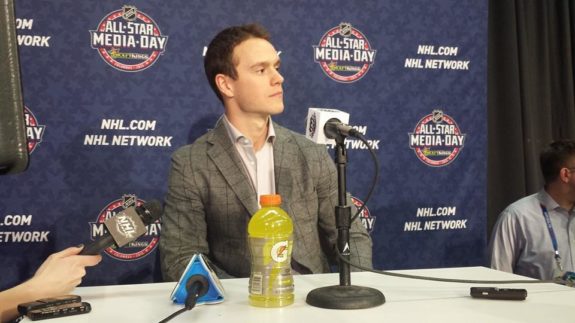 NHL All-Star Fantasy Format
For only the third time in NHL All-Star Game history, the two teams will be comprised of players chosen in a fantasy draft setting. The rosters will be chosen in a draft held later on Friday evening by each team's captain – Nick Foligno of the Columbus Blue Jackets, and Jonathan Toews of the Chicago Blackhawks.
Nick Foligno on if this now means he's set to take Ryan Johansen first in the NHL All-Star draft: "Absolutely."

— Lori Schmidt (@LoriSchmidt) January 22, 2015
A puck will be flipped to determine which team is awarded the first overall selection, with Captains Foligno and Toews, joined by their Assistant Captains, alternately drafting the 36 remaining All-Stars through 18 rounds.

Each team will be comprised of three goaltenders, six defensemen and 12 forwards. To ensure the final draft picks are not predetermined due to position requirements, each team's three goaltenders must be picked by the end of Round 10 and each team's six defensemen must be picked by the end of Round 15. One trade per team is allowed. — NHL Press Release
Further, each team will be given the chance to make one trade, adding to the unique aspect of this weekend's events. When asked if he would consider a trade that each team is allotted to, the decorated center was caught off guard.
"You can do that?" asked a surprised Toews.
We're coming up with crazy All-Star ideas we like more than the draft. Goalies vs. Skaters! Cup-winner vs. rest of the league! Etc.

— Sarah Baicker (@sbbaicker) January 15, 2015
The multi-gold medalist quickly turned his attention to an interesting question pertaining to two All-Stars who achieved the status of playing in Sunday's game in Tampa Bay's Tyler Johnson, and Calgary's Mark Giordano.
Friday's fantasy draft in Columbus will mark the first team each star will be "drafted" in an NHL setting.
"Oh yeah, that's right," Toews said after being informed of Johnson's and Giordano's draft eligibility. "Yeah, I didn't think about that."
With the draft a mere hours away, however, the All-Star captain refused to divulge any further information as to who he was taking first overall, or whether or not he'd make history for Johnson and/or Giordano.
"I don't know. I got to look at my stats sheet here pretty soon. I have my people working on that," replied Toews with a smile.
When pressed again later about considering a trade, and the strategy that surrounds such decision, the Blackhawks captain preached an old-school approach – one that results in living with the consequences of each decision.
"I think if you make a selection, you should have to live with it until Sunday," answered Toews. "So it shouldn't be that tough that you got to make a trade."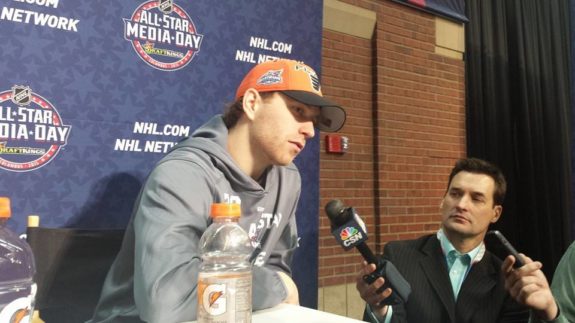 Teammate vs. Teammate?
With the fantasy format in place, the chances of teammates, who otherwise would continue to skate alongside of each other in the All-Star setting, will have a chance to play against one another.
One example is the predetermined alignment of Toews squaring off against Patrick Kane, who is one of Nick Foligno's alternate captains.
As it turns out, though, the individual alignment is something that's not only new, but one that seems to be embraced by many throughout Friday's Media Day in Columbus.
The tandem of Claude Giroux and Jakub Voracek make for an interesting scenario, given their league-leading 107 combined points. And with Pittsburgh's Sidney Crosby and Evgeni Malkin out with lower-body injuries, Philly's one-two punch stands to be the most dynamic breakup of the entire event.
Giroux prefers to play against Voracek. Praises his workouts "he's still pretty ugly, but he's quick out there." pic.twitter.com/AJyRivGIaB

— Dave Isaac (@davegisaac) January 23, 2015
"I think I'd like to play against him (Voracek)," said Flyers captain Claude Giroux, who coincidentally faced off against his current teammate in the 2008 World Junior playoffs.
"Re-remind him that I won that," declared a glowing Giroux.
Friday's fantasy draft not only allows for teammates to become friendly rivals for one night, it also permits players to play under different coaches. Ironically, former Flyers, and current Nashville Predators coach Peter Laviolette, will be manning one side, with Los Angeles Kings coach Darryl Sutter leading the other.
Laviolette will be making his second career NHL All-Star appearance, having shared coaching duties with Vancouver's Alain Vigneault for Team Nicklas Lidstrom in their 11-10 win over Team Eric Staal at the 2011 NHL All-Star Game in Raleigh. Sutter will be making his All-Star debut behind the bench. — NHL Press Release
Adding to the interest, Laviolette was seen sneaking in from behind Giroux to shake his hand and privately congratulate him on his selection right after the Flyers captain sat down at the podium. The current Nashville boss' love did not go unrequited, as Giroux expressed an interest to play for his former coach once again.
"Yeah, I just saw him and said hi to him," said Giroux. "It's kind of weird, but he's done a really good job with Nashville this year… he's done a good job of bringing that team together. I haven't had a chance to talk to him yet, but I'm sure I will."
I actually feel bad for Giroux anymore. He didn't ask Peter Laviolette to call him the "best player in the world." He'll never escape that.

— Seth Rorabaugh (@SethRorabaugh) November 6, 2013
Whether the two are secretly in cahoots or not (joke), the two continue to show admiration for each other, dating back to 2012's quarterfinal playoff round against Pittsburgh. It was during that series that Laviolette declared Giroux as, "The best player in the world."
Who wouldn't love a boss that thinks that highly of you?
The 'Lower-Body Injury'
With Crosby and Malkin – among others – missing the weekend festivities in Columbus, a lot has been made of the "phantom lower-body injury." Is it a legitimate ailment that has forced certain stars to miss Sunday's game, or a ploy to gain the needed time off that the rest of the league will enjoy?
Jinx or on purpose ? Sidney Crosby's decision to miss the All-Star Game makes this the fifth time he'll miss the event due to an injury

— NHL Goalie Starters (@Mybooksports) January 23, 2015
When asked if he'd rather come down with a certain "lower-body injury," Jonathan Toews was unable to contain his laughter.
"Ah, c'mon. You expect me to answer that straight up?" Toews asked to a reaction of laughter.
Captain Serious set the record straight, however, reiterating how much of an honor it is to represent the league on such a large platform, despite the advantages of rest and recuperation.
"I'm kidding," the two-time Stanley Cup winner added.
"Again, it's nice to for anyone to have a break, and we don't play again until next Wednesday, so I think, you know, you look at that… it is a good break for your body to not play so many games for, you know, five, six days, whatever it is.
"But like I said, being a player that gets recognized, has a chance to come to the All-Star game, it's not only representative of how your team's doing – the teammates around you – but it shows that you're doing something right. And at the end of the day, it's an honor."
In Columbus for my 1st All Star game. With all the latest goalie injuries I brought my gear in case they need me!! pic.twitter.com/ObSoC6cOOP

— Martin Biron (@martybiron43) January 23, 2015
It is, and always has been an honor. Hall of Fame great Gordie Howe set the NHL record by appearing in 23 of them, while all-time greats Wayne Gretzky and Mario Lemieux combined to play in 31 NHL All-Star games. These hockey legends certainly didn't know what an All-Star "break" was.
"I think a lot of these guys here will admit that, you know, they grew up looking up to certain stars that were in this position, and they probably dreamed of being here some day, and here we are," Toews added.
Although this will be only Toews' third NHL All-Star Game appearance, the 26-year-old remains appreciative of playing among the game's best players – even in his eighth season.
"You just got to be appreciative of those moments – you're only going to get so many opportunities to do it, so, yeah… bunch of guys are probably in Mexico and wherever the heck they are now, but we're here in Columbus at the All-Star Game… it couldn't be better."
The NHL All-Star Fantasy Draft is set to air at 8:00 p.m. ET on NBCSN, SN, and TVA Sports.