As the 2015 NHL All-Star weekend begins in Columbus, Ohio, excitement seems to be the word of the day and a great mixture of rookies and veterans will be in attendance.
An interesting twist this year is that three of the original six goalies chosen suffered injuries within days of each other, and had to be replaced. Accordingly, Jimmy Howard (Detroit), Pekka Rinne (Nashville) and Sergei Bobrovski (Columbus)  will be on the sidelines, leaving Brian Elliott (St. Louis), Jaroslav Halak (New York Islanders) and Marc-Andre Fleury (Pittsburgh) to play in their stead.
However, there's going to be a lot of talent in goal come Sunday, and each of them has the opportunity to shine.
One of five Blackhawks voted in by the fans, Crawford is one of the First Six All-Stars, meaning one of the six players with the most votes at his position. With a record of 18-10-2 and a save percentage of .921, Crawford is a stellar player who will bring excitement and energy to whichever team he winds up on, especially considering this is his first All-Star Game appearance.
Though he missed eight games when he hurt his ankle earlier in the season, he seems to be back on track and gaining momentum, helping keep the Hawks tied for second in the Central Division.
2. Roberto Luongo – Florida Panthers
Despite struggling for more than a decade, the Florida Panthers have shown a lot of improvement this year, largely due to the skills and leadership of Roberto Luongo. This will be his fourth appearance at an All-Star game (2004, 2007 and 2009), though he was also selected for a fifth in 2008 but was unable to play.
After 36 games, Luongo is currently 17-10-8, with a .923 save percentage, a 2.32 GAA and 2 shut-outs. He was also in net during the Panthers' record-breaking 20-round shootout against the Washington Capitals. After his win against the Canucks on January 8th, Luongo is currently tied with Dominic Hasek for 11th in all-time career wins (389) for a goaltender.
3. Carey Price – Montreal Canadiens
As one of the top players in the league, Price has a record of 24-10-2 and continues to post amazing numbers with a save percentage of .929 and a GAA of .215. With numbers like that, and a team that's third in their division with two games in-hand behind Detroit, there's little doubt Price will have a stellar performance at his fourth All-Star Game appearance.
4. Brian Elliott – St. Louis Blues
Although not originally chosen, this will be the second all-star appearance for Elliott, who leads the NHL with a 1.86 GAA and ranks fourth in save percentage (.930). He is 13-5-2 with three shutouts in 22 games and is also one game away from former teammate Jaroslav Halak for the most shutouts in franchise history (20).
5. Jaroslav Halak – New York Islanders
With his team sitting in first place in the Metropolitan Division, Halak makes his first appearance at an All-Star Game as an injury replacement. His save percentage of .910 and GAA of 2.41 is probably a big part of the reason he was chosen, as well as the fact that he ranks third in the NHL in wins at 25-9-0.
Halak is also the first Islanders goalie to appear in an All-Star game since Rick DiPietro did it in the 2007-08 season, so it's an even bigger honor for the 29-year-old Slovak.
6. Marc-Andre Fleury – Pittsburgh Penguins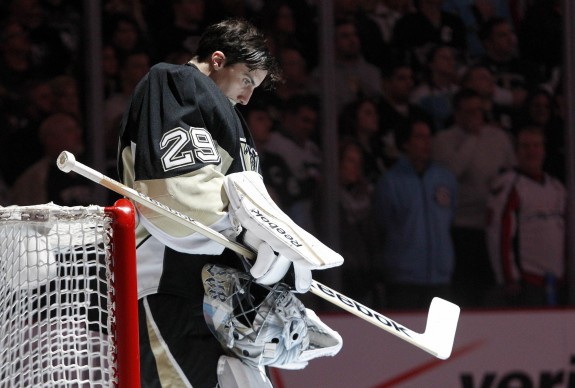 Also chosen to participate as an injury replacement, this will be the 30-year-old Canadian goalie's second appearance at an All-Star Game, coming during a stellar season in which he has already had a personal-best and league-leading six shutouts while ranking fourth in the NHL with 22 wins. He's sixth with a 2.16 GAA and seventh with a .926 save percentage. Both of these numbers represent career highs for him, and certainly part of the reason the Pens sit second in the Metropolitan Division in the standings.