The Sabres moved their top two goaltenders Jhonas Enroth and Michal Neuvirth prior to the trade deadline this season.  The big question now is, what is the Sabres plan in-goal going forward?  I'm a big believer that goaltending in today's NHL is not as important a position as it was years ago.  The goalie position in the NHL has been devalued similar to the running back position in the NFL.  The difference between a starting goaltender and a backup is no longer a large gap.  Most goaltenders in the NHL starter or backup, are capable of doing the job and not hurting a teams chances to win.  With all that being said, the Sabres have a lot of options entering next season.  Whether they look inside the organization or outside via trade or free agency.
In House Options
Buffalo has a few options within the organization to be the number one goaltender next season.  Current goaltenders Chad Johnson and Anders Lindback could be brought back next year to compete for the starting job.  Johnson still has one year remaining on his contract after this year, while Lindback is a UFA.  Unless Lindback plays very well over the last month of the season I don't see him being brought back.  Johnson on the other hand could be the veteran goalie the Sabres plan to pair with a younger player next season.  Johnson is a good back up goalie, but likely not a every night starter.  Unfortunately, the Sabres may not get a glimpse of Johnson this season.  The newly acquired goaltender was hurt in the pregame skate on Friday and may miss a good portion if not the remainder of the season with a lower body injury.
The Sabres could also give Matt Hackett the opportunity to be the starting goaltender.  Hackett played well last year after Miller was traded before tearing his ACL.  Hackett started off slow returning from the injury in Rochester of the AHL, but has been great as of late.  Hackett was recently recalled to fill the void left by Johnson.
http://youtu.be/Nhd5XBuF2SI
The 25-year-old has an intriguing contract situation the Sabres have to deal with.  If Hackett doesn't play at least 30 minutes in 7 NHL games before the end of the year, he'll become an unrestricted free agent.  If he does get in the 7 games, Hackett will be a restricted free agent and give the Sabres some assurance of his return.  Hackett will most certainly get a look this season and help the Sabres make a decision on him.
The future at goaltending in Buffalo may be prospects Linus Ullmark and Cal Petersen.  Ullmark will come over from Sweden next year and will likely play in Rochester.  Petersen is only a Freshman at Notre Dame and will very likely return to the NCAA next season, looking to build on the great end he's having to this season.  Petersen set a NCAA record with 87 saves in a 5 OT game against UMASS, Friday night.  These two are very likely at least two years away from making a significant impact with the big club.
Free Agency and Trade Options
The free agency route for the Sabres could come as early as this season.  Buffalo is one of the many teams that will go hard after Boston University undrafted goaltender Matt O'Connor.  The BU goaltender is a big goalie who is having a great season for the highly ranked Terriers.  Sabres may be able to lure O'Connor to Buffalo, by guaranteeing him the opportunity to go directly to the NHL.  However, it would be surprising if O'Connor can take over full-time next season.  It's a very difficult jump from college hockey to the NHL.  He could see a game or two in Buffalo this season, but unlikely to play a role with the Sabres next year.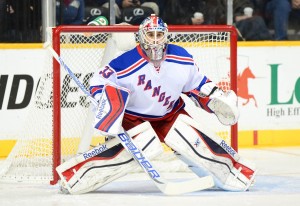 In the summer Buffalo could look at players like Antti Niemi or former Sabres goaltender Michal Neuvirth.  Niemi will likely be looking for a team that has a chance to win right away.  The 31-year-old goaltender is likely signing his last NHL contract and will want another opportunity at a ring.  Also paying the money that Niemi may cost on the open market likely wouldn't be a wise decision for a rebuilding team.
Neuvirth on the other hand could be a fit with the Sabres again.  He impressed the Sabres with his play after taking over the number one job.  Neuvirth likely won't cost a lot for the Sabres and makes sense with his familiarity of the organization.
Buffalo could look to go down the path of acquiring a goaltender via trade in the offseason.  Sabres GM Tim Murray indicated he's already spoke to other teams about young back ups who have the potential to be a starter.  Players like Cam Talbot, Antti Raanta, and Martin Jones could be young options.  Also veteran goaltenders like Craig Anderson and Ben Bishop could be shopped due to young up and coming goaltenders in their organizations.
Buffalo will have plenty of options in front of them to fill their goaltending openings in the offseason.  Fans shouldn't be worried about the goaltending position going into next year.  The Sabres will be able to find a viable option with relative ease.
Chad DeDominicis was born and raised in Buffalo, NY. Chad is currently a Buffalo Sabres contributor for The Hockey Writers. He is an avid sports fan and is passionate about the game of hockey. Chad works hard to share creative and quality content with his readers.