Prior to the Detroit Red Wings vs. New York Rangers game last Wednesday, Mike Babcock made the decision to put Tomas Jurco on a line with Pavel Datsyuk and Tomas Tatar. The idea being that Jurco could provide a physical presence, and perhaps even get his own offensive game on track. Just two games later and Luke Glendening will be filling in that role. Seems like a pretty short leash, doesn't it?
Glendening has replaced Jurco on the line with Datsyuk and Tatar.

— Ansar Khan (@AnsarKhanMLive) March 7, 2015
The reality is that Jurco has just 15 points through 52 games. The Red Wings have a ton of depth at forward – it's unlikely that he finds himself in a scoring role again this season. The acquisition of Erik Cole happened because Ken Holland wanted to bolster his top-six/top-nine forwards. So far, Cole has played in the top-six, and fit in well on a line with Henrik Zetterberg and Justin Abdelkader. Before long, Darren Helm will return to the line-up, where he has found great success on the Datstyuk line. Then you have the – albeit, unlikely – possibility that Johan Franzen returns to the line-up at some point this season. When you take that into consideration, is it possible that the best course of action would be for Jurco to head down to Grand Rapids?
The Pros
Rediscovering His Scoring Touch
The Griffins are on quite the run, getting at least a point in 15 consecutive games. With the team flying high, Jurco could slot himself into the top-six, where he would almost certainly find himself offensively. While Mark Zengerle has been working-in on the Miele-Pulkkinen line, wouldn't Jurco look good there? Of course, that is if/when Pulkkinen returns to the AHL. It may serve Jurco well to be a big fish in a small pond. Playing on the Red Wings' fourth line has not served him well; being a healthy scratch would not, either. In my opinion, the best way for Jurco to rediscover his scoring touch is to head back down to Grand Rapids.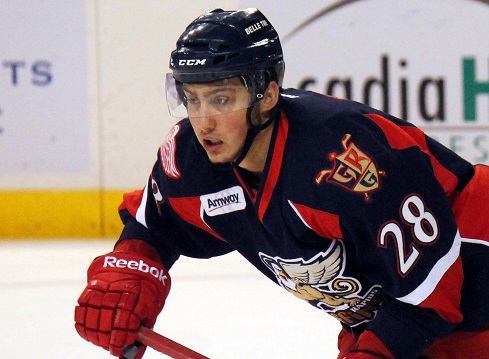 Jurco Returns Hungry in 2015-16
Demoting a player usually goes one of two ways: it can light a fire in him, or it can knock him down even further. If we consider the former, Jurco could come back next season better than ever. In a perfect world, he would go down to Grand Rapids, find his scoring touch again and help the team win the Calder Cup. Even without that ideal scenario, simply being sent down might push Jurco to play with a chip on his shoulder. Combine that with an offseason of hard work a dedication and you have a rejuvenated player at the beginning of next season.
The Cons
Is Jurco Simply Being Misused?
I think we need to ask a few questions. Is Jurco being under-utilized? Has he done enough to earn more ice time? I'll refer to THW's Prashanth Iyer here:
"You can see that Jurco receives the Ice-Time of a 4th liner, but his usage adjusted Corsi For% is clearly that of a 1st line player. In fact, of the 390 forwards to play at least 660 minutes at 5v5 over the last three seasons, Jurco's usage-adjusted Corsi For% ranks 46th. That's better than Alex Ovechkin, John Tavares, Henrik Zetterberg, and Patrick Kane."
Do yourselves a favor a read the whole article, if only to put that information into context. While he has seen some time on a line with Sheahan and Tatar, I think there is definitely an argument to make about his role on the team. Having two games to prove himself on Datsyuk's line hardly seems line enough time.
Short-Term Solution to a Long-Term Issue
I can't believe I'm even referring to depth as an issue, but it could be one for Jurco. If nothing changes with the current group of forward in Detroit, that means that he has to battle with nine or ten forwards who have shown that can play in Detroit's top-nine. In addition, Pulkkinen will be up with the team full-time next year. Even if Jurco heads down to Grand Rapids, next season could be more of the same for him. The best thing to happen to Jurco could be Detroit moving out some bodies up front to improve their defensive group.
The Bottom Line
The bottom line here is the reality of the situation: Detroit has more top-nine forwards than they have top-nine spots. If Jurco stays in the NHL this year, I imagine that it is as a fourth-line forward or a healthy scratch. In my opinion, his best bet is to finish this season on a high note, finding his scoring touch down in Grand Rapids. There are simply too many forwards on the Red Wings at the moment – forwards that Babcock is willing to use ahead of Jurco.
Subscribe to our Red Wings stories to get email updates every time a new story is published.
I am a writer from Windsor, Ontario who has covered the Detroit Red Wings for The Hockey Writers. I have had the pleasure of doing so since February of 2015. Previously, I have written about Red Wings prospects for Hockey's Future. I am always up for chatting about the Red Wings and hockey in general, so leave me your comment and/or tweets. Follow me on Twitter at @BrandonPeleshok.