Even as the Alexander Semin chapter in Montreal Canadiens history seems to be closing only a few months in, it's not as if general manager Marc Bergevin could have or should have done anything differently.
In fact, despite his lack of production, Semin was arguably playing relatively competently ahead of his seven-game Siberian "vacation" out of the lineup.
Granted, one gets the sense in order for him to have salvaged his stay in Montreal—and perhaps his NHL career in the process—he would have had to score a few these last two games he got back in. Instead, he didn't even manage a single shot on goal, and, as a result, reportedly won't play Thursday night against the Arizona Coyotes.
Still, none of that means Semin was a regrettable signing or that Bergevin is a bad general manager. It just means, despite his successes—including helming the team to three straight 100-point seasons—Bergevin is far from perfect.
In fact, the Semin signing probably wouldn't even crack a list of his top five misfires as Habs GM. Here they are as proof:
Acquiring George Parros
George Parros didn't exactly work out as planned as Montreal's enforcer in 2013-14. It almost didn't work out at all, with Parros getting tragically injured in his first game as a Hab, pitting off against Toronto Maple Leafs tough guy Colton Orr.
Parros would end up returning and getting concussed once again that same season, ultimately announcing his retirement in December 2014.
It's not like Montreal gave up a lot to get him (minor-league forward Philippe Lefebvre and a late-round pick), but it was a rare miscalculation—that playing an enforcer would end up paying dividends by year's end—Bergevin was unable to rectify. And the rare times he was healthy, he almost never even got in the lineup.
So, why include Parros and not Semin here?
Parros' initial deal with the Florida Panthers was for $1.85 million over two years and Bergevin gave up two futures to get him. If the Habs buried Semin's $1.1 million deal, they'd only have a cap hit of that total minus the sum of the league minimum ($575,000) and $375,000, as per the Wade Redden rule, so $150,000 total.
Both deals were pretty inconsequential, but Parros arguably being the worse mistake is further proof positive Bergevin did an all right job gambling on Semin.
Re-Signing Travis Moen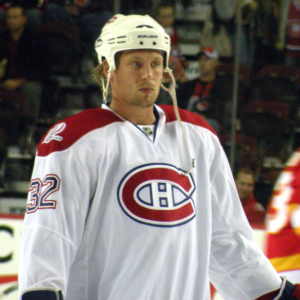 There was a time when Travis Moen was a valued member of the Habs and could be counted on regularly as a reliable bottom-six forward who could pitch in the odd shift in the top six.
Those times became few and far between after he signed his latest deal soon after Bergevin came aboard in 2012. So did his time on the ice in general, which dropped from 15:42 per game in 2011-12 to 10:29 in 2014-15 before he got traded. No one has an average below 11:48 this year on the Habs.
Moen, whose salary went up from $1.5 million per year with his new four-year $7.4-million contract, was obviously rewarded for his hard work, but Bergevin should have known better than to give a long-term deal to a 30-year-old checking-line forward entering the downswing of his career.
It got so bad that when he was traded for Sergei Gonchar, an oft-injured offensive defenseman nearly 10 years older, Habs fans generally rejoiced. In retrospect, they probably shouldn't have.
Putting Jarred Tinordi on the Backburner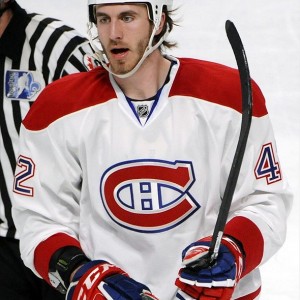 Gonchar was acquired on November 11, 2014. On November 12, former first-round draft pick Jarred Tinordi, who had made the team out of training camp and was expected to gain valuable NHL experience last season, was sent down to the American Hockey League.
The acquisition of fellow-depth-defenseman Bryan Allen soon thereafter from the Anaheim Ducks almost guaranteed Tinordi would stay in the minors all year long, arguably further delaying his development.
Now, without a full year in the NHL under his belt, Tinordi is a press-box mainstay, not yet having earned the trust of head coach Michel Therrien.
He has yet to play this season, despite, again, making the Habs, this time mainly because he would have been exposed to waivers had he been cut, with Montreal likely not getting anything for their once-prized 6'6" defenseman. The thinking is he will soon be moved, because the Habs don't know what to do with him.
Spoiler alert: He a player. Maybe, I don't know, play him?
Considering Gonchar only got in 45 games with the Habs (Allen played five) and none during last year's playoffs, one has to wonder if it was all worth it.
The New Alexei Emelin Deal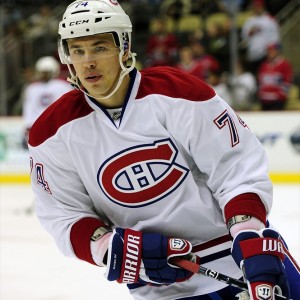 Put an asterisk next to this one if you like, because Alexei Emelin is actually playing very well so far this season.
It's possible he's even finally living up to his four-year, $16.4-million deal, which Bergevin nonsensically signed him to when he was rehabilitating a knee injury that caused him to miss the end of the 2013 regular season, including the playoffs, and the start of the following campaign.
For good measure, Bergevin gave him a no-trade clause, because, apparently, Emelin had to beat off all other 29 teams with a stick from breaking down his door with contract offers… despite him only being scheduled to become an unrestricted free agent eight months later.
Now, this deal can still pan out as worthwhile, but that's a best-case scenario. It will likely never be a steal, when, for example, Francois Beauchemin, who finished fourth in Norris Memorial Trophy voting the season Emelin sustained his injury, made $3.5 million. And that's not the only less-than-favorable comparable that exists either.
Thinking Daniel Briere Had Anything Left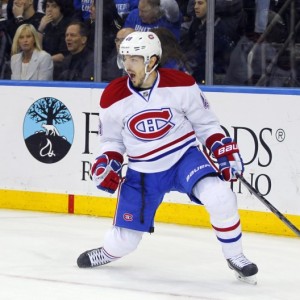 When Daniel Briere got bought out by the Philadelphia Flyers in 2013, Bergevin unwisely snatched him up for $8 million over two years.
He might have considered the amount a mere pittance considering the Habs had allegedly offered him $42 million over six years back in 2007, but he failed to take into account the fact that Briere was six years older as well… and far from the player the Flyers signed the previous decade.
The now-retired Briere had sustained several concussions as a Flyer as well as other injuries and predictably only scored 25 points in 69 games scratch during his first season in Montreal. Of those 13 games he missed, unfortunately 10 came as a result of another concussion. He also got healthy scratched and demoted to the fourth line.
It was almost a miracle that Bergevin was able to trade him to the Colorado Avalanche for P.A. Parenteau and a fifth-round draft pick. That may not have worked out either, but, as his decent start to the season with the Toronto Maple Leafs proves, Parenteau was and is far from a disaster.
His replacement, Semin, really isn't one either.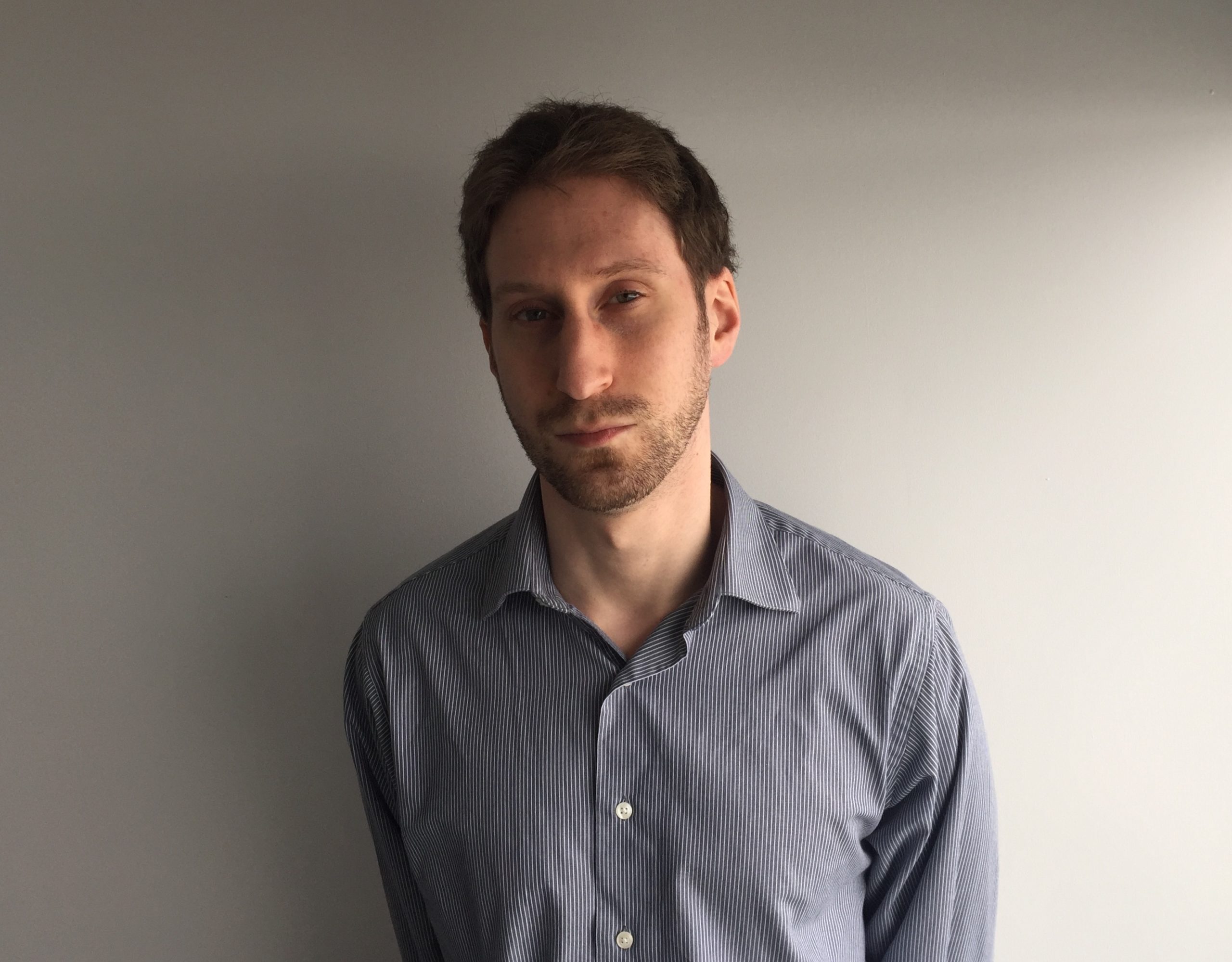 After 10 years of writing hockey, Ryan decided it was as good a time as any to actually join The Hockey Writers for the 2014-15 season. Having appeared as a guest on such programs as CBC Radio One's Daybreak, Ryan has also written for the Montreal Gazette and Bleacher Report and worked for the NHL itself and his hometown Montreal Canadiens. He currently writes about all things Habs for THW, with it being a career highlight for him to have covered the 2021 Stanley Cup Final as a credentialed member of the press.