Living in the southern part of the United States, I get the "why are you a hockey fan?" question somewhat frequently. Despite the strong urge to ask "why aren't you?" in return, I explain to the best of my abilities why I enjoy the sport so much. There are just an abundance of reasons that could be given to the person who asks that question.
Scoring may be down this season but excitement levels are reaching an all time high. The game gets faster and more skilled every single year and even though the lower rate of goals has some coaches calling for bigger nets, scoring chances are still plentiful. That is excitement.
Now this article isn't going to be some great crusade against the other major sports and leagues around the world. Every sport has things that makes them great and the focus here will be hockey and more specifically, the NHL. I make brief mentions of hockey compared to other sports here but in no way am I claiming hockey to be superior to anything else.
So what makes you a fan of this game? The game is exciting, sure, but that barely scratches the surface of what attracts people to becoming a hockey fan.
Is it the Suspense?
The puck drops for the first time of the evening. You might be at the game, watching at home or a sports bar, or maybe you are streaming it on your phone during an unfortunately timed evening class. No matter where you are, when that puck drops for the first time you are looking forward to an exciting game. No matter what team you root for (if you root for a team), you are filled with hope for what the contest has in store. With each passing hit, shot and scoring chance, you become more and more invested. The tension builds and builds and finally one of the teams scores a goal.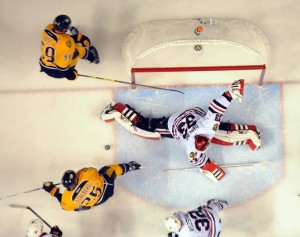 Exhale.
You're either happy or upset, depending on who scored. Either way, that puck is about to drop and the tension will start to build again. If the game remains close, the suspense is only going to get worse as the game goes on. You will get moments of relief during intermissions and goals but for the most part, you will be on the edge of your seat. The game will end but you'll be watching the next one which is likely just a couple of days away. Then the suspense will begin anew.
That is one thing that I find fascinating about hockey. The suspense grows and grows because the game is unpredictable. More and more are trying to predict the game by the use of advanced statistics such as corsi but ultimately there will be teams that defy the corsi-logic every year. The Calgary Flames did it last year. The Colorado Avalanche did it the year before that. This season, the Red Wings, Penguins, Devils and Rangers are all posting negative possession stats but are currently in playoff position. That's why they play the games.
Think of your favorite movie. I'm going to go with The Prestige. Do you remember watching your favorite movie for the first time? It was unpredictable, suspenseful and likely left you with a feeling of pure-excitement. That is what a hockey game with your favorite team is. It's like watching your favorite movie for the first time, 82 times (or more) every year. And if you're a neutral fan of hockey, you have a proverbial smorgasbord of games to choose from all year-long. That suspense you felt in game one is only multiplied by the time you reach game 14, game 38 and game 50.
Maybe it isn't the suspense that draws you to the game. That is alright, there are plenty of reasons to choose from.
Is it the Camaraderie?
There is so much camaraderie in the game of hockey both from a player standpoint and a fan standpoint. As a fan, you typically do many social things in relation to hockey. Maybe you meet up with a group of friends to attend a game. Maybe you frequent a popular sports bar that shows all the games. Maybe you have a big party with all your fellow fans at your house. The bonding that exists in the NHL feels unrivaled at times by other sports in North America. As a Pittsburgh Penguins fan, you may despise seeing a Philadelphia Flyers jersey. Despite that hatred, you can easily meet that person randomly somewhere in the city and have an hour conversation about the game that you both enjoy. It is a pretty incredible thing.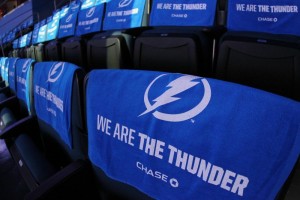 Another aspect that stands out is the bond that fans share with the team that they cheer for. You see it in every sport. Fans of a team feel like they are part of it. "We need to make a big trade". "I can't believe we won last night". Some have an issue with fans saying "we" when referring to their team. Personally, I don't see why they wouldn't say "we". Fans know they aren't the ones on the ice or the field making the plays. They know that. Crowd noise is a minor impact, but it is there. Fans buy tickets, jerseys and hats to show their support for the team they love. By doing that, they are a part of it.
There are individual awards at the end of the season but even those feels like team accomplishments when all is said and done. Look at the Art Ross victory in the dying seconds of the last season for Jamie Benn. Does that individual award happen if his teammates don't relentlessly feed him the puck all the night? The celebration after he clinched it shows how much even an individual award means to a team. That isn't even mentioning the Stanley Cup, as watching teammates pass it around to each other is one of the greatest things in the sport.
I could go further by mentioning the playoff handshake line,simple goal celebrations and the NHL's participation in the Olympics as the camaraderie involved in hockey is a topic that could be talked about for hours. It is a big reason I am a hockey fan and probably plays a part in many people's fandom as well.
Is it an Escape?
Watching a game of hockey takes you out of the real world for a small segment of your evening and some use that to their advantage. You could have had an argument with a friend or relative. You could have recently lost someone who is important to you. You might have just had a rough day at work. No matter the problem, big or small, turning on the television to tune into your favorite team offers an escape for a little while and a chance to regroup. And there is nothing wrong with that.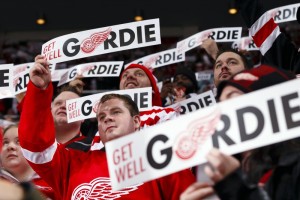 Some people play a video game to escape. Some sink into a novel or play the guitar. Escaping into your own world is natural and hockey is a great escape for many. Escaping is a popular coping mechanism for the troubles of day-to-day life and hockey is a good vessel for it.
It works on the other side as well. You might have had a fantastic day at work and come home to watch your favorite team. Win-or-lose, in that moment, you are just one of the many fans cheering your team on. For a few hours, you are just that hockey fan.
Is it Your Life?
Perhaps you are a hockey fan because you've played the game all of your life. I played baseball as a kid and while I was never really that good, it drove me into supporting the Houston Astros (should have taken care of the Royals, sorry Toronto fans) and eventually led me to becoming of a fan of all sports in general.
Many people who have grown up in Canada have known hockey all of their lives, likely leading to hardcore fandom. Whether you managed to make it to juniors, college level or just play drop-in games with your friends, playing hockey leads to people watching the game.
Finally, Maybe it is Just Plain Fun
You might be the type of person to combine all of the above reasons and ultimately arrive at the conclusion that being a fan of hockey brings you enjoyment like nothing else can. Competition is human nature so naturally it is more fun to watch when your team is winning. Even if they aren't winning, a fresh batch of hope is cooked up right before every game. You just don't know what is going to happen each night and that drama creates excitement.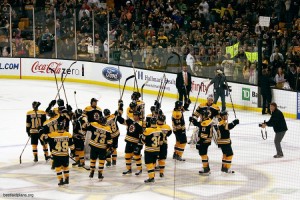 As a Dallas Stars Contributor for this site, I am privileged with watching one of the most exciting teams in the NHL right now on a night-to-night basis. Every team in the NHL has a different brand of hockey and fans of those teams generally enjoy the product on the ice (some might not and those fans are seen throwing the product on the ice). Last season, the Winnipeg Jets played a more defensive game and were one of the hardest hitting teams in the league. That worked out for them as they returned to the playoffs to one of the loudest crowds you will ever hear in your lifetime.
The ride of the season, no matter how short or long, is almost always an enjoyable one. Whether your team is on the playoff bubble or fighting for the division title, it is a ride that gains fans as it goes on. Even if your team isn't winning, you look forward to seeing the young talent on display and start getting excited for things to come. Heck, who else opens up a Twitter tab during work hours on Trade Deadline day and July 1st to catch every move made by NHL general managers? I know I can't be the only one. At times the offseason is just as exciting as the regular season.
After work, after school or capping off a lazy weekend, it is always fun to catch a game either at the arena or on the television. So many people do it for so many different reasons. Everyone has their own reason why they became a hockey fan. What's yours?
Thanks for reading.
Jordan has been covering the Stars for The Hockey Writers since February 2015. He is originally from Iowa City, Iowa. You can follow Jordan on twitter @jordan_dix