Extrapolating point totals earned in 2013 over a full 82-game schedule, the Montreal Canadiens were on pace for 108 points that lockout-shortened season. That makes them officially one of just two teams to have earned 100 or more points in the three seasons since the work stoppage.
Montreal Canadiens in Good Company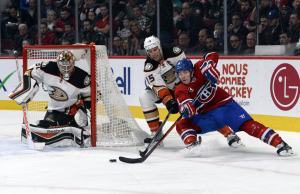 The only other team at this stage to be able to lay claim to such a distinction: The Anaheim Ducks.
Of course, there are other teams who are just short of 100 points this year, who for all intents and purposes will end up joining them sooner or later: The Pittsburgh Penguins (95 points with five games remaining), the Chicago Blackhawks (98 points with six games remaining), and the St. Louis Blues (99 points with six points remaining).
The Boston Bruins (91 points in 77 games) and Stanley Cup-champion Los Angeles Kings (88 points in 76 games) could in theory make it as well, but they'd have to essentially run the table over this final stretch. That's less than likely to say the least, considering the up-and-down seasons of each.
Nevertheless, no matter how you slice it, those are some pretty elite teams. Granted, the Habs would stick out like a sore thumb in any game of "One of These Things Is Not Like the Other?" But, right now, the Penguins, 4-5-1 in their last 10, hardly seem like they belong either. And they have the longest current 100-point-season streak at five entering this one.
Rapid Progression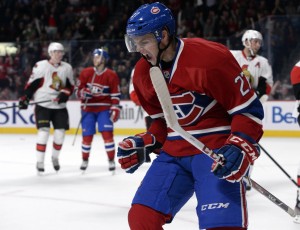 Ironically, both the Ducks and Habs, the two "founding members" of the club, are tied for the shortest, with 2013 being their first 100-point season of their respective current streaks.
The previous season, 2011-12, both actually missed the playoffs, with their recent success being that much more noteworthy as a result. The Habs finished with the third-worst record that season (31-35-16, worst in the Eastern Conference). The Ducks had the fifth-worst record at 34-36-12.
You can credit the draft if you like, with Montreal drafting Alex Galchenyuk in 2012 third overall and Anaheim Hampus Lindholm sixth overall. However, as impressive as they've been, it's hard to point to one player as being the reason for systemic improvement.
In Montreal's case specifically, Galchenyuk would truly represent the one Habs pick drafted since that season to make a significant impact in the NHL. Of course, Nathan Beaulieu, drafted the year before, and Brendan Gallagher, drafted the year before that one, are key members of the team currently as well.
Back to the Future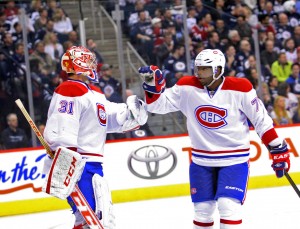 Going back any further would serve only to highlight the contribution of members of the 2007 draft class (Max Pacioretty, P.K. Subban), and the simple truth is they each actually had very good seasons individually speaking in 2011-12, in spite of the team's horrible one.
Goalie Carey Price, who's the main reason for Montreal's success this year and was drafted in 2005, had also arrived, with 2010-11 serving as a breakout season for him personally (38-28-6, 2.35 goals-against average, .923 save percentage).
So, even though all these players are entering their peaks, coming together now and hinting at potentially a fourth-straight 100-point season (if not more), it would be a fallacy to point to them as the main difference between what went wrong then and what's going right, now.
Really, the only difference? The new regime with general manager Marc Bergevin replacing the outgoing Pierre Gauthier in May 2012 and Michel Therrien coming aboard as head coach the following month (Jacques Martin, Randy Cunneyworth).
Even then, it's debatable, though.
The year before their collapse in 2011-12 (a season during which Montreal led the league with 439 man-games lost), in 2010-11 the Habs had earned a decent 96 points under the old regime. The previous season they only had 88.
So, not only was there positive change year-over-year, but it was during that 88-point season that the Habs went on their miraculous run to the third round of the playoffs, upsetting both the Presidents' Trophy-winning Washington Capitals and Pittsburgh Penguins in the first two rounds.
Making Sense of It All
Montreal obviously wasn't a 100-point team prior to the lockout. That much is clear, but the man-games lost 2011-12 contributed to the outlier in what had become a continual progression in the team's overall point production.
Ignoring 2011-2, Montreal's last truly disappointing season, where they didn't enjoy much if any regular-season or postseason success, was in 2008-09. That year, they finished with an average 93 points, in eighth in the East, with the Bruins sweeping them in the first round.
Martin was then hired, with the Habs going from 88 points in his first year to 96, to 78 (2001-12), to 63 (in 48 games), and finally to 100 last season in 2013-14. It's almost a perfect upward progression, with Montreal going from Guy Carbonneau behind the bench (under whom the Habs scored over three goals a game in 2007-08 and 2008-09) to a series of defensive-minded coaches in Martin and now Therrien.
That isn't to say the Habs are incapable of success through offense. In 2013, they actually scored 149 in 48 games under Therrien, before bowing out in the first round against the seventh-seeded Ottawa Senators. It's instead a suggestion that maybe they've keyed in on (or Therrien has, as Martin did before him), which specific strengths to play to for this specific team's best chance at postseason success.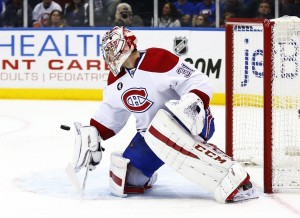 That would be goaltending: Jaroslav Halak in 2010 in Martin's case, and Carey Price right now. Really, was there ever any doubt?
Obviously, the advanced stats say something else, that possession, i.e., Montreal's major weakness, is the best predictor of playoff success. But the Canadiens have essentially been progressing up the standings for the better part of the last decade to the point that they're only now, as legitimate Stanley Cup contenders, in a position to try and disprove that theory.
Habs fans will soon find out if their strategy is the right one or not. It's about time for them to take that next step.