After being the first team to 10 points, jumping out of the starting gates, the Montreal Canadiens continue to surprise this 2014-15 season. On Tuesday, they became the first to 100 as well, proving their early-season success was not a fluke, but also prompting the question:
Just how good are these Canadiens?
Since the last Montreal Canadiens Stanley Cup in 1993, there have been just a handful of Habs teams to hit 100 points (that specific squad had 102). In fact, due to the decade of rebuilding that followed the trade of Patrick Roy, it's the same amount as since the start of the salary cap era in 2005: Three.
So, just where would these Canadiens rank among those teams?
4. The 2013 Montreal Canadiens
29-14-5 (63 points in 48 games)
The post-lockout Canadiens won the Northeast Division impressively, but take the No. 4 spot on this list due simply to the fact that they technically shouldn't even be on it. Consider them an honorable mention as they only played 48 games. At the very least, place an asterisk beside their sterling record.
No one really knows what might have been had there been a full season of hockey that year, but the 108 points they were on pace for would have been the most since the 1988-89 edition (115), a team that made it all the way to the Stanley Cup Final.
Of course, the 2013 team instead ran into the pesky Ottawa Senators, who rode the goaltending of Craig Anderson past them in an embarrassing five-game, first-round upset. So, maybe this fourth spot is right where they belong.
Of note, this season marked the return of Michel Therrien and oddly enough the team was almost the anti-Habs of these current ones. Montreal boasted the seventh-best even-strength Corsi for rating that season (52.8 percent), consistently outchancing the opposition, ultimately being done in by sub-par goaltending.
Carey Price shockingly only had a save percentage of .905 that season, as he faded down the stretch. This current season, he's doing slightly better (.937) and is the main reason behind Montreal's success.
3. 2007-08 Montreal Canadiens
47-25-10 (104 points)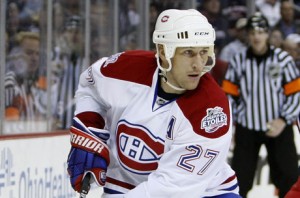 The Canadiens also won the Northeast Division and Eastern Conference in 2007-08, although one might have to put an asterisk beside that accomplishment as well.
The popular theory is that the second-place Pittsburgh Penguins (also coached by Therrien), who finished two points behind Montreal, threw their last game of the season in order to draw the struggling Ottawa Senators in the first round.
In that fateful final game of the season, the Pens lost 2-0 to Martin Biron and the Philadelphia Flyers, without a healthy Sidney Crosby (who was scratched for precautionary reasons).
Call it a justifiable decision or dirty. Whatever it was, the Pens rolled over the Senators in four games and made it all the way to the Stanley Cup Final.
The Habs on the other hand? Despite winning the conference, they had their hands full with the eighth-seeded Boston Bruins, needing seven games to eliminate them (prompting a riot in the process).
It was the first playoff-series victory of rookie Carey Price's career and his only one until last spring, when he impressively tripled his total in the span of a month. Needless to say, in 2007-08, the Guy Carbonneau-coached Canadiens didn't make it past the second round, going quietly against the Flyers in five games.
Interestingly, this team featured something incredibly rare: seven different 50-point scorers and an awe-inspiring point-per-game campaign authored by leading-scorer Alexei Kovalev.
You can decide which was more rare between the two.
2. 2014-15 Montreal Canadiens
46-20-8 (100 points in 74 games)
Despite featuring little more than a pop-gun offense, these current Canadiens actually have something in common with the high-scoring 2007-08 edition.
The latter featured four 20-goal scorers (Kovalev, Tomas Plekanec, Andrei Kostitsyn, and Chris Higgins). This current one has three right now (Max Pacioretty, Plekanec, and Brendan Gallagher), with Alex Galchenyuk knocking at the door with 19. So the problem, if you want to argue that there is in fact one, is not necessarily a lack of offensive depth.
This team makes it way only into second place, despite being on pace for what would be a list-best 111 points as well as contenders for the Presidents' Trophy. The simple fact of the matter is it's hard to place them any higher at this juncture, when there's so much hockey left to be played (hopefully).
Whereas this team has its fair share of flaws, namely an overreliance on Price, who's generated justifiable buzz as a potential Vezina and Hart Memorial Trophy candidate, it just keeps on winning, even if in unimpressive fashion (48.3-percent even-strength Corsi for rating).
Nevertheless, arguing the Canadiens should be faulted in some way for letting their best player steal games is akin to saying the Penguins would be nothing without Crosby. It's utter nonsense. Teams play to their strengths, and right now Montreal's strength is Price. It's that simple… really. No, really. It's Price and that's about it.
That being said, when Price has a 1.88 goals-against average, .937 save percentage, and is on pace to break the franchise record for wins in a season (42), it's hard to argue with the recipe for success, however few ingredients there may be. Rocky did it on raw eggs alone, didn't he?
1. 2013-14 Montreal Canadiens
46-28-8 (100 points)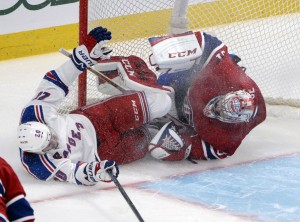 Last season's Canadiens just barely qualified for this list, but what they "lacked" in point-production, they more than made up for in dramatics, especially of the postseason variety.
The 2013-14 Habs made it to the third round, winning 10 games in the process. Those 10 wins officially make them the most successful Habs team since the 16-win 1992-93 team.
In addition, last year Canadiens fans were treated to a career-high 39-goal season from Max Pacioretty, some impressive wheeling and dealing on the part of general manager Marc Bergevin, and, of course, Price's coming-out party.
Price may have had a similarly successful season back in 2010-11, but last season he captured gold at the Olympics, taking his game to another level during and almost immediately afterwards (he was sidelined temporarily following the break).
It's impossible to know what might have happened had Chris Kreider not crashed into Price in Game 1 of the Eastern Conference Final last year, but, making it all the way to Game 6 of the third round as one of four remaining teams? No one can deny the Canadiens were legitimate Stanley Cup contenders (only to ultimately fall short).
It might have been a heartbreaking end to the season, but you can't have heartbreak without some success first, and last year's Canadiens enjoyed loads.
In order for this year's Habs to usurp the 2013-14 edition, they'll probably have to prove the opposite, that success and heartbreak don't necessarily go hand in hand. One hundred points may make for a successful season, but at this point it's all about the playoffs.