It wasn't a virtuoso performance by the Montreal Canadiens by any stretch of the imagination (even though highlight-reel goals by Alex Galchenyuk and P.K. Subban sure made it seem like it).
Still, with their entertaining 3-2 victory over the Colorado Avalanche on Saturday night, the Habs (5-1) are the first team in the NHL to 10 points, and, as a result, league leaders for the time being in what is by far the most important statistical category.
Enjoy It While It Lasts
No one can take this particular honor of being the first to 10 points away from the Habs (even though few would really bother to try, seeing as 10 points are hardly 100 and there are still six whole months left in the season). But both the San Jose Sharks (nine points; 4-0-1) and Anaheim Ducks (eight points; 4-1) play in separate games on Sunday night, meaning they each have chances to at the very least share Montreal's league-leading point total tonight.
Also of note, the New York Islanders Nashville Predators, Ottawa Senators, and Washington Capitals—all teams that missed the playoffs last season—are coming strong up the rear as well (no innuendo intended), each owning eight points and able to eventually match Montreal's 10 points in six games. Just further evidence that Habs fans shouldn't get too excited at this stage of the game by the 10 points. That doesn't mean there's nothing to get excited by though.
How the Montreal Canadiens Have Been Doing It
Montreal's identity all of last season, during which they made their improbable run to the third round of the playoffs, was of a team that held onto late leads—often by the skin of their teeth—thanks in large part to great goaltending. Their .921 winning percentage when leading after two (35-0-3) was third-best in the league.
While they technically own a superior winning percentage under those same circumstances this season (2-0), more often than not their victories have been the result of late, dramatic comebacks.
Even when they've had to hold on, though, like against Colorado on Saturday night and the Boston Bruins last Thursday in those two wins, Montreal has arguably and rather impressively been doing the exact opposite of playing on their heels.
They've been going for those insurance markers. And, after a few too many lost leads last postseason, it might very well be a conscious decision on head coach Michel Therrien's part. Credit to him, if that is indeed the case.
More than that, though, what sets this team apart from last year's is an ability to get those late go-ahead goals or goals at all, really. In 2013-14, Montreal finished in the bottom third of the league in terms of goals scored (2.55 per game). This year they're in the top third so far (3.00).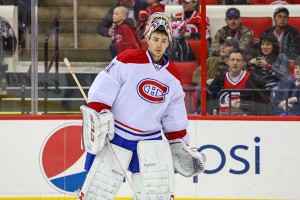 However, it's their five-on-five play that has made this turnaround even more special, ironically at the expense of their special teams and power play specifically. They have scored just three goals up to now on the man advantage, including one empty-net one.
That futility just means more of their goals have come at even strength, and the Habs, after placing 26th in that department last season, actually lead the entire league with 15 total markers at five on five since the start of the year.
Sustainable Success?
Now, much like leading the league in total points for the moment, it's an honor that can be ripped away from them on any given night (even tonight, perhaps). One gets the very real sense though that this particular stat carries just a tad more weight. It's more cause then effect. It's indicative of something greater… something that still can be six months from now.
Total points may be the more important statistic, technically, but, if Montreal is still leading the league in points or near the top of the standings by the end of the season, look to how well they're presumably playing five on five as the main reason why.